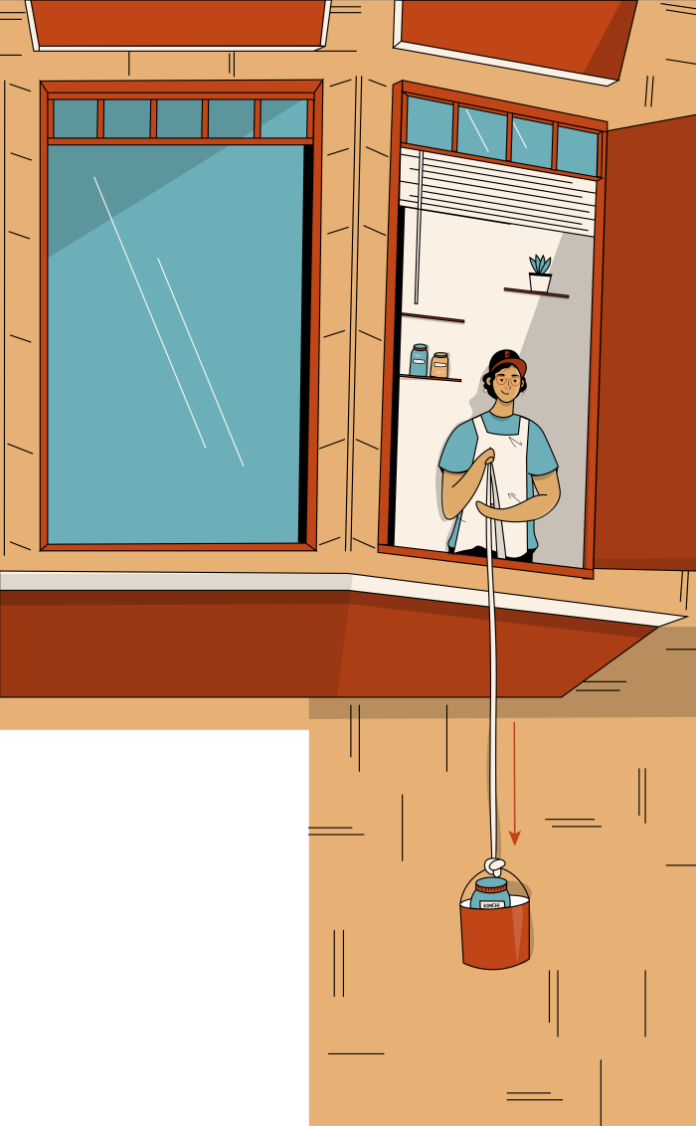 The thriving underground businesses of San Francisco's aspiring chefs.
by Elena Kadvany
Victor Aguilera had $60 left in his bank account when he started selling homemade arepas. 
The San Francisco restaurant where he worked, The Brixton, had closed due to the Bay Area's stay-at-home order, and it was unclear when he'd see a paycheck again. On a whim, he posted pictures of his arepas—Venezuelan griddled cornmeal cakes stuffed with fillings like shredded beef, plantains, and avocado—to Instagram and waited. A handful of orders came in, which he delivered on his bicycle. He donated leftovers to homeless people in his neighborhood. To make ends meet, he started working for third-party delivery apps.
Then, one day in April 2020, he woke up from a nap to an Eater SF article about his arepas. A deluge of texts and new orders followed. People fell in love with the charm of fresh arepas delivered via bicycle all over hilly San Francisco. What started as a survival-mode side hustle soon blossomed into a full-fledged business with employees, though Aguilera still cooks out of his home kitchen and cycles around town making deliveries.
"Necessity is the mother of invention" might as well be the tagline of our current moment. Aguilera is part of a new wave of cooks who started selling food out of their homes during the coronavirus shutdown, many out of both self-preservation and a desire for a new beginning during a deeply uncertain time. 
On any given day in the Bay Area, if you're clued in to the right networks, you can buy sourdough bread, hand-pulled noodles, salsa macha, fresh pasta, elaborate pastries, and Singaporean laksa—all made in home kitchens. The majority operate in a legal gray area without cottage food permits, and most Bay Area counties have yet to opt in to a California law that would give home cooks a path to above-board operations.
Many of these grassroots businesses became successful enough that their owners were able to hire employees and make plans for a future that's not defined by masks and imposed separation. We all know what we want to leave behind from this past year, but what about the hopeful and truly nourishing local businesses that arose out of necessity, invention, and a leap of faith? Shouldn't these creative home kitchens have the chance to become a permanent part of San Francisco's food culture?
. . .
Aguilera, who was born in Valencia, Venezuela, has always dreamed of bringing his native food to San Francisco. He's been making arepas since the ripe age of four. By age eight, he was butchering chickens by hand to make arepa fillings. In high school, he would skip class to hang out with friends and cook arepas for everyone.
Aguilera began selling arepas from his bike to San Francisco bar-goers a few years ago but never made enough money to leave full-time restaurant work. He put his dream on hold as he worked in kitchens at Pinterest, Sabrosa, One Market, Petit Crenn, and The Brixton.
"As a chef, you always want to find what your purpose is. For the past years, I've been feeling a little lost working at all these places, not finding what I want to do," he said. "The pandemic gave me the opportunity."
His outfit, Arepas en Bici (which means "arepas on bike"), sells a dozen different kinds of arepas as well as build-your-own arepa kits. Aguilera also makes empanadas, tequeños (fried cheese sticks), rice bowls, and seasonal specials like hallacas (corn dough filled with beef, pork, chicken, raisins, capers, and olives and wrapped in a banana leaf; his grandmother's recipe) and pan de jamón (a rolled Christmas bread stuffed with ham, bacon, raisins, and green olives). His Instagram page is his best marketing asset; he posts explanations of Venezuelan dishes for the uninitiated, behind-the-scenes photos of his home kitchen, and expressions of heartfelt gratitude for the unexpected growth of the business.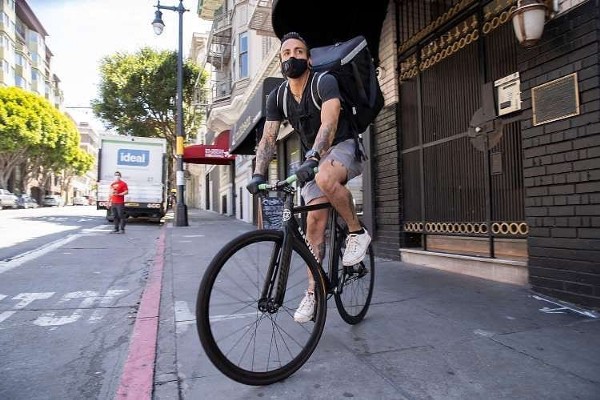 After being in survival mode for months, Aguilera was caught off-guard by his sudden success. His dream of opening a Venezuelan restaurant in the Bay Area has become a reality, although not exactly the way he pictured it. He hopes to open a brick-and-mortar location or food truck this year. In July, he'll be starting a semi-permanent pop-up at La Fusion in San Francisco.
Aguilera makes a point of supporting other homegrown food businesses, and he and his fiancée regularly order dinner from their favorites. 
"I think the future with restaurants is going to change a lot. I'm happy that we're adapting for it instead of giving up," he said. "It's better to see people hustling."
. . .
Cooking is the first and only job Ryan Stagg has ever had. His fiancée, Daniella Banchero, grew up at her family's Italian restaurant in Hayward and went on to become a pastry chef.
"We're very much restaurant people," Stagg said.
Last March, they were abruptly cut off from that world. Stagg lost his job at Pollara Pizzeria in Berkeley, and Banchero was furloughed from Piccino in San Francisco. Out of work and sheltering in place, Stagg immersed himself in making sourdough bread, giving freshly baked loaves to neighbors and friends as morale boosters. But with their Bernal Heights rent due, the couple set what they thought was a crazy goal: sell enough bread to make rent for the month. 
"The community found out about us and really adopted us rather quickly," Stagg said. "We paid rent and then some." 
"When people's backs are against the wall," he added, "a sense of entrepreneurship really comes out."
In the early days of Bernal Bakery, Stagg would get up at 3 a.m. to preheat their home oven, go back to bed for an hour, and then start the painstaking work of baking two loaves at a time. The couple made brown butter chocolate chip cookies and sourdough cinnamon rolls in a toaster oven to supplement their bread sales. 
When Bernal Bakery opened for business, there was no storefront: just the bakers' front yard and a wicker basket they used to lower bread to customers on the sidewalk below. They took orders through Instagram and payments on Venmo. The novelty of the basket and quality of their baked goods drew a loyal neighborhood following, creating a sense of community during a time when it was sorely needed. A neighbor who's a carpenter welded a boom swing-arm for the bread basket, and another neighbor, a local artist, painted a brightly colored sign advertising the country loaf.
"These home bakeries are servicing communities. Ninety percent of their business is local—like, truly local," Stagg said. "We were never good about really knowing our neighbors. We always worked a ton. It's so cool now to take the dog on a walk and know everybody by name and have people that are there to support you, people to lean on."
Bernal Bakery is now an official LLC, and by December, the couple was in the process of hiring their first employee. Stagg had graduated from his makeshift home operation to baking out of the Foreign Cinema restaurant kitchen and hosting pop-ups with local eateries. They moved into a commissary kitchen in February, allowing them to increase production and eventually get their bread into local stores and cafes. Due to the bakery's growth, delivery by wicker basket has been discontinued.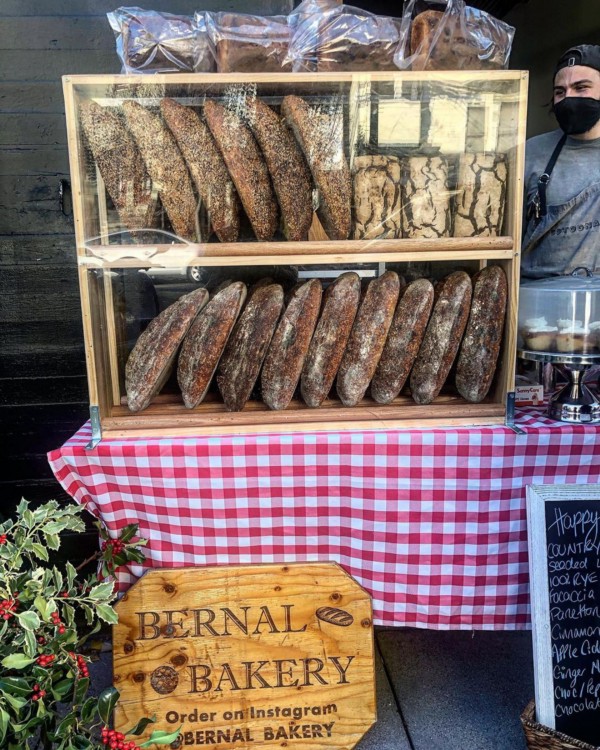 But on Sunday mornings, you can still get fresh country loaves delivered via basket.
Stagg said Bernal Bakery wouldn't exist if it weren't for the pandemic. He'd never planned to be a baker but is now "so brutally obsessed with it I don't see myself going back to restaurants." It's not just the bread, it's the lifestyle that comes along with it. The couple is well aware of the personal costs of being so tied to a restaurant: Banchero grew up with a father who spent more time at his restaurant than at home.
"I see the potential to do it more sustainably and have more of a work-life balance," Stagg said. "It's obviously hard work, but it's something that I can make a living out of and be home in time if we want to have a family and cook dinner and be present."
. . .
Matt Tayag, too, found unexpected relief in selling food out of his home during the pandemic. For months, he made kimchi in his Richmond District apartment, sold it on Instagram, and delivered jars contact-free to customers using a bright red Ace Hardware bucket that he lowers from his second-floor window. (It's definitely the most charming way I've ever purchased kimchi.)
For Tayag, fermenting started as a quarantine project on the side of his job as a water resources civil engineer. He started an Instagram page, Matt's Microbiome, to share his fermenting journey with friends. But then the pandemic propelled him down a very different life path. People started asking if they could buy his fermentation projects, and in September, he left the world of water quality sampling and consulting to sell kimchi full-time.
For most of shelter-in-place, Tayag spent two days a week peeling small mountains of garlic and ginger to make kimchi paste, then prepping, cutting, salting, and mixing in seasonal local produce. (A winter jar included Napa cabbage, carrots, Asian pear, green onions, and serrano peppers.) He's fascinated by the intricacies of fermentation and loves connecting with people through food, from fellow gut-health devotees to other aspiring entrepreneurs. (He has since moved on to a new job, still very much kimchi-adjacent, at Queens, a Korean deli in the Inner Sunset.)
"Being at home in quarantine really makes you reflect more on what you want to do," Tayag said. "Making that shift away from what I was doing before was very much personal, to try to keep my mental health in check."
Selling homemade food runs in the Tayag family. Growing up in South San Francisco, Tayag and his older sister Julie would watch their Filipino mother make lumpia for family and friends to bring in extra money. She sold her lumpia through word of mouth, joining the longstanding network of informal home-based food businesses in neighborhoods throughout the Bay Area.
Many years and one pandemic later, both siblings followed in her footsteps. After leaving his job, Matt upped his weekly kimchi production from four to ten gallons so he could make enough money to cover his living expenses. 
Meanwhile, Julie, a project coordinator at Genentech, started her own side-hustle selling cookies on Instagram out of her home kitchen, first in the Sunset District and now from Pacifica. Sunflour.SF was born from a mistake - a baking error that meant she had to quadruple the recipe, leaving her with more lemon-almond cookies than she could reasonably eat herself. It soon took on a life of its own. She would stay up baking until 1 a.m. to fulfill orders for brown butter hazelnut chocolate chip cookies and coconut cookies filled with homemade ube halaya (a Filipino dessert). She makes classic cookie flavors but loves to experiment: a recent project was updating Pepperidge Farm's Mint Milano cookies with a more tender crumb and silkier ganache filling.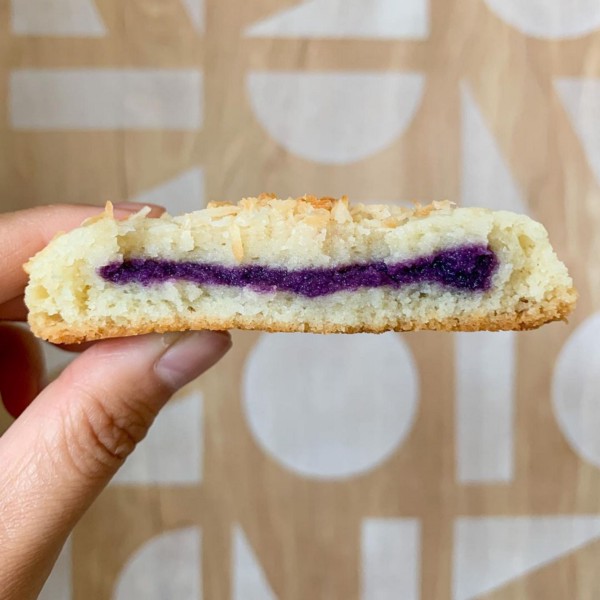 She said the pandemic gave her an unexpected push into what would have otherwise felt like a risky endeavor. She encourages other friends with passion projects to just jump. "Don't wait until it's perfect," she said. 
"Before quarantine, you had to have a lot of capital, you needed investors to have a business and a storefront. It's nice to know you can try it at home, and if you love it, put all your eggs in that basket," she said.
The business also brought Julie unexpected joy and connection, particularly during a time of isolation. Baking cookies gave her a purpose—getting her out of the black hole of her phone and into the kitchen. Talking with equally cookie-obsessed customers on Instagram and meeting them for safe-order pickups became her primary source of social interaction. She connected with the growing network of home-based bakers who welcomed her with open arms, offering tips, ingredient discounts, and support. 
"Last year was really, really hard, but when I look back and think about all the hard times, I feel like Sunflour helped me stay focused on being positive," she said. "We carry on despite everything that's happening in our world." ♦
An earlier version of this story appeared in Issue 4 of The San Franciscan magazine.
Elena Kadvany is a local journalist and Bay Area native whose true loves are dumplings, writing, and her cat, Leo. She is a food reporter for the San Francisco Chronicle and has also been published in the Guardian, Bon Appetit's Healthyish, SF Weekly, and The Six Fifty.
Maddie Meharg is a designer by day and an illustrator by night, and stares at a screen 23/7. The remaining hour is usually spent walking through the city, lounging at Dolores Park, or sifting through the free section of SF Craigslist.