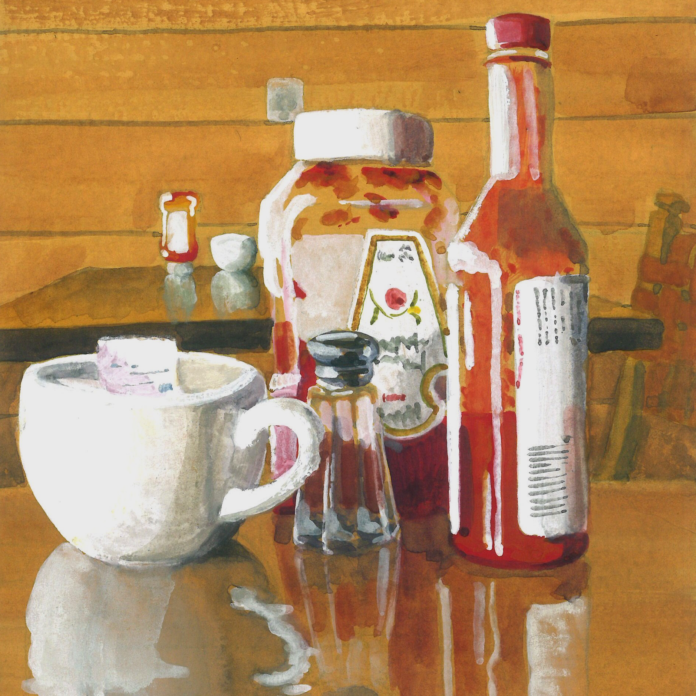 Kate's Kitchen brings breakfast and community to the Lower Haight for nearly thirty years running.
Even before the pandemic, old-school diners in San Francisco were struggling to stay in business. Howard's Cafe (est. 1996), a breakfast diner in the Inner Sunset distinguished by its U-shaped bar surrounded by swivel chairs that provided a direct view into the kitchen, was heaven for solo diners and breakfast lovers. Howard's closed abruptly on October 19, 2019. In a 2016 GoFundMe post, the host had indicated Howard's was experiencing "financial hardships." That said, the specifics of its later closure were not publicized. More recently, Tyger's Coffee Shop (est. 1992), in Glen Park, shut down without warning on March 31 of this year.
While many restaurants and business owners have been facing uncertain futures since the onset of the pandemic, it's been particularly devastating to see the loss of a particular cultural and historic icon: the local, neighborhood, cash-only diner that many, such as myself, grew up frequenting. 
Raised in San Francisco by a Bay Area foodie, I spent many early mornings of my childhood eating breakfast with my mother, Cindy. We would often go to Howard's Cafe, Eddy's (on Divisadero), or the Bashful Bull (in the Outer Sunset), sometimes waking up as early as 6 a.m. to squeeze in a meal before I went to school. Typically, my mom would order two eggs over easy, bacon, and hash browns, and I'd choose the most sausage- or bacon-heavy dish on the menu. For my mother and me, early-morning breakfasts were an almost sacred ritual that carved out time for us to spend together. 
These days, long-standing breakfast places seem especially hard to come by. Despite this, some local favorites continue to prosper. One such restaurant, Kate's Kitchen, sits between Webster and Fillmore on Haight Street. The storefront, like those of most high-traffic eateries in the COVID-19 era, is paired with a wooden parklet with half a dozen or so round tables set up for dine-in customers. These days, the shop's front windows are propped open, to create a breeze and ample airflow that Kate's owner, Hasan Khader, says "makes diners feel safer and more comfortable."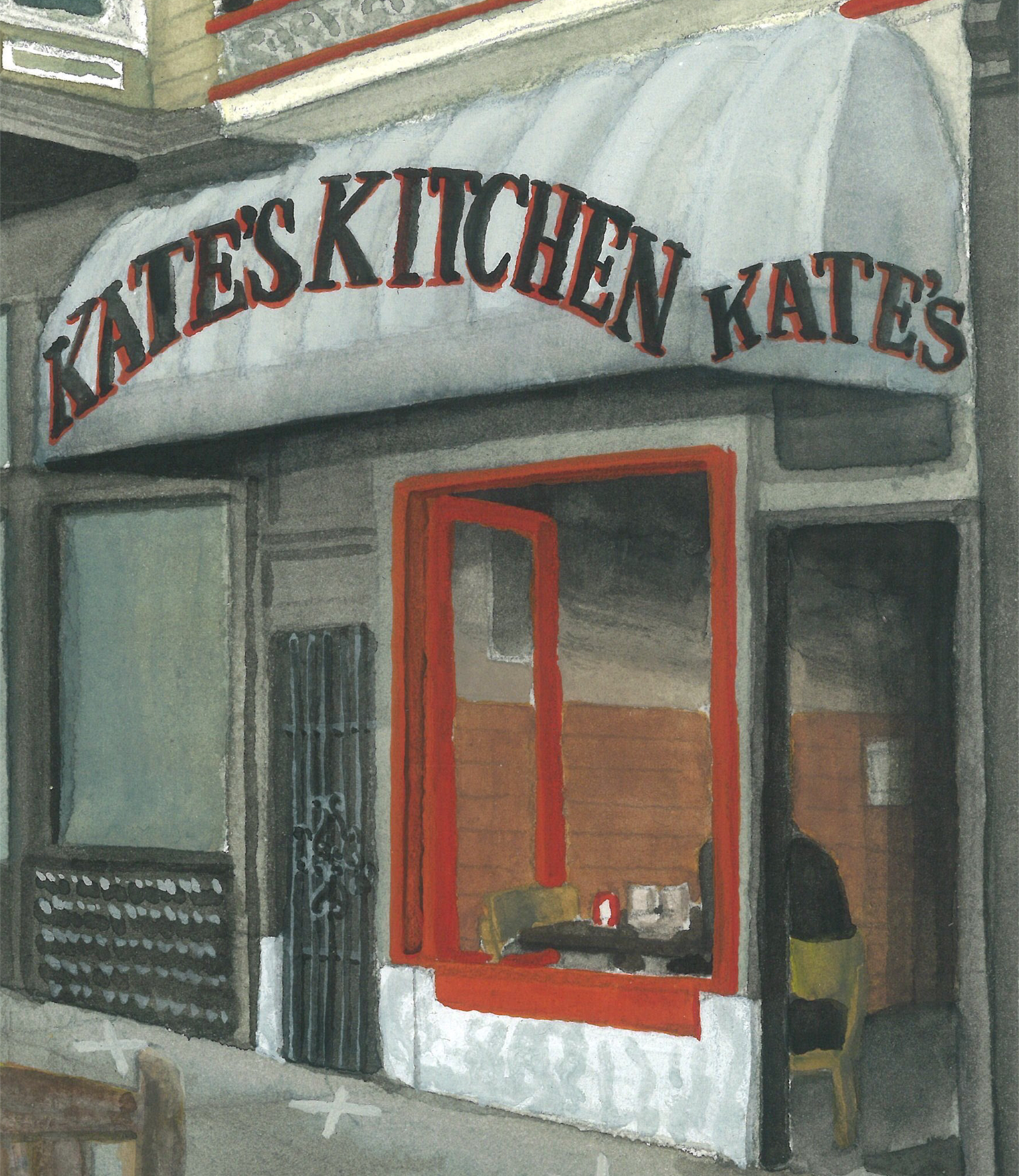 Khader's path to Kate's Kitchen started in 1988, when he emigrated from Jerusalem to San Francisco to pursue a degree in business administration at San Francisco State University. Arriving in San Francisco with $250 in his pocket, Khader jumped into the food industry, working at a pizzeria to support himself through school. He made good money and continued to pursue more opportunities in the food-and-hospitality scene. In 1989, he was offered the chance to run a pop-up out of a Pacifica kitchen that produced and sold pies during the day. For a monthly fee, Khader was able to cook and serve pizza out of the restaurant during the evenings and hone his expertise as a business owner.
In 1993, a couple of friends invited Khader to join them in opening a breakfast place in the Lower Haight. The location had previously been home to Delta Depression Dough, a breakfast joint with a loyal clientele. The new owners named the place Kate's Kitchen, after the daughter of the restaurant's first head chef. Neighbors would visit the new place, looking for Depression Dough, Khader said, and would stay (and later return) for Kate's plates. 
Kate's Kitchen has since become a beloved breakfast spot in the Lower Haight. Customers sit down to generously portioned dishes like the French Toast Orgy—thick slices of French bread piled high with yogurt, granola, and fresh fruit—or buttermilk cornmeal pancakes, which deftly combine both chewiness and fluffiness. Kate's offers a core menu with daily specials that rotate with the seasons; this fall, they added a pumpkin pancake special to their board. 
A few dishes on the menu that stand out, with names like Mindy's Hash Browns, Lauren's Special, and Irene's Wrap, pay homage to former Kate's Kitchen staff and reflect both Khader's warmth and his community-centered approach to running his business. All three employees worked for Kate's for over ten years. 
In the first decades of the restaurant, Khader's staff were mostly artists living in the Lower Haight—folks who worked shifts at the diner in the morning and pursued their artistic passions by night. Over the last decade, this has changed as San Francisco's demographics have become increasingly influenced by Silicon Valley and the technology sector. Khader said that in the last five to seven years, he's watched many of his customers move away. Yet, in a testament to the restaurant's lasting legacy, regulars who moved away often stop by to share a meal and catch up with Khader when they're back in town.
In 2004, at age nineteen, Irene Allen (the namesake of Irene's Wrap) joined Kate's staff, working as a busser before moving up to a front-of-house server job. Throughout her time at Kate's, Allen connected with dozens of regulars, such as Rashard, who was there on Allen's first day; Pete, who lived down the block and stopped by five times a week; and Michael, who shared Allen's love of the SF Giants. Earlier this year, after seventeen years with Kate's, Allen, who is now married and a mother of two kids, moved out-of-state to be closer to family. Leaving Kate's community was the toughest part of leaving California, Allen said. 
"Hasan has been like a second father to me. I owe so much to him," she said. "He always told me, 'If you ever decide to come back, you always have a job here.'" She remains in close contact with her Kate's Kitchen family. 
Khader's connection to the history and community of the Lower Haight is celebrated across the walls of the restaurant. The interior of Kate's is decorated with murals, framed works, and sculptures that each come with a story. Above the register hang three delicately painted cityscapes; above the front archway is a wooden sculpture of shelves reminiscent of an old western canteen. Most notable is the 1996 mural of the United States by Jon Weiss, with images depicting regionally specific natural resources including mountain ranges in the west and corn growing in the Great Plains. Weiss's mural, which spans an entire wall at Kate's, is a larger version of a smaller framed painting that also hangs in the restaurant. 
Each piece of art represents Khader's link to a community member. It's these relationships that bring the most joy to his work. 
"I get these customers who come here three, four, five times a week," he said. "And we sit down and hang out. We talk about politics, we talk about what's going on in the city. Socializing with people and talking to them—I love it."
Formerly a full-service dine-in restaurant open seven days a week, during San Francisco's COVID-19 lockdown, Kate's temporarily became a takeout-only establishment. Business plummeted to 10 or 15 percent of what it had previously been, Khader said. At one point, business dropped so low that he began pulling from his retirement fund and personal savings to keep the place afloat. Khader and one other staff member worked the shop, fulfilling the few takeout orders that came in. 
Closing Kate's Kitchen, Khader said, never once felt like an option, because giving up his restaurant—the place he'd opened at age twenty-four, the place where he'd raised both of his sons, both of whom later worked at Kate's during college breaks—would mean giving up a major part of his life and community.
The first time I went to Kate's Kit-chen was with my mom in the early 2000s. Cindy had been going to Kate's for years and was somewhat of a regular. I remember her chatting with our waitress, who, they'd just discovered, had gone to high school with my older sister. I remember Khader recognizing Cindy and sending over a side of hush puppies with whipped butter. As a child, eating at Kate's felt like sitting down in a neighbor's kitchen for breakfast.
On June 15, 2021, when the City of San Francisco lifted restrictions on indoor dining, Kate's Kitchen reopened to five days a week. Khader praised the return of guests and, although business is not yet back to 100 percent, Kate's days are getting busier as folks feel more and more comfortable dining out. The kitchen remains closed on Tuesdays and Wednesdays, however, due to a staff shortage. 
The reach of Kate's Kitchen is beyond that of an eating establishment. As the owner of Kate's, Khader never misses an opportunity to shower his employees and patrons with generosity and appreciation, whether that means treating regulars to complimentary meals during the holidays, accommodating staff who wish to take extended time off to pursue travel, sharing food with those who are struggling financially, or providing free meals to children attending a school program in the neighborhood.
Kate's has also opened its space as a venue for a myriad of events hosted by community members, including a wedding reception for two women who met at Kate's eating pancakes and a parklet pop-up by a sourdough baker known on Instagram as "haightloaves."
In a city often lambasted for its neoliberal, capitalist-driven values, Kate's Kitchen embodies the perseverance, vigor, and community spirit that uphold pockets of San Francisco. And with dozens of new restaurants inundating the city's food scene, it is a relief to be able to escape and find home in a local, community-based, legendary spot. ♦
Sophie Navarro grew up in the Excelsior District and discovered her independence wandering the neighborhoods of San Francisco and sampling local eateries. She continues to expand her palate and enjoys mining the NYT Cooking app for new recipes.
Nathaniel J. Bice was fully immersed in a career as a theatrical scenic and props designer before theater took a forced hiatus, whereupon he turned to fine arts. He now spends most of his days making tiny paintings of big buildings, and is delighted to be moving back across the bay from Berkeley to NoPa.