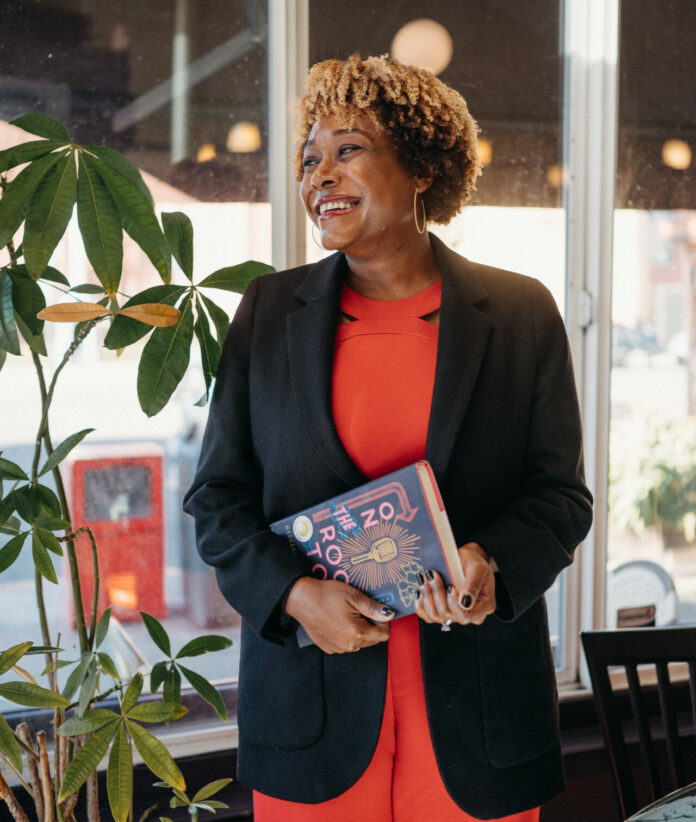 A conversation with author Margaret Wilkerson Sexton.
The September heat wave was in full force when author Margaret Wilkerson Sexton and I opted to chat in the indoor comfort of "Café Zoom." A busy mom of nine-year-old twins and a five-year-old, Sexton had just settled in from getting her family off to work and school for the day.  
We had met up to talk about Sexton's much-heralded new novel, On the Rooftop, named the Reese's Book Club Pick for September 2022. On the Rooftop is the story of Vivian, a strong-willed, widowed single mother whose dream of musical stardom for her three grown daughters runs smack up against the daughters' own ambitions. Set against the backdrop of 1950s white gentrification of San Francisco's historically Black Fillmore District and the flourishing jazz music scene of that time, the story is rich in the themes of family, community, and culture. 
"The conflict between a parent's aspirations for their children and what children often want for themselves is such a highly relatable scenario. Did you draw from your own experience?" I asked.
"I think my parents always knew I was going to be a writer," Sexton said. "I was about nine years old when I wrote my first poem for school. It wasn't anything particularly sophisticated, but my father just heaped praise on me. That good feeling made me want to write more, and I kept writing poetry all the way through high school. By the time I got to college, we all knew my path was pretty well set."    
Like the book's lead character, Vivian, Sexton was born in New Orleans, the setting for the author's first two books, A Kind of Freedom and The Revisioners. At eighteen, she went east to attend Dartmouth College, where she completed her studies in creative writing and met the man who would become her husband. After college the couple traveled to the Dominican Republic on a fellowship to work for a nonprofit. It was there that Sexton began her first attempt at writing a novel. As the author tells it, it was a discouraging experience.
"I found the lifestyle to be incredibly solitary and lonely," she recalled. "In retrospect, I realize much of that was that I was in a country where I knew no one, but I associated the sadness of that period with writing. I also started to get nervous about how realistic it would be to write for a living. I didn't personally know anyone who was doing it. It seemed wise to have a Plan B, and my parents, both attorneys, agreed." 
In 2006, the couple moved to the Bay Area, where Sexton attended law school at UC Berkeley. She went on to work for a law firm in Oakland for three years. 
"During that whole time, I didn't write a word. I was too busy," she said. "But when my mom would call, she'd always ask me, 'Are you writing? Are you working on something?'"
The desire to write continued to percolate inside her, and just when her colleagues were starting to advance their careers, Sexton decided to leave law and return to her heart's calling. 
"It was just this feeling that there was something else I was meant to do, and it began to feel more urgent," she said.
Perhaps stemming from her time as a lawyer, Sexton found herself interested in telling stories that examined the historical societal patterns behind contemporary issues.
"I think my brain is just drawn to patterns. I want to get to the root of matters," Sexton said. "So when I see a contemporary systemic issue, I like to uncover how it started—what the root of the issue is. I'm curious to see if the issue has improved, or if it only looks different on the surface. 
"In my first novel, A Kind of Freedom, I was trying to figure out why, if systemic racism had improved so much, there were significant pockets of Blacks worse off than their ancestors. I learned more about the War on Drugs and mass incarceration, systems that took the place of Jim Crow in terms of their effect but appeared to be ostensibly colorblind." 
On the Rooftop also examines systemic patterns of racial injustice, centering its characters in a neighborhood of San Francisco subject to "urban renewal" policies that forcibly drove Black people away from city centers across America in the 1950s and '60s. Against this broader historical setting, Sexton paints a personal and immediate portrait of family life. The book's title refers to the rooftop of the Victorian house in the Fillmore where each evening matriarch Vivian rehearses her three daughters, Ruth, Esther, and Chloe, who form the singing group The Salvations. The group performs at the Champagne Club, a neighborhood venue that also serves as an important backdrop for the story.
As with any singing group where harmonies must serve the whole, here Sexton creates four highly nuanced, strong women characters whose individual voices she manages to balance brilliantly in service to the overall story. The novel's multiple perspectives give the reader an intimate view into the hopes and dreams of each character. Ruth, the eldest, is drawn to the very life of domesticity that Vivian yearns for her to escape. Esther, lacking confidence in her place within the trio, finds power in her voice, writing and singing songs of protest. Chloe, the youngest, unsatisfied with her role in the group, seeks individual recognition.
Sexton seamlessly builds the interior tensions of the family alongside those of the community as the fabric of both begins to unravel. 
"I knew I wanted to tell a personal story against the background of a larger displacing event," she said. "In doing research, I discovered the history of the Fillmore District. I had no knowledge of the extent of the displacement. In the period of a decade, developers bulldozed over 2,500 Black homes and businesses for urban renewal. These were people who largely had emigrated from the South in the early part of the twentieth century, bringing with them their culture, traditions, and music during a time of great optimism and hope." 
Interesting, then, that the book was written during one of the darkest periods in recent history for this country. Sexton began work on it in 2020, a year that saw the beginning of the Covid pandemic lockdown, the murder of George Floyd, Black Lives Matter protests in the streets, and political vitriol seeping into every part of society. 
"There were already many books being written that touched on all of that," Sexton said. "I wanted to write a story where, despite facing challenges, the characters were joyful and resilient, where readers were left with a sense of optimism." 
With my forty-minute Zoom session ticking to a close, we agreed to meet a week later, in person, at the Morning Due Café in the Mission. 
The morning of our meeting, San Francisco's famous fog had rolled in, bringing cooler temperatures and welcome relief from the heat wave. As we ordered eggs, hash browns, and coffee, Sexton told me that this very spot was where she would often come to write in the time period following her exit from the law firm in 2012. 
It would be five years before the publication of her first novel—years filled with self-doubt, frustration, and many rejection letters. 
"I could have gone back to school for my MFA, but I'd done the school thing. It was time to just get down to the business of writing if I was going to do it," said Sexton. 
To improve her craft, she read books on writing, attended literary conferences, and devoured authors like Toni Morrison, Eudora Welty, and Ernest Hemingway. 
"But I had trouble accessing my own voice," she said. "I struggled with telling a story. I wrote every day for hours at a time but there was a sense of panic behind my work. In college and my law career, I'd gotten used to a feeling of accomplishment. Now these years were going by and I had nothing to show for them."
Around this same time, Sexton's father was diagnosed with cancer and Sexton returned to New Orleans several times to be with him throughout the course of his surgical and chemotherapy treatments. 
"It was during this period of tending to him that my drive for publication started to diminish. I still fantasized about it, but watching my father battle cancer gave me new perspective. I became acquainted with my own strength. I realized there was so much more to me than what it might feel like to be an author," said Sexton. "I began to relax and just enjoy the act of writing. That made all the difference."
"Hearing you tell it that way, what comes to mind for me is the saying, 'When you love something, let it go,'" I said. 
That's very much the story arc for the character of Vivian when she begins to realize that she will have to build a life for herself separate from the lives of her daughters. In the following excerpt, we meet Mr. Franklin Dyers, a charismatic talent scout who has set his sights on managing the trio.
"That girl up there, Ruth, singing last week, what song was it, 'Stormy Weather,' and I almost started crying like an infant on his mama's ninny. . . . I knew right then, I had to have her, not just her, all of them. See, it's got to be a girl group, that's the wave of the future. . . . And I hear you're quite the manager too. That you trained them yourself, taught them everything they know, got them performing onstage at Jack's, Flamingo, even here." 
He clasped and unclasped his hands as he spoke. 
"Yes, my dear, you've done fine for them by yourself. But if you want to take it further, you're going to need some help. Anyone would. And I'm in a position to provide it. I don't want to step on your toes, but you get to a point where you got to release your children to the world if you want them to be worldly, you know what I'm saying?" . . . He went on. "First thing I'd do is arrange bigger gigs for them, all over the country. I'm not meaning this chitlin circuit. I'm meaning more the likes of where Sam Cooke performs. . . . I'm talking the Apollo Theater in Harlem. I'm talking the Howard Theatre in DC, the Regal in Chicago. And that's just the beginning. See, I got connections you could only dream of, young lady." . . .
All her life she had envisioned the big city. All her time as a mother, she had envisioned the four of them taking it in together. But that vision wouldn't pan out. She had work and bills and work again. This next step she had prayed for had come upon her, but it would not include her.
"Music plays such a big part in the story, and I understand you also wrote all the song lyrics in the book that are credited to the character of Esther," I said. 
"I'd had all these great ideas for songs that I wanted to use in the book until my publisher told me that we'd have to pay to use them," Sexton said. "So I thought, well, Esther is a beginning songwriter. My skills are probably about the same, and honestly, on those days that I knew I was going to be writing lyrics, those were the most fun." 
A classic case of necessity being the mother of invention. 
In the novel, at a neighborhood protest, Esther performs a song she has written about emancipation that is as personal to her own life as it is universal to the crowd:
The world can't change without me
No, the world can't change without me
When I reach into my soul
And dig out what it knows
That's the first step to being free
I've scaled mountains, I've journeyed rivers
I've crossed bridges that broke me to my knees
I've endured burdens, I've been bonded my whole life
But I'm claiming today
I'm free
There's no white man to tell me no
There's no law to make it so
There's no government to grant me liberty
There's no leader, there is no power
That trumps the one that comes straight out of me
As our time together wound down, a conversation between writers would not have been complete without touching on the topic of process. It turns out those years of penning legal briefs were not without value as Sexton ventured into the realm of novel-writing.
"My goal for the day is five pages," she said. "These are fairly relaxed pages in terms of polish, though I will say they are intentional in terms of content because I do always start with an outline and a thesis, an overall theme or statement that it is then my storyline's job to prove. Each scene needs to further that storyline and ultimately that argument. As with legal briefs, I try to avoid superfluous material. I don't strictly adhere to that outline, but it helps me to have a loose model in front of me." 
Next up for Sexton is a novel that tracks the life of a Black woman born in 1940s New Orleans who makes her way to Oakland during the rise of the Black Panther Party in the 1960s, perhaps one of the most volatile eras in Bay Area history. I look forward to following Sexton's characters as they navigate the tensions of the time and the discovery of its roots. ♦
Jayne Martin is a native San Franciscan. She is the author of Tender Cuts, a microfiction collection from Vine Leaves Press, and The Daddy Chronicles: Memoir of a Fatherless Daughter, published by Whiskey Tit Books in spring 2022.
Yiqian Barba is a photographer who grew up by the bathtub-warm waters of Saipan, in the western Pacific, and somehow ended up by the bone- chilling Pacific waters of Ocean Beach. She lives with her husband and two sons in the Outer Richmond, where they like walking in Sutro Heights Park.