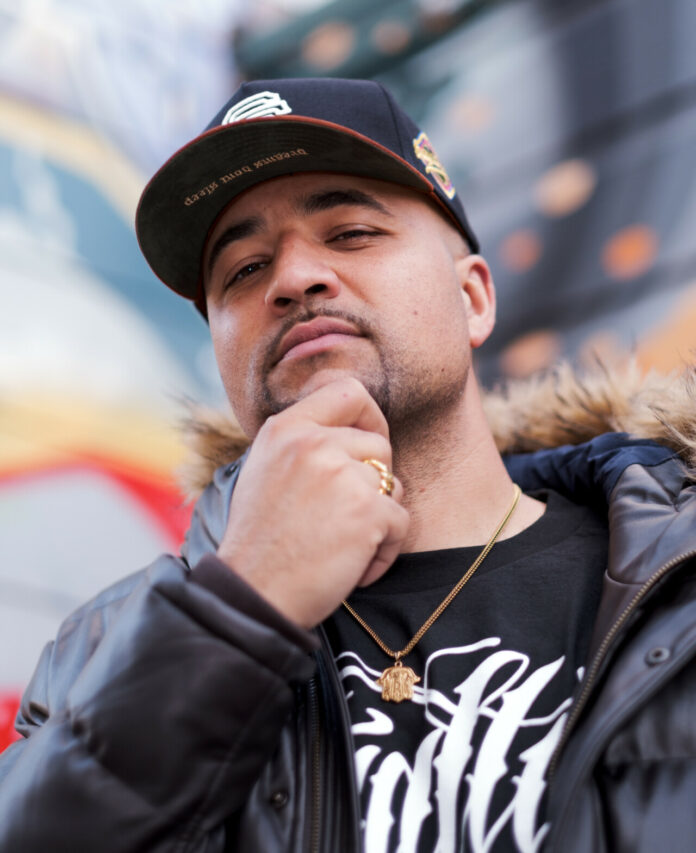 Dregs One keeps the rich legacy of Bay Area rappers and graffiti artists alive.
To listen to the playlist that accompanies this piece, open the search bar in Spotify, tap the camera icon, and point it at this code:

It was the beginning of Fleet Week when I first met Dregs One. The deafening roar of the Navy's Blue Angels fighter jets engulfed the streets of the Outer Mission as people went about their day, standing in line at an ATM or buying tamales outside Safeway.
I texted Dregs that I was outside our meeting place, then noticed a guy in a San Francisco 49ers cap walking over from the liquor store across the street. Emblazoned on his bright white T-shirt was a graffiti-style letter D smoking and holding a can of spray paint. The shirt was a design by Dream Genetics, a cannabis strain company started by late Bay Area graffiti artist Mike "Dream" Francisco's son Akil Francisco, and the guy was Dregs.
Born Reza Harris, Dregs One is a rapper, graffiti artist, and record label owner. In the last year, the thirty-five-year-old has also become a sensation on both TikTok and Instagram with his videos showcasing the history of Bay Area rap. Each video taps into his encyclopedic knowledge of the Bay's biggest hip-hop artists, including E-40, The Jacka, and Mac Dre. His related project, History of Bay Area Graffiti, explores the back stories of prolific local graffiti artists and the work they've done around the region. Together, his videos have amassed almost eight million views and made Dregs a recognizable figure in San Francisco and beyond.
Not fifteen seconds after I introduced myself, a pedestrian stopped and asked Dregs if he was "that guy from Instagram." Dregs nodded politely, trying not to attract too much attention on a busy sidewalk in the middle of the day. The starstruck fan admitted he had been following Dregs for a long time and that he appreciated the throwbacks.
When the dude left, I asked Dregs if that happened a lot and he nodded, taking a quick drag on his cigarette before putting it out on a parking meter. Then he laughed and said, "I try to not let it get to my head."
. . .
Offline, Dregs is an active rapper, with over two dozen releases under his belt, his most recent, Sucka Repellent, launched in the fall of 2022. Like most of his other records, Sucka Repellent fuses contemporary hip-hop and rap elements over the distinct Bay Area mobb music sound. For those unfamiliar, think slowed-down funk with deep bass lines. Dregs's wry, lyrical, smooth-rap style shines brightest on songs like "Geeked Up": "Rock a black Giants jacket / like Bob Saget."
Dregs says he doesn't do illegal graffiti anymore but will throw up bigger, thought-out pieces a few times a year. He's performed in world-class cities like Tokyo and Paris and has graffiti pieces (elaborate garage door–sized tags) everywhere in-between. But it's his obsession with a certain slice of Bay Area history that lies at the heart of much of his work.
When you think about the Bay's rap and hip-hop history, the hyphy movement, complete with its fashion, sideshows, and trunk-thumping bass lines, probably comes to mind. As Vallejo-based music mogul E-40 puts it, the hyphy sound is just up-tempo music with a hard-hitting beat that makes dancers want to lose control on the dance floor. Rap icons like Mac Dre and Keak da Sneak popularized the style of music and attitudes woven into songs like "Feelin' Myself" or "Superhyphy" in the early 2000s, but before then, regional artists in the 1980s and '90s, like Oakland-grown rapper Too $hort, were paving the way for new generations by spawning the mobb sound and establishing communities of artists. And although the region isn't necessarily the birthplace of rap and hip-hop, rappers today often pay tribute to some of these Northern Californian icons in different ways. Grammy winner Kendrick Lamar even spliced archival interview audio of 2Pac, who went to high school in Marin City, on To Pimp a Butterfly's closing track in 2015.
But because not all artists associated with the Bay Area are as renowned and revered as 2Pac or E-40, part of Dregs's quest is to give props to countless other figures in the communities he grew up in and alongside. Gentrification and displacement have pushed so many aspects of the culture, especially that of communities of color, to the margins of society, both figuratively and geographically. Dregs is making sure these chapters of San Francisco history won't be lost with time.
. . .
In his popular History of Bay Area Rap videos, Dregs plays storyteller with the help of a tripod and a green screen filter that displays historical imagery of artists, their labels, and their crews. He'll usually begin his clips with an introduction to the rapper or graffiti artist, covering where they grew up, who they collaborated with, their discography, and their overall impact. Dregs even has a short series defining Bay Area slang in case you were still on the fence about whether food "slaps" or "smacks." (Spoiler: the latter is correct.) Some of the facts he presents beg the question, "How does he know that?" Which West Oakland lyricist was roommates with 2Pac in the '90s? Dregs could tell you.
And Dregs isn't stingy about using words like "important," "prolific," "dope," and "legendary" when describing artists he looks up to. The authenticity and humor in his content keep followers engaged and requesting their favorite Bay Area graff artists or producers in the comments. Rappers like E-40 or Too $hort frequently support the throwbacks Dregs offers, dropping praise in the comment section just below the rap raconteur's videos.
The research Dregs does for his content doesn't often go beyond double- checking dates and production credits—because it doesn't need to. Most of the facts Dregs shares come entirely from his own obsession with the artists he has spent his life listening to.
Growing up in the Lakeview neighborhood of San Francisco, Dregs remembers frequently encountering violence around his city. Teenagers getting killed on Muni buses, people in shoot-outs on Mission Street, and even Dregs himself getting threatened for wearing a 49ers jersey, right in San Francisco.
"I saw that the kids who were popular were the kids getting locked up or the kids who were selling dope. So I gravitated toward that a little bit," he said. "And I had to learn the hard way that that's not me."
Instead, Dregs focused his energy on painting and developing his rap style. And if it weren't for those outlets, he would've fallen into more destructive habits, he said. He raps on his second record, in 2008, "It all started off when I was fourteen years / trying to get some fame and respect from my peers / another way to kill some time besides drinking beers / another way to free my mind and get my ass in gear."
Dregs still lives in San Francisco and has an office in the Outer Mission that functions as both a recording studio and TikTok production lab. When I visited one afternoon, boxes of promotional materials for his record label, Audio Vandals, sat piled beneath dozens of framed pieces of art: hand-drawn flyers for shows at San Francisco venues that don't exist anymore, signed prints from late counterculture photographer Ricky Powell, old-school comic book–inspired artwork, a framed program of a graffiti exhibit at the Bronx Museum of the Arts. On his desk was a stack of "black books"—journal-like sketchbooks that graffiti writers use to experiment with different styles and to collect artwork from friends.
From his point of view, Dregs likens the changes within street art communities to a sort of Christopher Columbus effect. Instead of acknowledging preexisting subcultures and their communities, people come to cities like San Francisco, insert themselves in the local scene, and do their own thing without appreciating the history behind these crafts.
"I don't have a problem with people who move here. The dope thing about San Francisco is that it was always a place where anybody could come to," he said. "I think about all the gay people who came here from other places where they couldn't be themselves. Hippies, punk rockers, you know, whatever. Whatever you're into, you can come and be here. But it's just that distinction of, are you trying to be part of this community or are you trying to just insert yourself into this new community and not recognize what's already here?"
During our time together, I tried to understand what motivated Dregs to carry himself in the wholehearted way he does. He admitted that he didn't really have "big homies" growing up and was eager to cut his teeth in the music world. But in the late aughts, one artist, the late Dominick "The Jacka" Newton, from Pittsburg, in the East Bay, gave the up-and-coming rapper a chance to collaborate.
"I had the opportunity to record with The Jacka at the height of his stardom, in like 2008. And he was hella cool and hella down-to-earth," Dregs said. "And when you carry yourself like that, it makes people want to rock with you a little more." The openness to collaboration stuck with him.
"I think a lot of rappers have big egos. A lot of them are dicks," he said. "I just don't want to be like that. To me, it's more sustainable to know if people support what I'm doing, they're supporting something positive and it's going to go back into other people."
And Dregs has indeed given back. He released an instrumental version of his single "Rap Cats" and held a contest to have someone remix it. The winner would get something a little more substantial than bragging rights: Dregs gave the winner, a rapper by the name of Frisco Baby, 50 percent of the copyright royalties as well as publishing credit of the remix. And he's no stranger to other forms of community outreach either.
Dregs told me about a recent visit to a classroom at Roosevelt Middle School in Oakland, where he spoke to the students about art, making music, and why, according to him, illegal graffiti isn't worth their time. But he'll give honest, sometimes brutally honest, feedback to teens who are trying their hand at street art.
"It's kind of a trip that a lot of these kids already knew who I was," he said. "I show up and it's like, 'Oh, it's him!' Like, I'm thirty-five. These are eleven-year-old kids. To me, it's kind of blowing my mind a little bit that I'm able to connect with young people like that."
Sharing his experiences and his deep knowledge of Bay Area rap and graffiti lore with thousands of strangers online wasn't exactly in his game plan. But because he found a following for doing something he felt he was good at, he chose to pursue this form of oral history and make it accessible. And he does it because he genuinely loves his communities and his city's history. And what better person to tell it than someone who's lived it firsthand?
"The reason Bay rap speaks to me is just that from the moment I heard it, it sounded like outside. It sounded like my neighborhood," he said. "I'm hearing the street I grew up on being talked about in rap lyrics. That's pretty big for me. So it's very organic, very from the soil."
He shared how proud he is of this life he has built for himself. Moving away from kitchen or construction jobs in his past, Dregs is able to freely do what he loves: create.
"I just get a kick off this. You couldn't do it if you didn't love it. That's why so many people quit even when they're successful. Like, did you really love it? Or did you just want something that you thought this was? You thought this was, 'I made a rap. Now I'm famous. Everybody loves me.' No. This is a fucking job. This is work. This is a career. This is a business."
. . .
A few weeks later, I was under the shadow of the 101 freeway on Mission and 13th, where concertgoers slowly trickled into the performance space Public Works for a rap and hip-hop show.
The occasion was Dregs's album release show for his newest record, Sucka Repellent. DJs spun hip-hop mixes and the opening rappers didn't have to do much to get the crowd energized. It was a big night for Dregs.
After the opening acts finished, the show's MC took the stage. He thanked the DJs and artists who had performed and admitted that if he had missed thanking someone, he was sorry—he was five drinks in.
"Before we bring on Dregs One, we're gonna bring on, uh, my other homie. Jheri Curl Darryl!" 
The crowd sounded confused, as Dregs was scheduled to perform next. Nobody named Darryl was on the bill.
Onto the stage sauntered an individual in a Jheri curl wig and a matching bright orange and blue Puma tracksuit, whose lips precariously balanced an unlit cigarette. A few gold chains dangled loosely from his neck. He was wearing black wraparound sunglasses, and atop his wig sat a fresh San Francisco Giants cap. 
Dregs was in character as one of several personas he features in his TikTok and Instagram videos. He says he sometimes brings the characters into his real- life performances to highlight his showmanship and make his gigs as memorable as possible. Being more than an artist who just grabs a microphone and raps over lyrics is paramount to his performing ethos.
And the Jheri Curl Darryl character is largely drawn from real-life figures in Dregs's past. He admits that the hairspray-saturated, styled-out '80s image is what he saw at barbershops, bars, and liquor stores around Lakeview growing up. Even these comedic fictional characters from his past speak to his commitment to sharing his experiences. With a rich history to draw from, there's value in sharing your stories.
"The shit that I'm into is like, you have to know about it. If nobody tells you, you're not going to know because it's not being pushed out like other regions' history," Dregs said. He brings up the well-documented and recognized history of New York City or Los Angeles rappers and how the Bay Area market, although smaller, was just as active and impactful, and had just as much heart.
As he said, "If you didn't see it, how would you know?" ♦
Andrew Lopez is an Oakland-based freelance reporter. Currently pursuing a master's in journalism at UC Berkeley, he has written and produced audio stories locally for the Oaklandside, Oakland North, and KALX radio, and for KMUW, an NPR affiliate in Wichita, Kansas.
Isaac Ceja is a documentary photographer. His photographic interests include SF street photography and long-term photo projects about arts and culture. When he's not taking photos, he enjoys obsessing over old movies, playing guitar, and waiting for the Raiders to be good. He's originally from Orange County and currently based in the Bay Area.