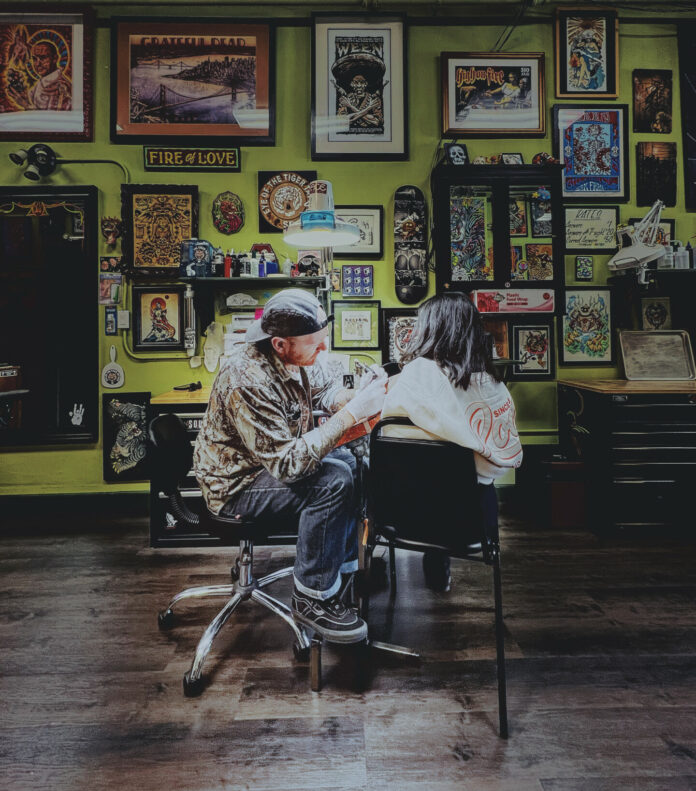 Tattoo artist Dustin Grey shares his passion for body art.
On a Friday afternoon in late March of 2022, Eye of the Tiger Tattoo was bustling. In the front of the shop, an artist named Marco worked away on a large thigh tattoo. The person I'd come to visit, tattoo artist Dustin Grey, was stationed in the back of the shop, polishing up a cat drawn in irezumi, a traditional Japanese tattoo style influenced by characters and motifs from Japanese mythology, religion, and fables. I waved to Grey, easily identifiable as the artist in skate shoes and a beanie who was known to engage in dynamic conversations with his clients. Despite actively tattooing, he welcomed me over to sit and chat while he worked. 
I grabbed a stool from a nearby station, sat down, and started asking questions, pausing every few minutes while Grey's client adjusted positions. A few times, we sat in silence as I watched a focused Grey apply finishing touches such as adding shading to the body of the cat and coloring the claws red and gold.
Eye of the Tiger is nestled in the heart of the Sunset District, just south of Irving Street on 20th Avenue. Outside the studio, a sandwich board decorated with a cartoon-style bipedal tiger beckons to curious passersby. The storefront is loud, with typography that reminds me of early Microsoft WordArt: shiny golden letters that read, "Eye of the Tiger," arched above a roaring tiger head. In this otherwise calm and suburban-like neighborhood of San Francisco, the shop stands out.
Entering the narrow space, it's easy to get lost in the art-adorned surfaces of the place. The walls are covered in Grateful Dead posters, black-and-white paintings, watercolors, framed sketches of tattoo art, lots of tiger iterations, animals preserved in jars on shelves. A soundtrack of '90s and early-2000s rock plays in the background.
While the bold aesthetic of Eye of the Tiger contrasts with the sleepy neighborhood, what makes this spot notable is much more than its decked-out walls and edgy vibes. It's the sense of community and collaboration created by its tattoo artists that distinguishes this shop from others in the city and has solidified my loyalty to the place for the last three years (during which I've acquired six tattoos).
. . .
Dustin Grey spent his childhood drawing—superheroes, jets, dinosaurs—inspired by late-'80s, early-'90s icons like Marvel's X-Men and Teenage Mutant Ninja Turtles. "That's probably one of the first things I remember drawing and figuring out," Grey said. "I actually have that memory of like, 'Oh yeah, you can't just draw the weapons, like, in front of their hand. Their fingers have to be wrapped around them.' I was like, five." 
Grey grew up near Venice Beach in the '80s and '90s, immersed in a culture of skateboarding and tattoos. It wasn't until the early 2000s, after spending three years in college, that he left for San Francisco and found himself welcomed by a new city that offered freedom and opportunity. After finding a job at a hotel, Grey realized he could work, pay his rent, skateboard, and get tattoos without needing to return to college. Thus began an unusual yet fulfilling journey into the world of tattoo artistry.
For his own body art, Grey frequented a Haight Street shop called Braindrops (which closed in 2019), where he co-created with tattoo artist Brian Hutflies. "Brian gave me my first really big tattoo, and he did my sleeve. So I would like, draw stuff out and show it to him and he'd make it tattooable. I learned a lot from that." Working with Hutflies offered Grey an opportunity to understand the process of translating a drawing into permanent, dynamic body artwork. 
The trick to turning artwork into body art lies in the wisdom of knowing what textures, shapes, or styles will hold up over time as a tattoo on any given part of the body. "That's why these tiny little fine-line tattoos—which, obviously, I do a lot of them—there are limits to them. A lot of times people don't understand those limits. It's not going to stay as precise, it's going to change, like, lines expand. There's less contrast over time."
Grey made the leap from tattoo-ee to tattooer in 2011, with the help of his Bay Area skateboarding community. One day, while accompanying a friend to their tattoo appointment at Quetzalcoatl, a tattoo parlor on 23rd Street and Valencia, Grey very casually asked an artist, who was a skateboarding buddy, about an apprenticeship. Without fully knowing what he was getting into, Grey kept returning to the shop and continuing to inquire about an apprenticeship. Finally, after answering a few questions and successfully drawing an eagle and some lettering, he was told, "I guess you're good. Three strikes and you're out. Don't eff up." After that, Grey was at Quetzalcoatl every day. 
He apprenticed for a year, primarily cleaning, prepping, and soldering needles. "And then at some point, they were like, 'All right, you're going to bring in oranges tomorrow,' and I got all excited. I went and picked up some really nice oranges and I got to tattoo on oranges." As Grey shared this anecdote, an apprentice at Eye of the Tiger brought out some rubber eraser–textured "fake skin" that is more commonly used by practicing tattoo apprentices nowadays.
The first real piece Grey tattooed was a cherry blossom on one of his mentor's arms. "It was stressful, but I did the cherry blossom pretty well. They said, 'All right, you can start doing tattoos for free on your friends.'" After that, the shop started letting Grey tattoo very simple artwork on clients for free. They'd tell the clients, "Okay, this guy is the apprentice. So you can get your tattoo for free, and if you like what he does, tip him." Grey's journey from apprentice to tattoo artist with conditional privileges took about two years.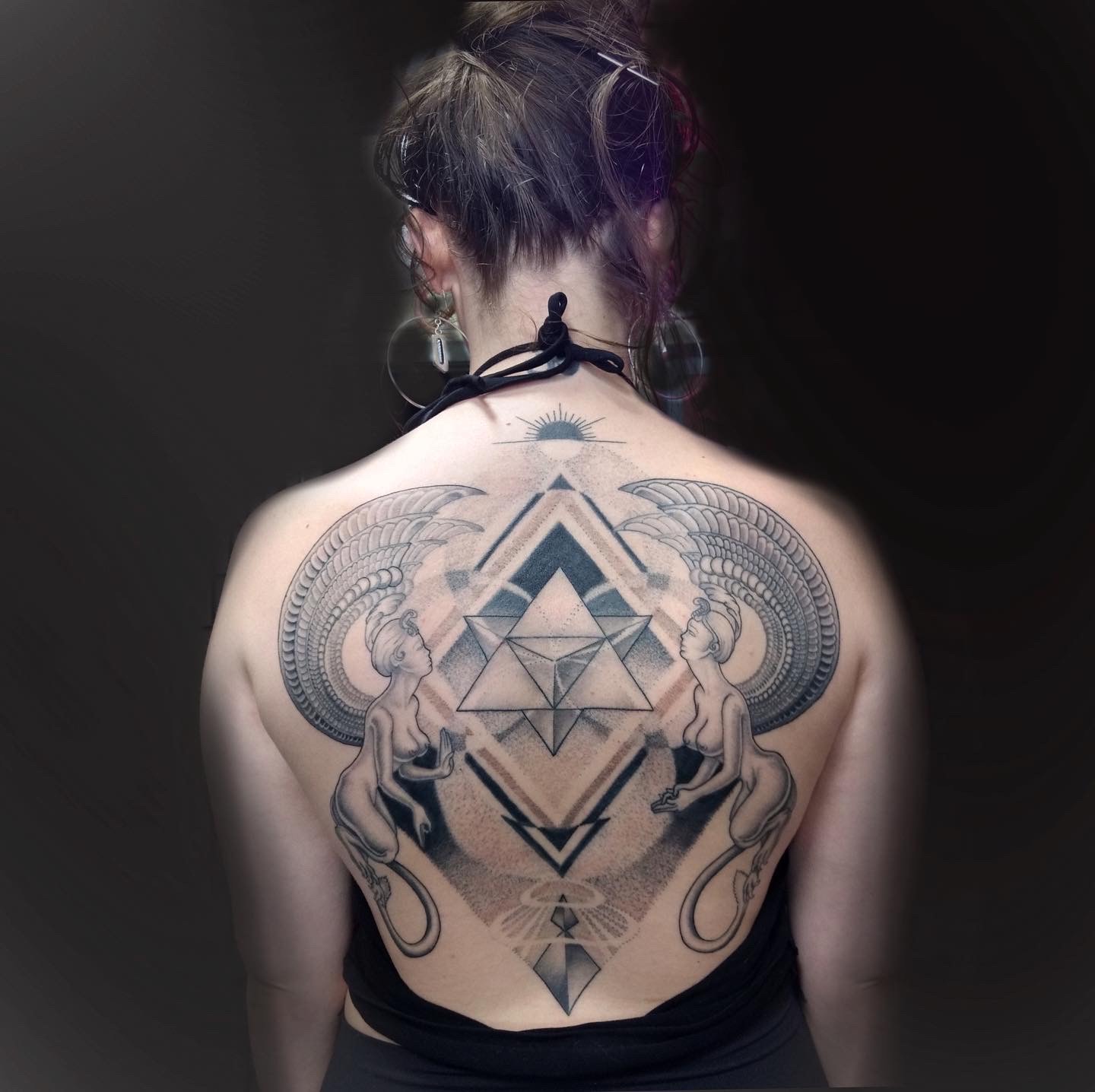 Once he had cultivated his professional tattooing repertoire, Grey left San Francisco and worked in other shops around the US. In Hawaii, he tattooed butterflies, flowers, psalms, and scripture; in Las Vegas, he was inundated with casino-related imagery like dice and cherries. He moved back to the Bay Area in early 2019 and was offered a position, through a friend, at Eye of the Tiger. He was finally a fully fledged San Francisco tattoo artist.
. . .
Coincidentally, in late 2018, I was deeply contemplating a new tattoo inspired by a badass T-shirt I'd bought at a recent Asian American Studies conference. The T-shirt had a cartoon outline of a young woman journaling, "Dear honey badger, teach me to be fearless," an homage to the in-vogue honey badger, an icon of the DGAF ("Don't Give a Fuck") movement. 
At this point, I already had two tattoos, both on my left calf. The first one, from 2016, was a cartoon T. rex I'd drawn—that somewhat resembles Reptar from Rugrats—tattooed by an artist at a shop in the Mission I'd frequented for nose piercings. The other, from 2017, was of a furry creature my sister drew for me when I was in preschool. The drawing of the monster was accompanied by a brief and heroic tale of a little girl who befriended the monster, unswayed by its apparent differences from her—a reminder that compassion is precious. It was tattooed by a friend of my sister's at a shop off Market Street.
On February 26, 2019, I decided it was time to add another fierce and noble creature to my growing collection. I found Eye of the Tiger on Yelp and walked in without an appointment, fueled by a compulsion to immortalize the badger T-shirt onto my forearm. It was Dustin Grey who greeted me and, after being shown a picture of the honey badger, quickly sketched and printed an outline of my soon-to-be tattoo. After an hour of collaboration, slight pinching, and snarky banter with Grey, I walked out with my arm wrapped in plastic and a smile plastered on my face. This chance encounter marked the beginning of a years-long, and what I hope to be decades-long, artistic partnership with Grey and Eye of the Tiger.
Less than six months later, I was back, but this time with a stock image of a baby hippo swimming in the ocean. This time, I had booked an appointment with Grey and told him I wanted a black-and-white sketch of this exact hippopotamus and I wanted it to look incredibly cool. 
Over the low hum of the machine, Grey, who is a remarkably solid conversationalist while working, chatted with me about nothing in particular. Snide comments between him and the other artists kept me chuckling throughout bouts of pain or discomfort. We talked about hippos and what makes them awesome, what makes this city great, and my favorite topic: Grey's disdain for the young skateboarders who frequently clog the modest curbs of an undisclosed preferred skating location in San Francisco. As he more recently joked with me, "To the young people reading this, if your knees and backs still work, go jump on things! Stop getting in the way of our sad little pleasantries that we get to enjoy once a week, you know?"
After a few hours, I walked out with a realistic, three-dimensional, fully shaded baby hippo on my left shin that pranced forward, stride-in-stride with me. I'll add that I was so hyped over this tattoo that I actually shared it on Reddit (in a post that also happens to be the source of all 163 of my karma points).
As a fairly indecisive person, I've found relief in the collaborative process of getting a tattoo, wherein I bring a feeling of want and a general sense of shape or form and am met with someone who has the artistic capacity and wisdom to transform my dreams into tangible (and revered) artwork. For the honey badger, baby hippo, and a subsequent turtle tattoo, I arrived with beta copies, and through a discourse- and laughter-laden process, left with fully formed, unique representations. 
When I asked Grey what it is about his work that brings him joy, he spoke of the satisfaction of working with a client. Bound by a time frame and someone else's vision, his artistic talent flourishes. Grey pulled out his iPad and showed me eight different versions of a tiny Daruma-inspired tattoo [representing a Japanese traditional doll] that he'd drawn for someone. "I can think of a million things, and then I get decision paralysis and can't evaluate what's worth doing more than something else. But if someone outside of me thinks it's worth doing, it motivates me," he said.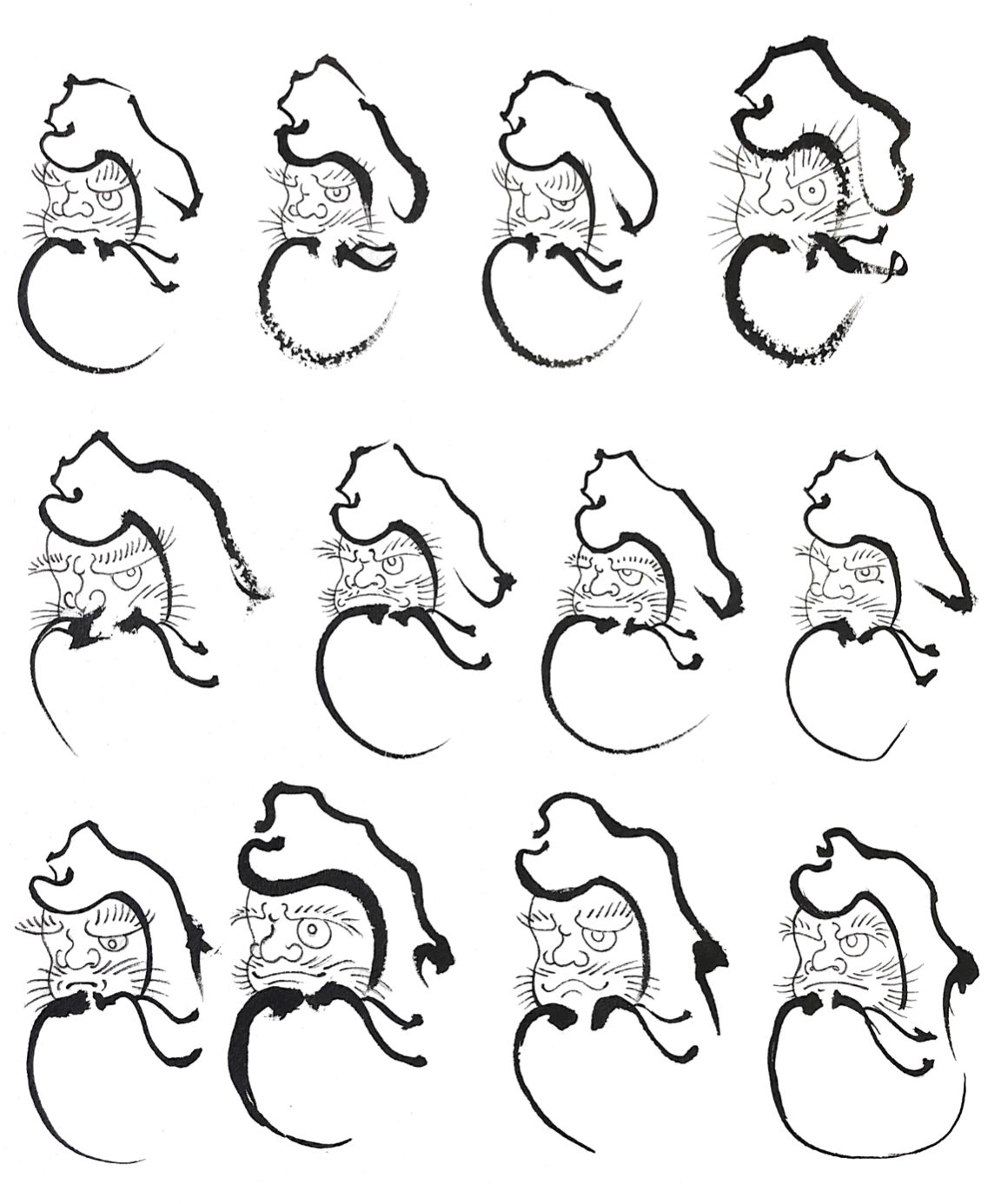 "Despite my contempt for most people on earth, I really do enjoy figuring out what people are looking for and making it happen. It gives me a purpose, because I'm pretty nihilistic. So it's cool to have a purpose and have it be pretty concise," he added. 
Our discussion on this particular day, driven by my questions and substantiated by Grey's philosophical musings, jumped from toddler-object permanence to the scarcity of intractable pure truths to conspicuous consumption to vox populi and the perils of groupthink. Most of the topics eventually circled back to tattooing: "the goodness that is born out of genuine enthusiasm and a calm mind" (as per Grey), the agency and self-determinism that come with tattoos, and the freedom of accepting impermanent permanence. 
I've worked with tattoo artists at a handful of other shops in San Francisco and elsewhere. Most sessions involve some initial conversation, followed by focused silence. It wasn't until I stumbled upon Eye of the Tiger that I began to experience getting a tattoo as both a process of building community with myself (finding pride and joy in my body) and of entering into community with the artist and the shop.
The relational process of tattooing at Eye of the Tiger transcends the ordinary tattoo-ee/tattooer dynamic. It's a testament to the artists' openness to be known and to get to know their patrons (as well as their artistic skill) that most drown out the sound of their own machines in conversations with their clients. For the client, the experience of co-creating a distinct, everlasting piece of body art is as captivating as the opportunity to talk with these generous, quirky artists.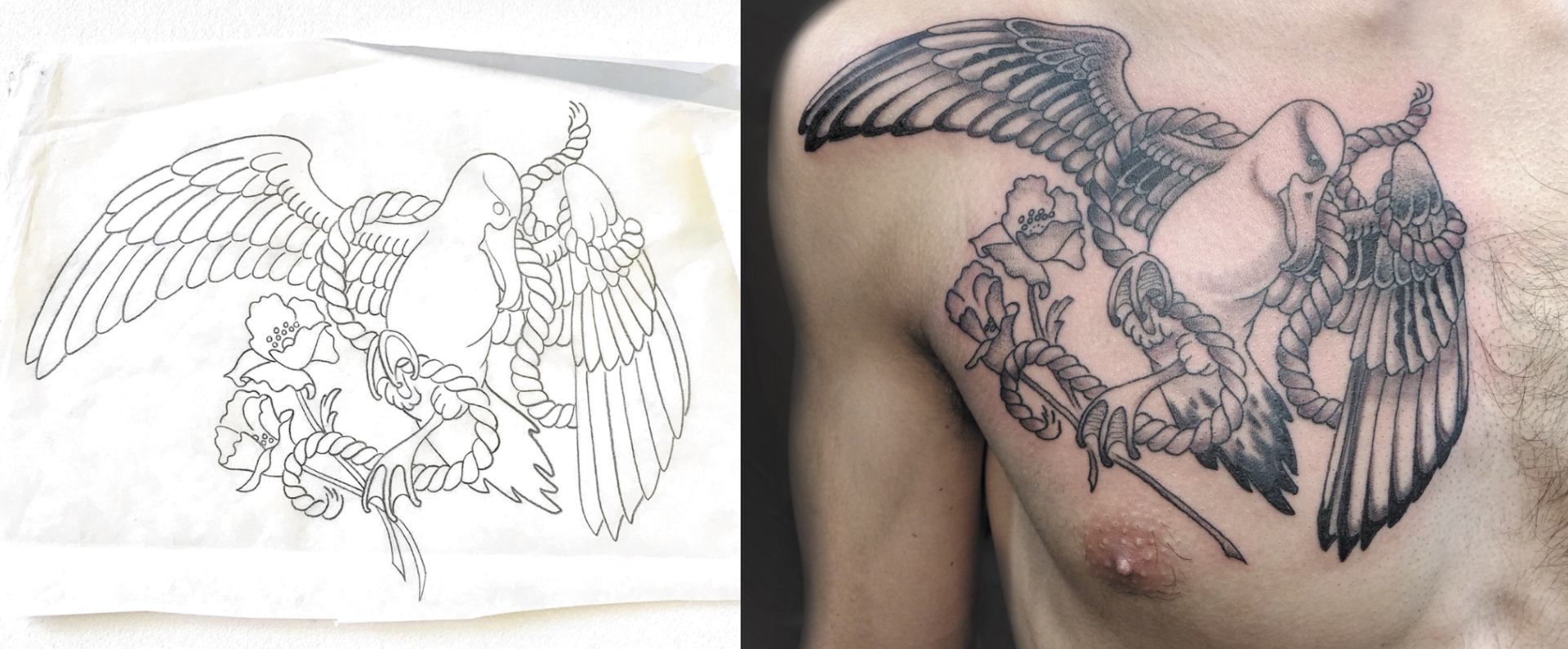 Toward the end of my conversation with Grey, feeling elevated by our colloquy of empowerment, mindfulness, and awesome artwork, I couldn't help but enlist him to bring to life one more creature. Again, I pulled out a photo of a T-shirt, this time one I'd received from my best friend that reads, "Hedgehogs against homophobes," accompanied by a cartoon hedgehog.
Ten minutes later, I found myself walking away with a personalized and personable piece of art on my arm, wondering what creature I should add to my collection next. ♦
Sophie Navarro grew up in the Excelsior District and discovered her independence wandering the neighborhoods of San Francisco and sampling local eateries. She continues to expand her palate and enjoys mining the NYT Cooking app for new recipes. 
Corbin Bell is a graphic artist and photographer. In 2018, he migrated from Orlando, Florida, to San Francisco, where he continues to find inspiration on a daily basis.