Short film by Christian Baba, Rory O'Toole, and Nick LoBue.
Article by Rory O'Toole
On the fringes of San Francisco, abutting the ocean, Lake Merced and its surrounding neighborhoods have played host to peoples, industries, and secrets of all kinds.
Long ago, the area was a seasonal village for the Yelamu group of the Ohlone people, the indigenous inhabitants of the Bay Area. For thousands of years, the Yelamu lived comfortably off of what the lake, the land, and the nearby Pacific provided. When the Spanish arrived in the 1770s, the Yelamu were forced onto missions or into exile, and their way of life abruptly and tragically vanished. 
One hundred years later, in the wild early days of San Francisco, the lake was a site for fugitive outlaws, horse races, and duels. 
Now the area includes three golf courses, San Francisco State University, the Stonestown Galleria shopping mall, Fort Funston, and an SFPD shooting range. The lake itself is a favorite of rowers, joggers, and families from nearby residential neighborhoods. 
Most recently a new group has joined the neighborhood: RVs, vans, and trailers piloted by workers, families, and individuals—San Franciscans weathering a suffocating housing crisis the best they can. 
. . .
"People have a house, and they see a motor home, they think we're delinquent. They think we're bad people and they hate us. They don't know we had a house before."
George, middle-aged but with youthful bravado, knows how the outside world perceives him and his neighbors. [We're using his first name only, as for most of those interviewed for this story.—Ed.]
"We're just like everybody else," George says. "As a matter of fact, most of these people work."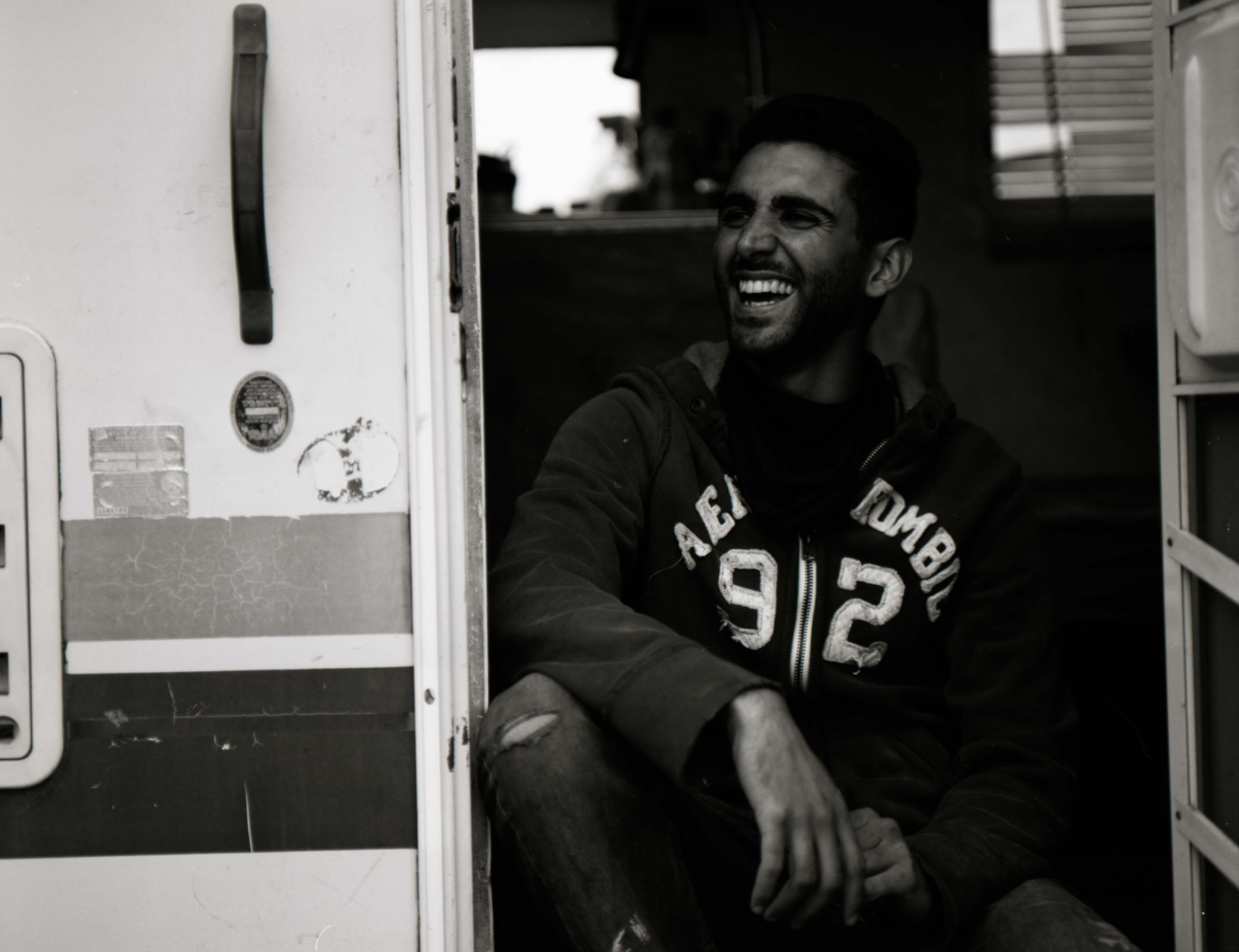 He tells me some of his neighbors drive for Uber while others work as housekeepers, nannies, or nursing home employees. George points to an RV across the street and explains that the owner works two jobs, babysitting from eight in the morning until six in the evening and then heading to work at a gym for the rest of the night.
"Everybody here works really hard, but we don't make enough," he says. "If you make twenty dollars an hour, what are you going to do, spend it all on rent?" 
George drives for Uber but can't drive full-time since he's disabled. He's lived in the Bay Area for decades and previously worked for the city of San Francisco for nine years. He owned a home in Daly City but lost it in 2008, at the height of the Great Recession. For a few years, he bounced around, renting where he could, but it wasn't long before he was priced out. In 2014 he decided to go it alone, first living in his car before finally purchasing an RV. 
"You adapt because you have no choice," George says. "Hopefully the future changes, the economy changes for me or something, but every time, you've got to adjust to the life you've got." 
. . .
California's housing crisis is a hot-button issue that dominates casual conversations and local political rhetoric. 
The data on this crisis paralyzes the mind. 
Prior to the COVID-19 pandemic, 40 percent of the state's inhabitants struggled to afford housing. According to the Public Policy Institute of California, renters in California pay 44 percent above the nationwide median—while the state median household income is only 22 percent higher than the U.S. median. Homeownership in the state is at its lowest rate since World War II. 
Meanwhile, California's population has grown by more than two million over the last decade. Most new residents are settling in the state's large urban areas, where the crisis is most acute. San Francisco, San Jose, Oakland, Orange County, San Diego, and Los Angeles all rank among the fifteen most expensive rental markets in the nation. An influx of new residents, combined with increasingly expensive housing, has contributed to a surge in homelessness.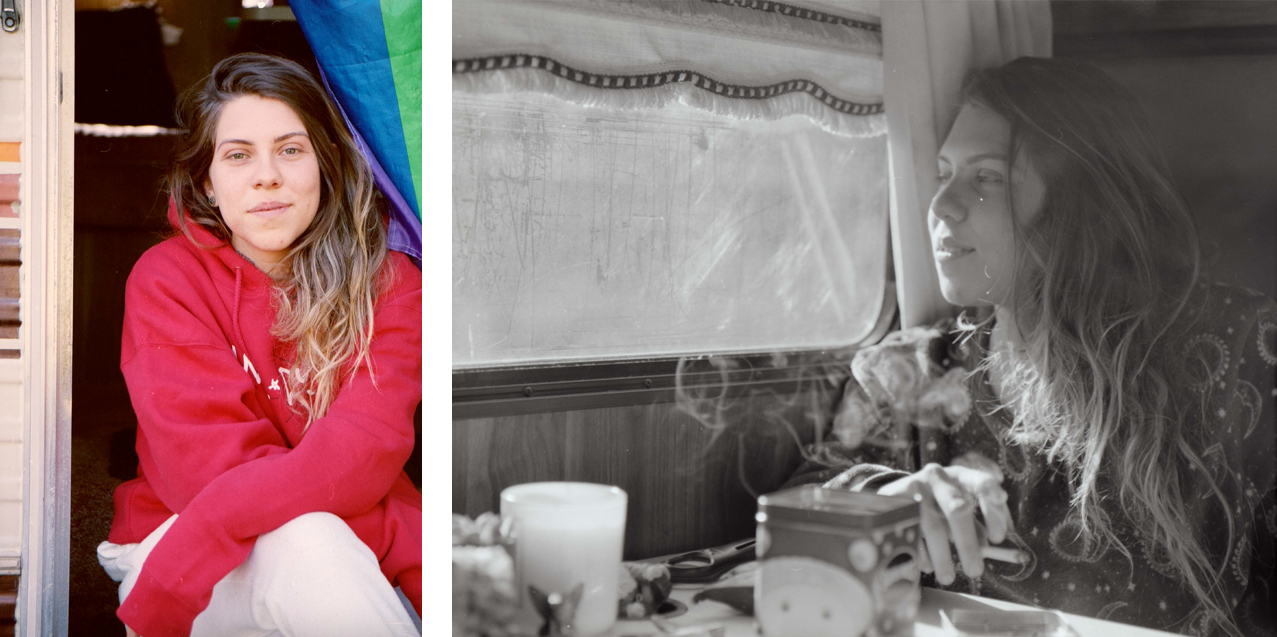 San Francisco saw a 17 percent rise in homelessness from 2017 to 2019, while Alameda County experienced a 43 percent increase. A big portion of these increases can be attributed to the new wave of vehicle dwellers in the Bay Area. San Francisco recorded 1,794 people living in vehicles in 2019, a nearly 50 percent increase from 2017. Some 2,817 individuals in Alameda County were living out of vehicles—double the number tallied in 2017.
But the housing crisis isn't only debated or analyzed, it's felt. Every day and every hour. 
In places like Winston Drive and Lake Merced Boulevard.
. . .
It is mid-February 2020, and the coronavirus has not yet invaded the Bay Area. George is showing me around his white 1992 Ford Corsair RV. A medium-sized camper van, it has enough space for a kitchen, bedroom, and bathroom with a shower and loft on top. 
When George first settled down by Lake Merced, sometime around 2014, there was only one other motor home. Occasionally he saw a few students sleep in their cars or vans, but there wasn't much of a community. 
In his telling, it didn't take long before word got out and streams of motor homes and vans began to settle, primarily on Winston Drive between Lake Merced Boulevard and Stonestown, or on the east side of the lake, right along the boulevard. 
Both locations border SF State. Desperate college kids who couldn't afford rent moved in, as well as families and single working people who wanted an environment that felt relatively safe.
George doesn't know everybody here, but he recognizes most of the faces. He has a few friends and acquaintances he tends to check in with or talk with every day. He introduces me to one, a neighbor down the street named Karen. In her forties and living with two dogs, Karen has lived here for a shorter period than George but shares the same level of comfort he has about the place.
"It's peaceful, it's quiet," she says.
Karen migrated here after previously living alongside Ocean Beach. She said there were probably twenty fewer RVs when she first came over. Her fellow coastal refugees accounted for most of the newcomers after new construction by the beach forced them to relocate. 
Karen told me she isn't here by choice but by circumstances. 
"I'm from the Bay Area but the other side. I was born in Fremont, raised in Newark, and then lived in Modesto for twenty years, raised my daughter, and recently came from Fairfield after my boyfriend passed, so this was sort of forced on me. I have zero income right now."
Karen's daughter helped secure a loan for each of them to buy an RV.
She tolerates the lifestyle for now but can't allow herself to fully relax. She's anxious over rumors that, as was the case at the beach, they could be forced to leave at any moment. There's also the worry about too many RVs drawing too much attention. 
"You can always tell the people who are annoyed with [the parked residents] because they just lay on their horns all the way down the street, it doesn't matter what time of day or night it is," she says. She worries that as word spreads about the location it will inevitably lead to overcrowding and test the patience of the community at large. 
. . .
Vehicle dwelling in the Bay Area isn't exactly a novel trend. There have been small communities of RVs for decades. The region's moderate weather and tolerant attitudes have made it a viable option.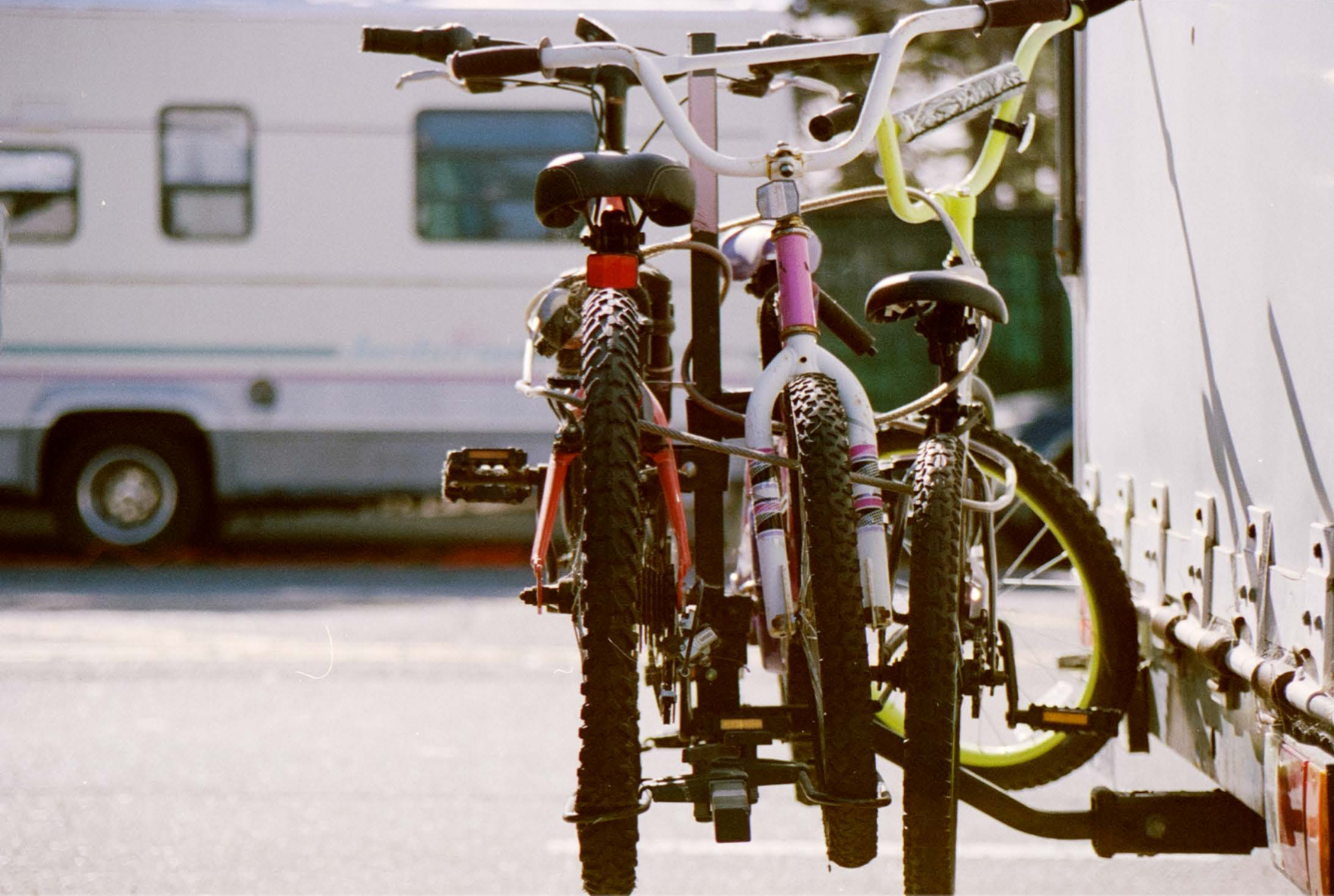 A particular kind of romanticism has even attached itself to the phenomenon. #Vanlife has become a popular hashtag on Instagram and has been covered by various publications including The New Yorker and the New York Times. The moniker typically conjures images of attractive young couples living in tasteful converted vans amidst exotic locations, basking in the freedom of the "minimalist" lifestyle. 
In a sad bit of irony, van life has become an aspirational aesthetic for frustrated but wealthy millennials, when for most it's a condition of desperation. A converted van favored by the #Vanlife crowd can cost more than $100,000.  
With the rise in remote work amidst the pandemic, RV park conglomerates have seen their stocks rise while custom van sellers race to keep up with demand. Employees no longer tethered to the office are eager to speed away on the open road (internet access included). 
For those living in vehicles by necessity, student debt, medical debt, income inequality, and wage stagnation have only compounded the crisis. The economic downturn brought about by the pandemic will continue to fast-forward these trends.
As the number of vehicle dwellers has grown, the community has increasingly spilled over into residential areas like Lake Merced, bringing the gulf between the housed and the unhoused into stark contrast. 
. . .
Phillip likes to park his 1998 Winnebago on Lake Merced Boulevard, where the road is nice and flat compared to steep Winston Drive. He learned that lesson the hard way. 
"I already had an episode where I came down the hill and the brakes went out," he recalls. "I was by myself so I couldn't stop it so I turned right up there, luckily there were no cars, and I knocked a damn sign down. Broke the sign, knocked the damn mirror off my RV, which, I fixed it now, but it was a mess."
Phillip lived for eight years in a trailer park in Pacifica but left after rising monthly costs proved too high to bear. Life down on the boulevard hasn't been the easiest adjustment. He says sleep is difficult because "it feels like earthquakes all the time" from passing traffic, but his dogs keep him from feeling too lonely. He's joined a rehab program that may eventually be able to place him in supportive housing. Clean for about nine months, Phillip is hopeful that more stable housing is possible. In the meantime, he's doing the best he can. 
"It's not our choice, you know," he says. "It ain't like we're trying to beat anyone out of anything or trying not to pay rent, we just can't afford it. If you're on low income, it's hard. It's almost impossible. I work when I can to make ends meet and I get SSI [federal supplemental security income]."
Up by where Phillip's brakes went out, Jim's Ford camper van is parked comfortably, with a scooter attached to the back and solar panels installed on the roof.
Jim moved here after finding other RV locations in the Bay dangerous and unsanitary. Before the pandemic hit, Jim was renting a room, but when his landlord sold and hotels closed temporarily, Jim bought an RV from a friend and moved in. He makes ends meet by zipping through the city on his scooter, doing deliveries for DoorDash.
He used to live in the East Bay, floating through different neighborhoods and cities, but he didn't find anywhere that felt secure. Once he discovered Lake Merced, he never left.
"The main thing was that it was safe. It's full of working people and families," he says.
He feels like there's a real community here. Everyone has each other's backs, he says. Neighbors even helped him install solar panels, a growing trend for nearby vehicles.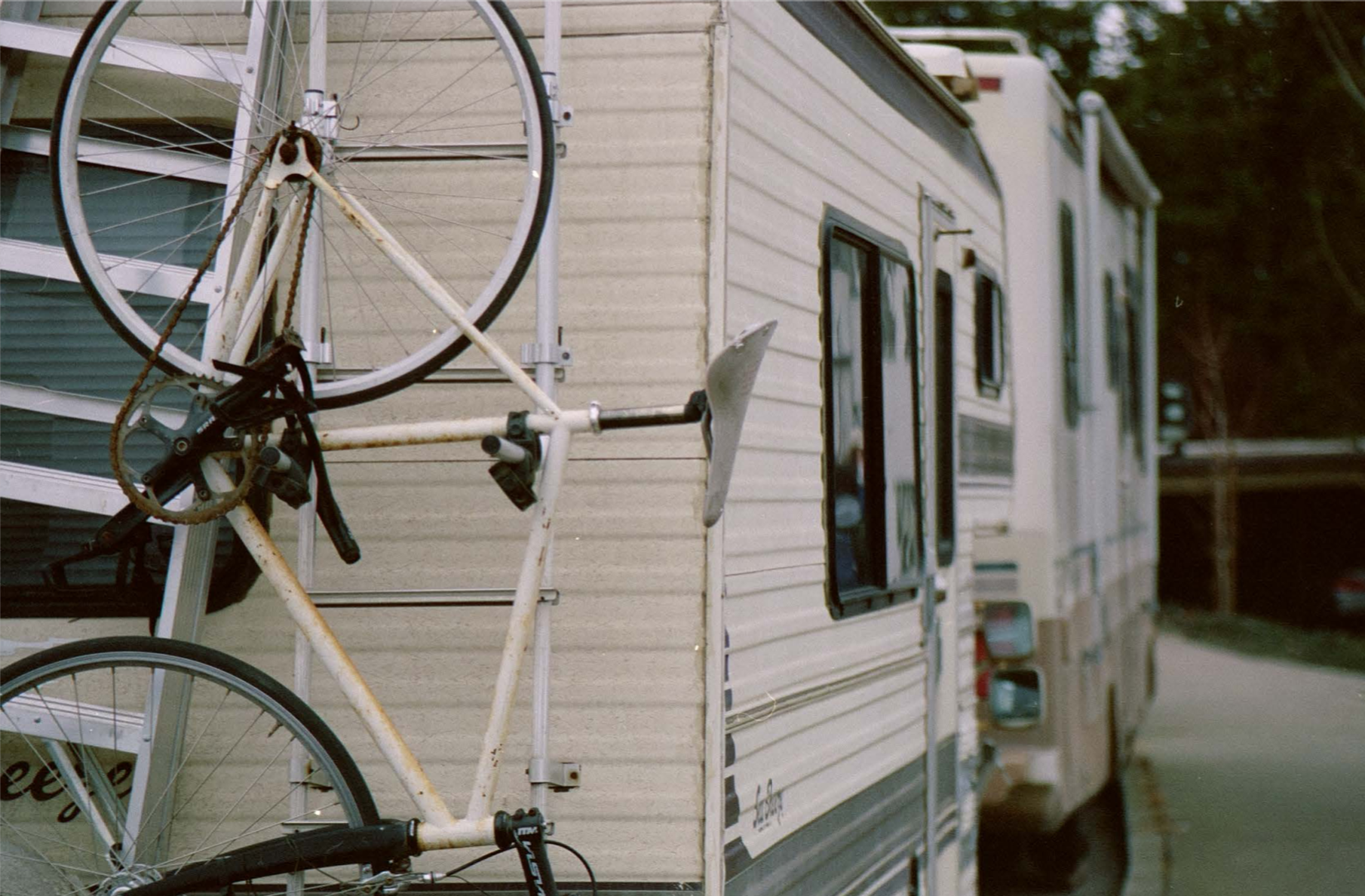 Jim, who prides himself on his chess playing prowess, is cognizant of the likely moves ahead. He figures that in the long run the RVers will probably be forced to leave because of the law (technically vehicles in San Francisco cannot park in the same spot for longer than seventy-two hours) or other factors like complaints or overcrowding.
There are only so many spots on the board.
. . .           
The consequences of failing to meaningfully address the housing crisis were predicted long before they came to pass: rising rents, increased homelessness, and increasing insecurity for those living on the margins. In the end, it was the ripple effect in residential areas—where most voters live—that forced lawmakers into agonized action. 
In San Francisco, at a 2018 meeting in the Portola district, Supervisor Hilary Ronen and other city officials were subject to jeering, interjections, and harsh demands from residents who bemoaned growing numbers of RVs. Residents argued RVs dumped waste, spread garbage, and brought drugs and crime. They claimed this would never be tolerated in more affluent neighborhoods.
A few months later Supervisor Ronen banned overnight parking of RVs in Portola. 
Other neighborhoods and cities followed similar patterns in response to public outcry. In 2019, Berkeley's City Council banned overnight parking of RVs following complaints from businesses and residents. In Mountain View, Measure C—a ban on RV parking on streets that are forty feet or narrower—passed with 56 percent of the vote in the November election. Local officials found that 78.6 percent of streets could potentially qualify as narrow streets. 
At the same time, the city of Mountain View launched a "Safe Parking Program," which provides safe parking spaces, as well as social services and housing assistance, to residents. The program is the largest of its kind in the South Bay and the second largest in the Bay Area, but with limited spaces, the majority of residents stay stranded on the waiting list. 
Other Bay Area cities have started similar parking programs and faced the same limitations. In the innovation capital of the world, the best anyone can do is to kick the can down the road. 
. . .
Caio Azevedo worked as a financial advisor in his native Brazil before departing for America in 2016. He planned to work for a year, stay with some buddies, and perhaps go on a backpacking trip. He lived with friends from Rio de Janeiro in San Mateo for a while but left after their rowdy parties put them on thin ice with neighbors and the landlord. Azevedo convinced his roommate to leave with him, and they stumbled into the notion of living in an RV. 
"We saw a Brazilian guy who was a friend of a friend, and it was a coincidence, he was selling his RV, so we talked to him and then we ended up buying it," Azevedo said.
With their rent issue sorted out and his desire to travel quenched with the possibilities the RV provided, all Azevedo and his roommate had to work out was where to stay. They eventually decided on Mariposa Street in Potrero Hill, but after a roommate's motorcycle was stolen, the pair looked for greener pastures in Lake Merced. 
Azevedo makes the bulk of his income, just enough for the basics, doing deliveries for DoorDash and Uber, but he has his sights set on something much larger. A firm believer in the American Dream, Azevedo is in the beginning stages of opening an RV repair company, aptly named RV Express. He also has visions of building and operating RV parks throughout the Bay Area. 
"I don't want to be a burden. I don't want people to be like, 'Oh that immigrant, they are costly, they use our public health, they don't have money,'" he said. "No, I want to pay my taxes, I want to build a company. I want to make the economy better. I want to make money, I want to employ people."
"A plan I have for the future is I start up, I pay my taxes, I build my company so I can get a green card and then hopefully citizenship, because I like it here a lot, and I don't plan on moving away," he continued. "So my plan is to build an RV park over here. I want to, but you need a lot of permits, there's lots of obstacles to it but maybe we could rent some space and then build a dump station, water for people, and solar for electricity. Have it be reserved so people don't have to park on the streets anymore. Something affordable, of course, because people in RVs don't have that much money."
At the moment, RV Express repairs old vehicles, fixes water heaters, and installs solar panels. While Azevedo works mainly on neighboring vehicles, business is steady and he sees plenty of opportunities. He points to Mountain View and their Safe Parking Program specifically as a potential model. 
"Mountain View is different, they already have five RV parks for people living in this situation. . . . Over there it's more friendly. Here in San Francisco, we are by ourselves."
He sees an opportunity to accommodate both the van lifers and #Vanlife. 
"I know they want to help people buy a house, but there are some people who want to live in their RVs, so I think they need to address that. I personally like it."
. . .
Sometimes it can feel as if Twin Peaks, the traditional border between San Francisco's western and eastern neighborhoods, is a dividing line between two different cities. Relatively suburban western neighborhoods have a culture and climate distinct from San Francisco's eastern districts. Historically, the western locales have had fewer homeless residents as well. With the housing crunch, this has started to shift.
City data shows an uptick in homelessness west of Twin Peaks over the past several years. The Richmond District's homeless population grew to 162 people in 2019, double the 2015 number. In District 7, which includes Lake Merced, the homeless population expanded from 29 in 2015 to 168 in 2019, bolstered by the recent influx of RVs. 
The inability of housing construction to keep pace with demand on the east side coupled with the consequences of single-family zoning in the severely underbuilt west side has left San Franciscans with dwindling options.
. . .
The Medinas like to keep their doors open. Neighbors socialize, bringing food in and out of their RVs between conversational breaks while children play outside together and fight over what to watch on TV. On this particular autumn day in 2020, it feels like being at a summer barbecue.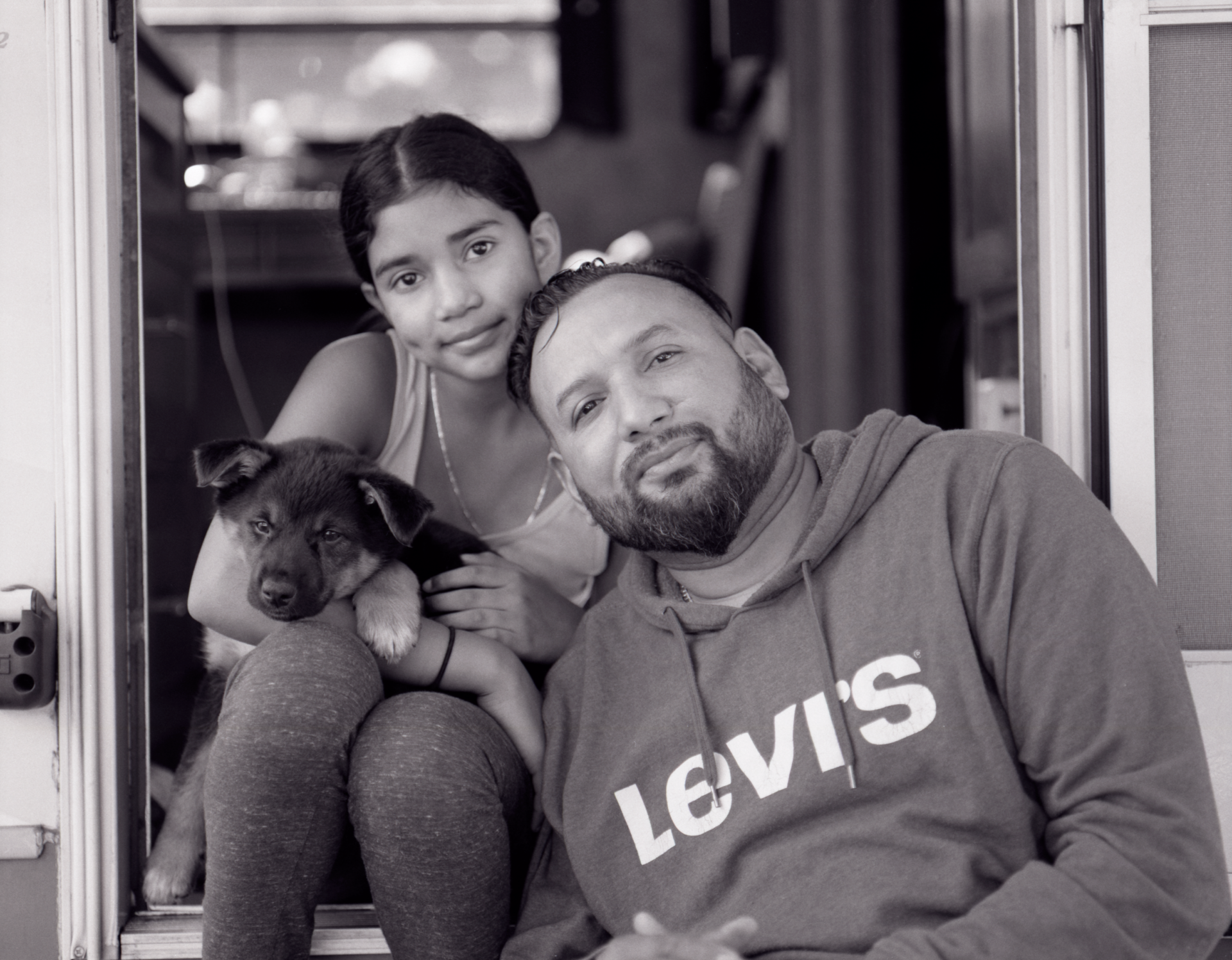 José Medina lives here at the bottom of Winston Drive with his wife and two children in a long but narrow trailer near Lowell High School's football field and a Muni bus stop. A view of Lake Merced lies just across the street. Medina tells me this particular stretch of Winston is an enclave for families. Small bikes with training wheels, Razor scooters, and Big Wheels dot the sidewalk. 
Medina says that many of the families are close friends from a former apartment complex who left at the beginning of the pandemic last spring. The landlord at the Medinas' apartment promised to delay rent but explained that he'd collect the missing rent payments once the world returned to normal. 
Medina, who lost his job as a result of the pandemic, could no longer afford his apartment. The threat of incurring debt on top of his lost income made staying untenable. 
"It's what, three thousand dollars for an apartment? Plus other bills—gas, electricity, and insurance, or a car. If you don't have a job, how do you pay for that? So that's why I made the decision with my wife and said, 'Time to go. I know you don't like it, but we have to do it.'"
The RV would be a transition until he could find a more stable job and afford housing again. A few of his neighbors from the apartment building adopted the strategy and moved in, creating their own small but organic community.   
Before the pandemic, Medina had worked as a cook for a San Francisco catering company. He lost his job in March, another victim to the disappearance of millions of service industry jobs nationwide. Since then, he and his wife have covered the costs for necessities by pivoting to the gig economy. Medina works for DoorDash while his wife drives for Uber. 
"One of us always stays home for the kids. I don't like it too much but it's money," he said. "Whatever money you can get right now, you take it." 
Medina took a second job as a tow truck driver, another seemingly recession-proof occupation. 
He misses the reliable, steady work of a cook, but he's unsentimental about what's lost and instead focuses on positioning himself for a more promising future. 
"By staying here, I can save money to make a down payment on a house. Not here in San Francisco but somewhere outside, where it's cheaper. There's jobs here but I can drive from somewhere else. I don't care because whatever is good for working, I'll do it."
. . .
The housing crisis isn't going to be easy or pleasant to address. High construction costs, labor shortages, a lack of political will, restrictive zoning laws, and local obstructionism remain significant barriers. As for the mobile homeless, their future will follow the political and economic seasons. Restrictions will be implemented, some areas will be off-limits, others will be created specifically for them. Their locations are unpredictable but their presence, assured.  
I reported this story before and after the pandemic disrupted daily life, and if it taught me anything, it's that so little and so much can change simultaneously. Our city threatened to become a ghost town. Long-running businesses were forced to close their doors. Many died. We were told the world was forever changed. But these people, exiles in search of a home, found community instead—and for now, they remain. ♦
Rory O'Toole is a fifth-generation San Franciscan and an amateur walking-tour historian who tries not to be annoying about it. An aspiring journalist, he can be found crushing your local pub quiz when he's not chasing down stories.
Nick LoBue is a San Francisco native, an actor, a writer, a cinematographer, and a photographer. In other words, he's very passionate about his anxiety. He's currently in the process of cofounding a film production company.