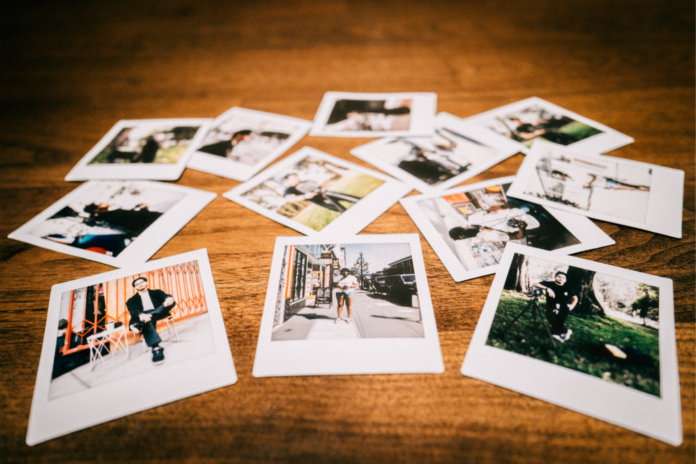 Aspiring film photographers talk process, style, and the Bay Area scene.
by Adam Pardee
Editor's note: In September 2021, photojournalist Adam Pardee spoke to photographers Carlo Velasquez, Onome Uyovbievbo, and JP Calma about the draw of film photography and their efforts to document life in San Francisco.
There is something special about film photography that you can't replicate digitally. Film makes me stop, examine, and take in a scene. I look at all the details, the imperfections, and the grittiness. I can imagine what is beyond the border of the frame.
Those same moments are felt on the other side of the camera by film photographers. With only a fixed amount of frames to shoot on one roll of film, the number of clicks of your shutter is limited. It makes photographers stop and take in the moment before carefully capturing it for the viewer. Not to mention the art and technique that the developing of negatives requires.
San Francisco looks fantastic on film. The architecture, the colors, the sunsets, the skyline, and the people all create a wonderful tapestry that comes to life in analog form. And San Francisco's aspiring film photographers know it. There is energy and feeling in every photo: from Carlo's street and skateboarding scenes to Onome's cinematic shots of SF neighborhoods to JP's enigmatic portraits—all are fleeting moments suspended in time. When these photos pulled back the curtain on their style, process, and inspiration in our conversations, their love for the art form shone through. I invite you to take a look at some of their work, and see for yourself.
. . .
Carlo Velasquez
Carlo Velasquez is a twenty-seven-year-old film and digital photographer originally from Concord. In his film work, Velasquez shoots with a Leica M-A and a 35mm lens. He favors Tri-X 400 film stock for black-and-white photos, and Kodak Ektachrome, Portra 400, and Provia 100 for color. I met up with Velasquez for a photo session in San Francisco's Chinatown. The following excerpts from our conversation have been edited for length and clarity.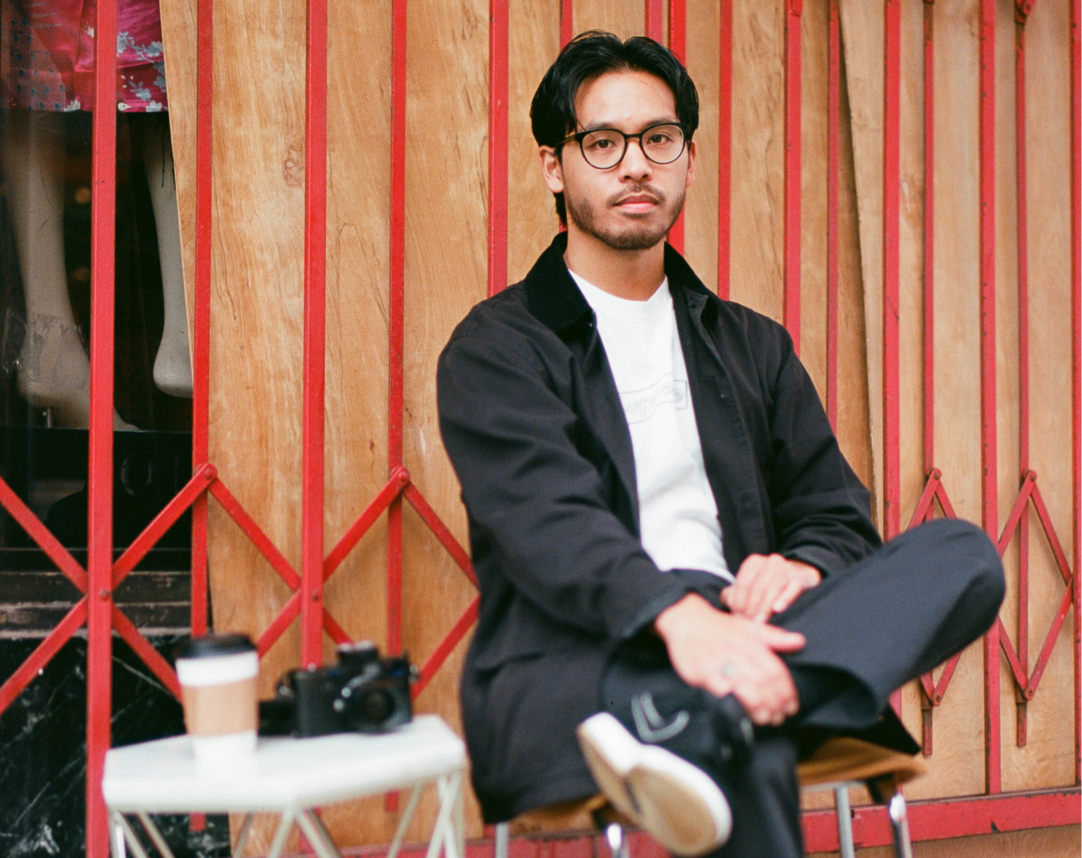 HOW DID YOU GET INTO FILM PHOTOGRAPHY? When I was in community college, I was pressuring my parents to get me my own DSLR [digital single-lens reflex camera] for video class. My mom kept telling me that we had a camera, but it was some Minolta autofocus film camera. And I was telling her, well, I can't make anything on this because everything at school is all digital. I told her, in the long run, I'll be saving money if you buy me this digital camera now, instead of me buying film and tapes and all this other extra software to keep it alive.
When I finally got a digital camera, that's where my fascination really exploded. My first interest was night photography—long exposures, astrophotography—anything that had to do with exposing light onto the sensor. I started to get more interested in portraits, and it spiraled from there. When I was about to graduate from college, I was in the thick of this whole Instagram craze, and everyone was kind of doing the same thing.
I always liked how film looked, but I just thought it wasn't a medium that I could personally do. Then I started to look at art history for more inspiration rather than Instagram. I realized, oh, these people were making great photographs with tools that were less superior to what we have now. A camera is just a tool. So that got me thinking, maybe I should start using older lenses to get me into the habit of manually focusing and setting my aperture and not relying on the camera itself. This allowed me to be more present for photos rather than just allowing the camera to snap, snap, snap. That was the first step. The second step was thinking, oh, then I should get a film camera. This was maybe in 2015, 2016. I came across a shop called Glass Key, which is now pretty well known in San Francisco as a go-to film shop. I used to pick their brains about everything film, ask them about every film stock. I would spend a lot of time in there just to learn.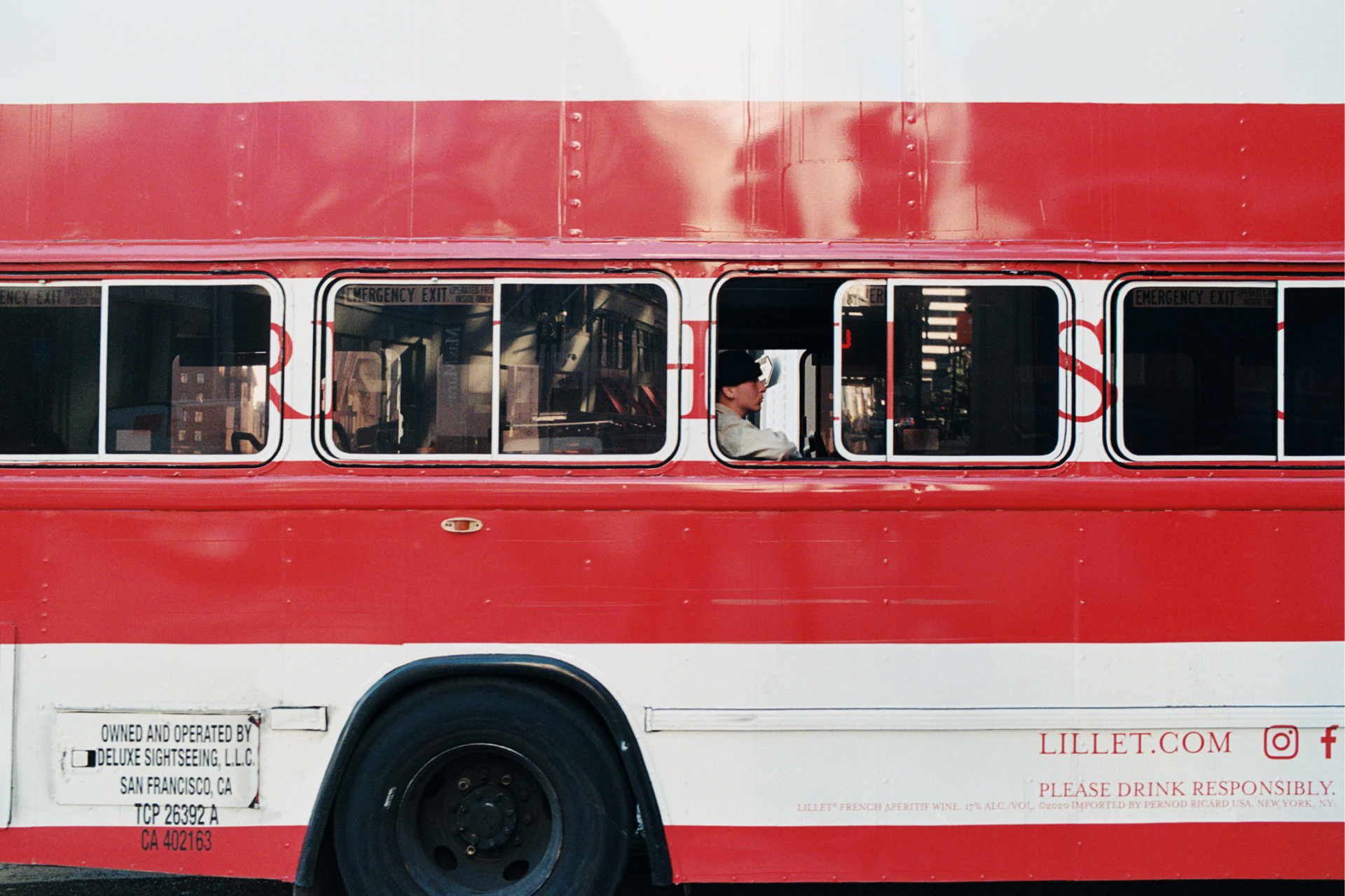 I remember the first couple of rolls I developed. I was just so enamored. I thought, whoa, this is film? This is crazy. It looks so good. The colors are right. From there, I started mixing film into my routine. I think part of the enjoyment of film is just the whole process. Film is truly a go-at-your-own-pace type of media.
HOW WOULD YOU DESCRIBE YOUR STYLE? That's a tough question. My focus has always been my life and to document what I'm doing or where I am. Street scenes and portraits are very attractive to me, but it's spontaneous and never centrally focused. When I look back at my work, I can tell there are subjects I gravitate toward. I've learned how to curate and sequence photos to make a more cohesive project. As I go deeper into photography, I'm starting to learn more of the storytelling aspect.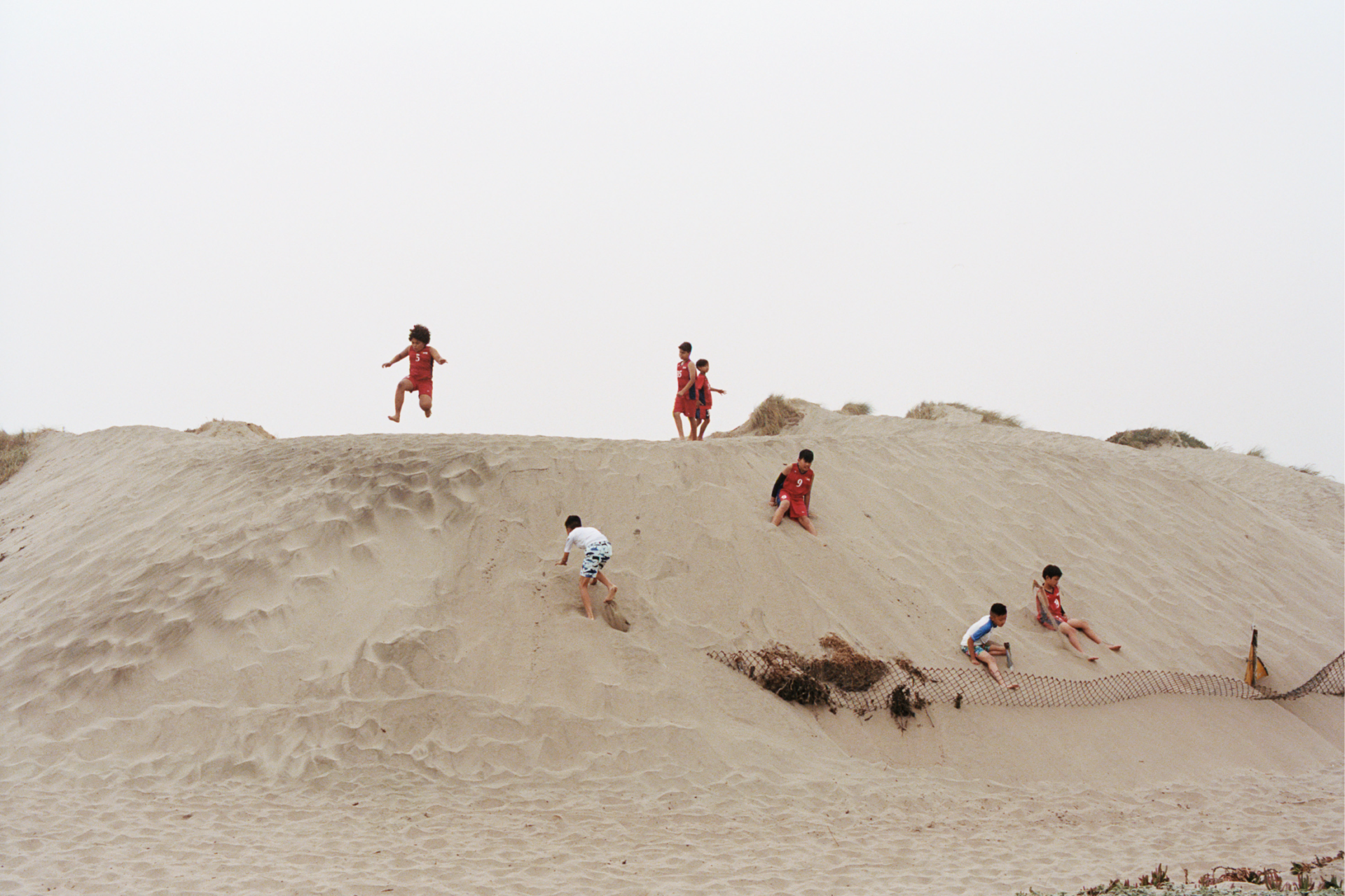 [Photographer] Joel Meyerowitz always talked about the "fleeting moment." Henri Cartier-Bresson talked about the "decisive moment." That's a thing I've tended to do in my own photography, before I knew what those concepts were, due to the early 1990s and 2000s skateboarding photography I was influenced by. As basic as a skate photo can seem, there are a lot of technical aspects and artistic ideas that go into skate photography. It's hard to take a good-looking skate photo, and you can tell when a photographer is not in the culture, not attuned to timing or what the trick is supposed to look like. When you look at skate photos in old magazines, you can see how efforts to capture the moment of the trick and make it look good have progressed over time. The ideas of the decisive moment and the fleeting moment are reflected in the big skate tricks and the camaraderie, when you see the times when the skater is burnt out and frustrated or happy and in disbelief that they accomplished a huge feat.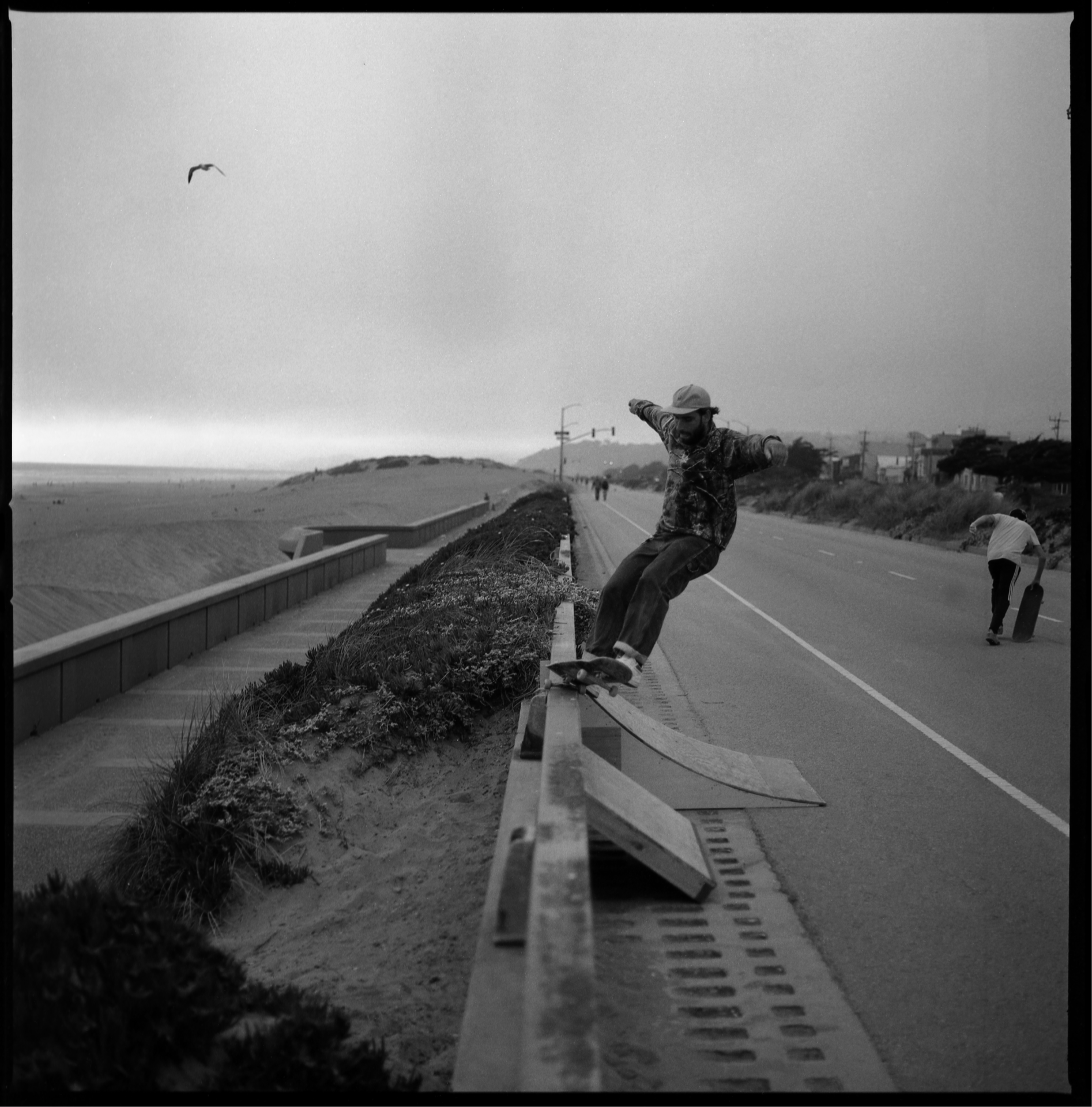 It's still kind of hard for me to say, I shoot photos of this, or I shoot photos of that. It's a bit deeper. I'm still figuring out what I want to say with my photography.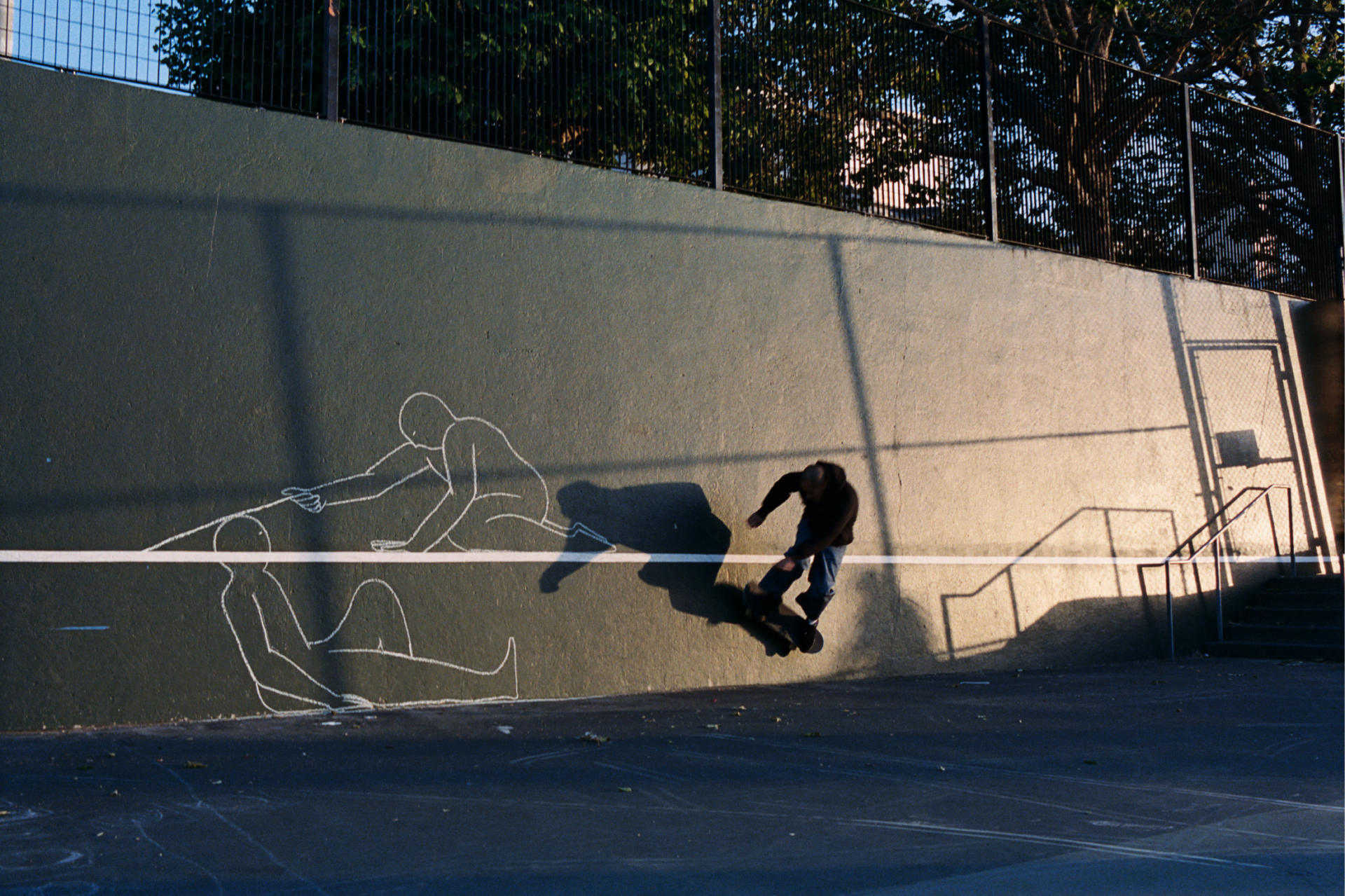 DO YOU THINK SAN FRANCISCO HAS A LOOK ON FILM? It does. I will say a lot of it has to do with our weather. I forgot who was talking about it, but the reason why the light in New York hits different is because the sun rises on their coastline. If you're looking at a beach there, you never get a sunset. Compared to San Francisco—here you get a coastal sunset, and we also have a pocket of fog that'll either give you a nice beautiful burn where everything looks like cotton candy, or you have a lot of gray and it just gets dark. I think one of the best things about San Francisco is that it's so variable, you never get just one look.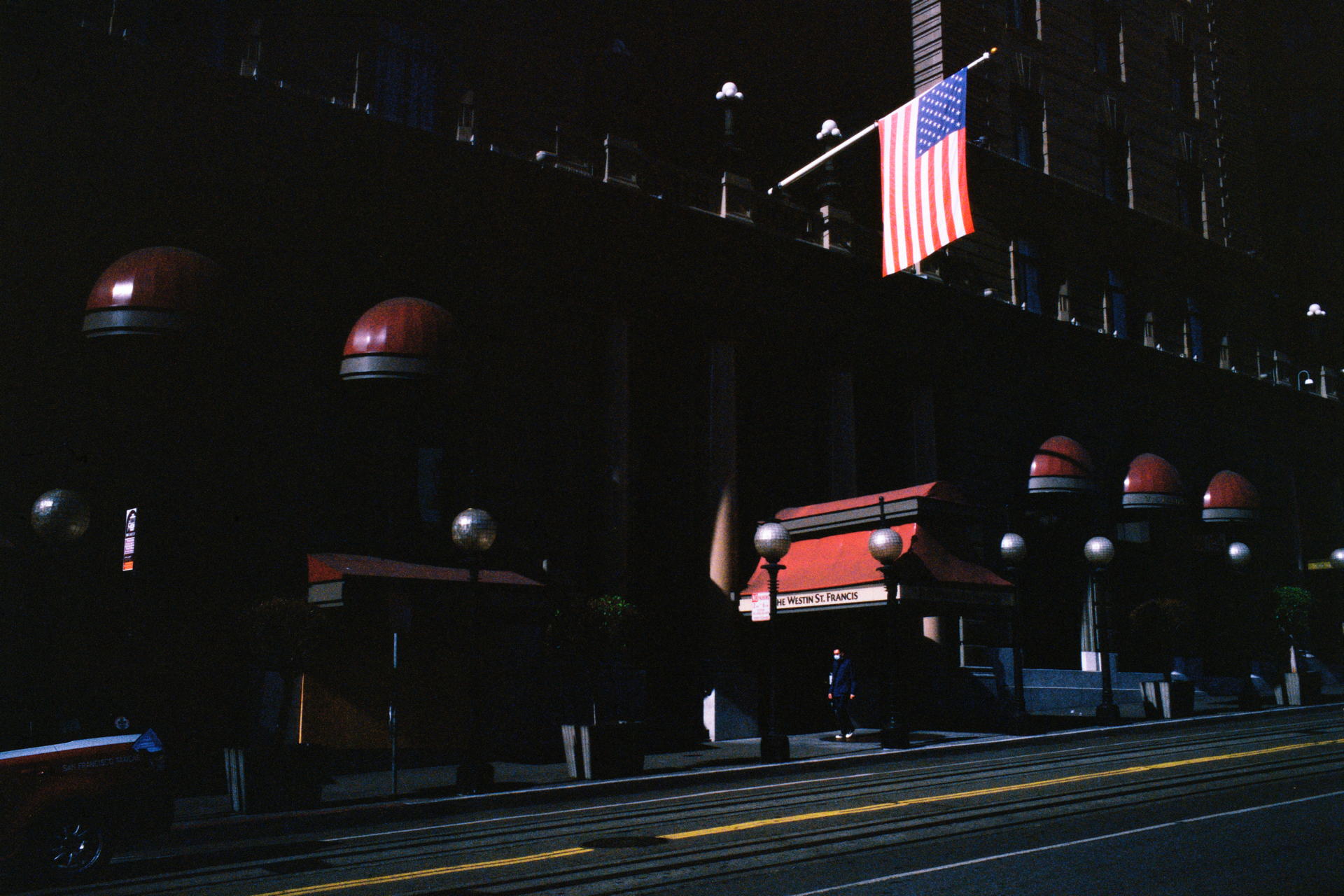 . . .
Onome Uyovbievbo
Onome Uyovbievbo (they/them) hails from Highland, a small Southern California town in the Inland Empire. Uyovbievbo's go-to film cameras are the Mamiya 645 and the Mamiya RB67. Their favorite film stocks are Kodak Portra 160 and 800, and Lomography 800 on 120, and Kodak Gold 200 is their sweet spot for 35mm film. Uyovbievbo is twenty-seven years old and lives north of the Panhandle in San Francisco. I met them in their neighborhood for a photo session. The following excerpts from our follow-up email interview have been edited for length and clarity.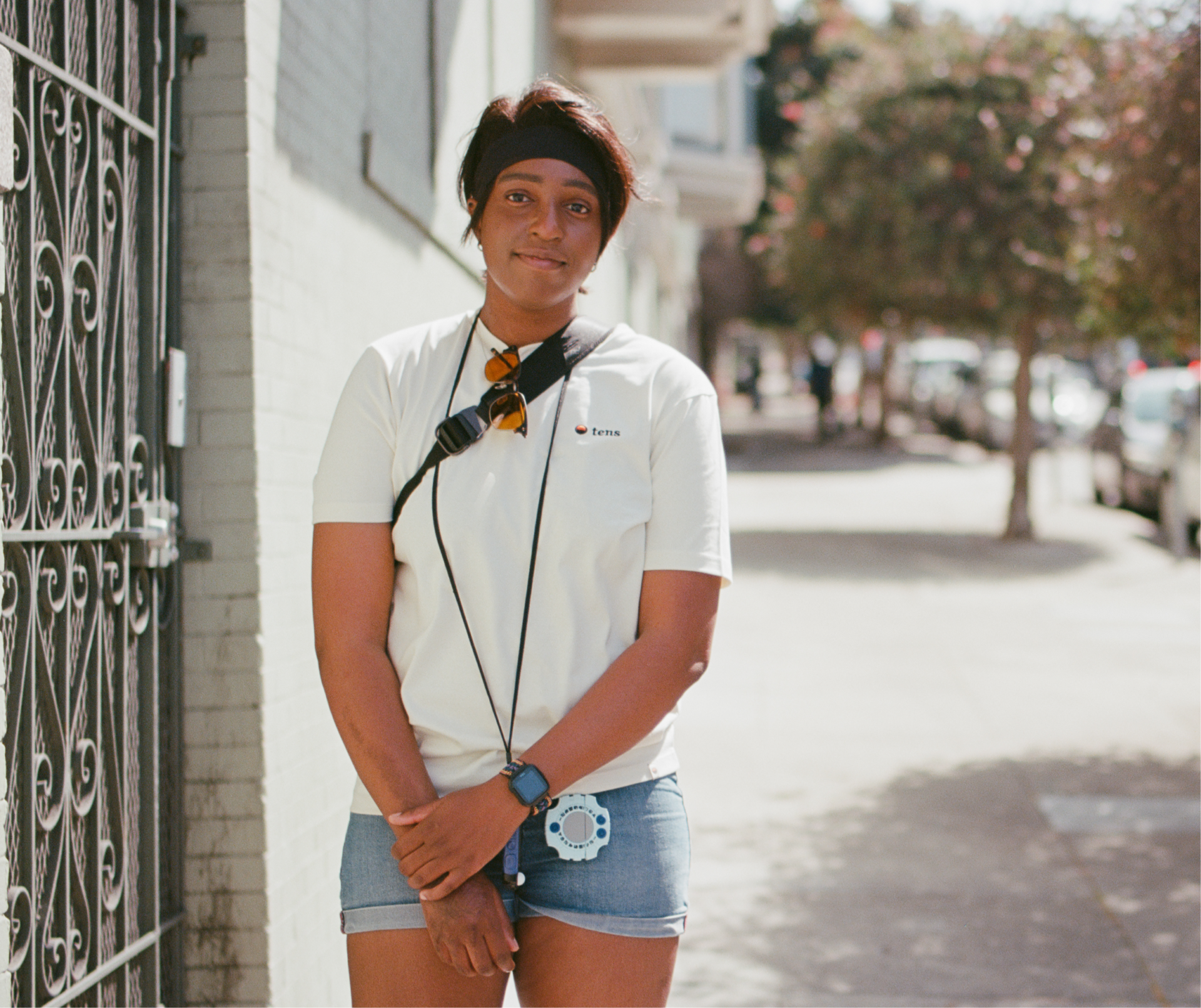 HOW DID YOU GET INTO PHOTOGRAPHY? I dabbled in photography as a teen, being the one who would take photos of my siblings' graduations. I did not truly get into photography until I bought myself a DSLR [digital single-lens reflex camera] in my early twenties. I began taking that camera around wherever I could and even snuck it into places where I shouldn't have, like concerts.
WHY DO YOU NOW CHOOSE FILM OVER DIGITAL PHOTOGRAPHY? Film photography allows you to take your time and really slow down and methodically think and plan what you are trying to capture within a scene. Being given a certain number of exposures makes it even more delicate, because there is the feeling that hey, if I mess up this frame, I only have a certain number of exposures left to get it right. You really need to be deliberate in the way you take your photos.
I love film because it is unforgiving, and it teaches you a lesson every time you get those negatives back. I develop and process my own film, so I am able to see straight away what worked and what didn't. You can be more intimate with film than with digital photography because the negatives are something tangible that you can hold in your hand. You can see if the subject is in focus, if everything was framed correctly, and how clean and sharp your image is.
CAN YOU DESCRIBE YOUR STYLE OF PHOTOGRAPHY? I would describe my style of photography as "cinematic realism." Basically, how I see my subject through the viewfinder of my Mamiya is exactly how my photos should be portrayed. The Mamiya viewfinder adds a dramatic flair that I have not seen in other cameras.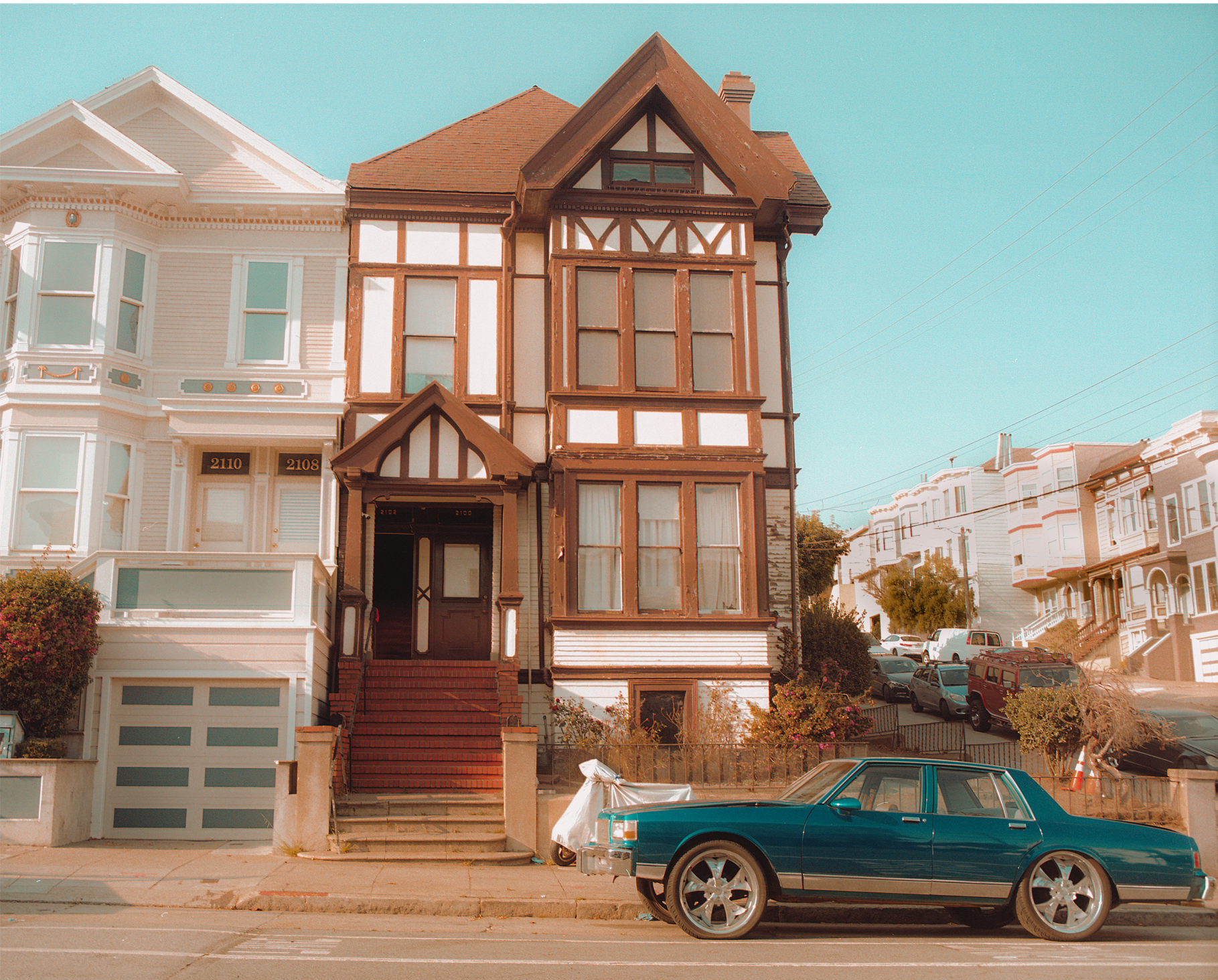 I am very methodical in the way I take my photos and am very aware of the composition and framing of each photo. I try to make sure the lines seen through the viewfinder match up with the idea of the scene I have in my head. As many of my photos don't involve people but rather environments, I try to ensure that I'm capturing the moment as I picture it and feel it to be—as if it were pulled from the set of a movie.
WHERE DO YOU LIKE TO PHOTOGRAPH IN SAN FRANCISCO? I love photographing in my neighborhood of NoPa. It's close to Alamo Square, where I can capture natural moments of people gathering and interacting with each other. The main street that runs across here is Divisadero, where there are countless eateries and storefronts with a retro and timeless vibe that translates beautifully to film. There's a car shop right next to the 5 Fulton bus route where there are always classic cars parked out front. The vibrancy of the cars shines through regardless of the surroundings.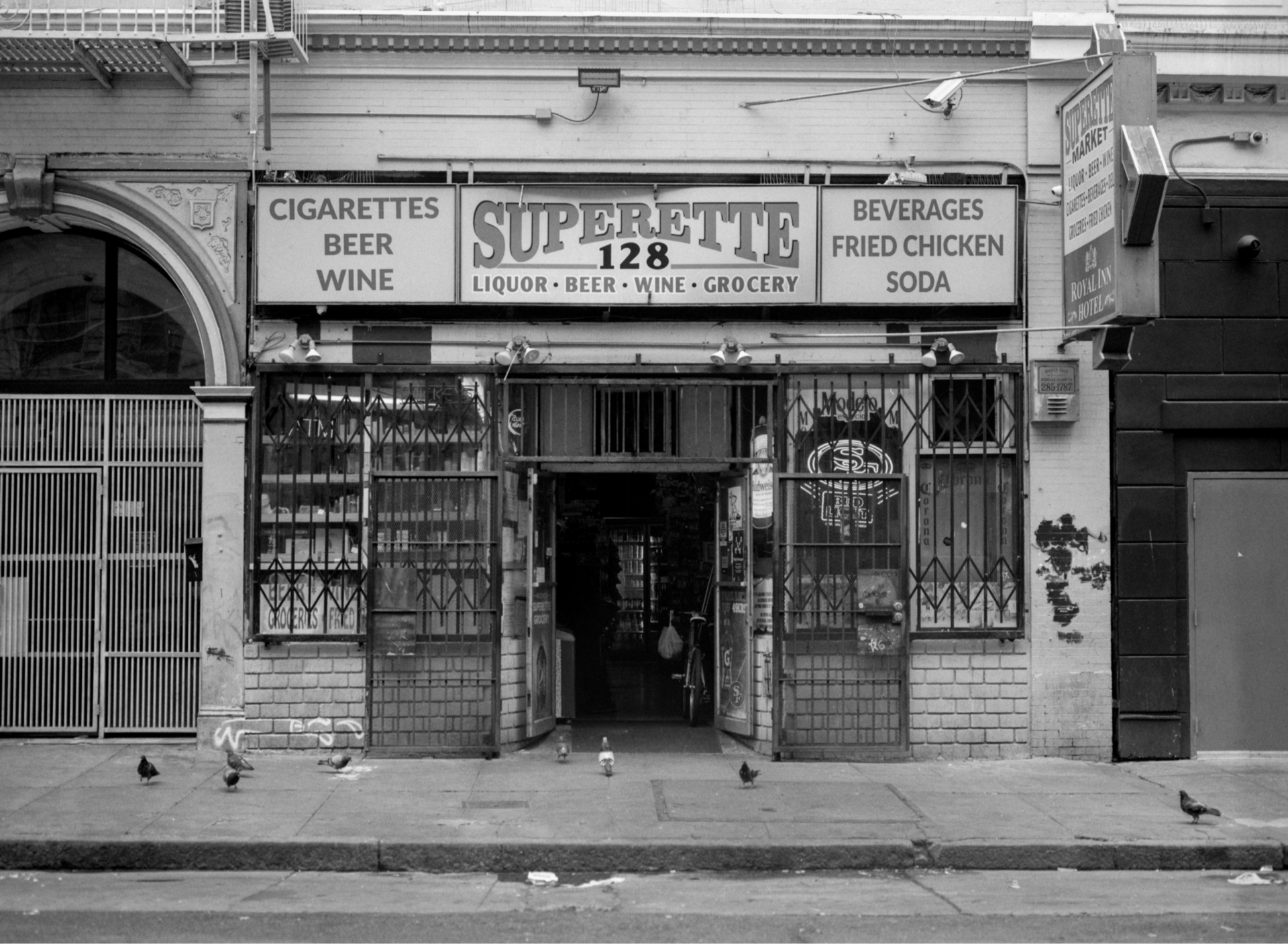 HOW DOES SAN FRANCISCO LOOK ON FILM? To me, San Francisco looks like a scene of a movie set everywhere you go. Each part of the city has its own dynamic. Downtown has its scene and looks amazing when captured on black-and-white film, to really express that inner-city feeling. Whereas when you move farther out, you have more homes and businesses with vivid colors and patterns—in the markets of Chinatown and in the Mission and the Castro. On film, San Francisco has its own unique yet distinct style that cannot be duplicated anywhere else. That uniqueness is what defines the city.
. . .
JP Calma
Thirty-six-year-old Pacifica native JP Calma takes medium- and large-format photos, and specializes in portraits of fellow photographers. He shoots his large-format portraits on a Graflex Speed Graphic using a World War II–era Aero Ektar lens. Our photo session took place in Golden Gate Park. The following excerpts from our conversation have been edited for length and clarity.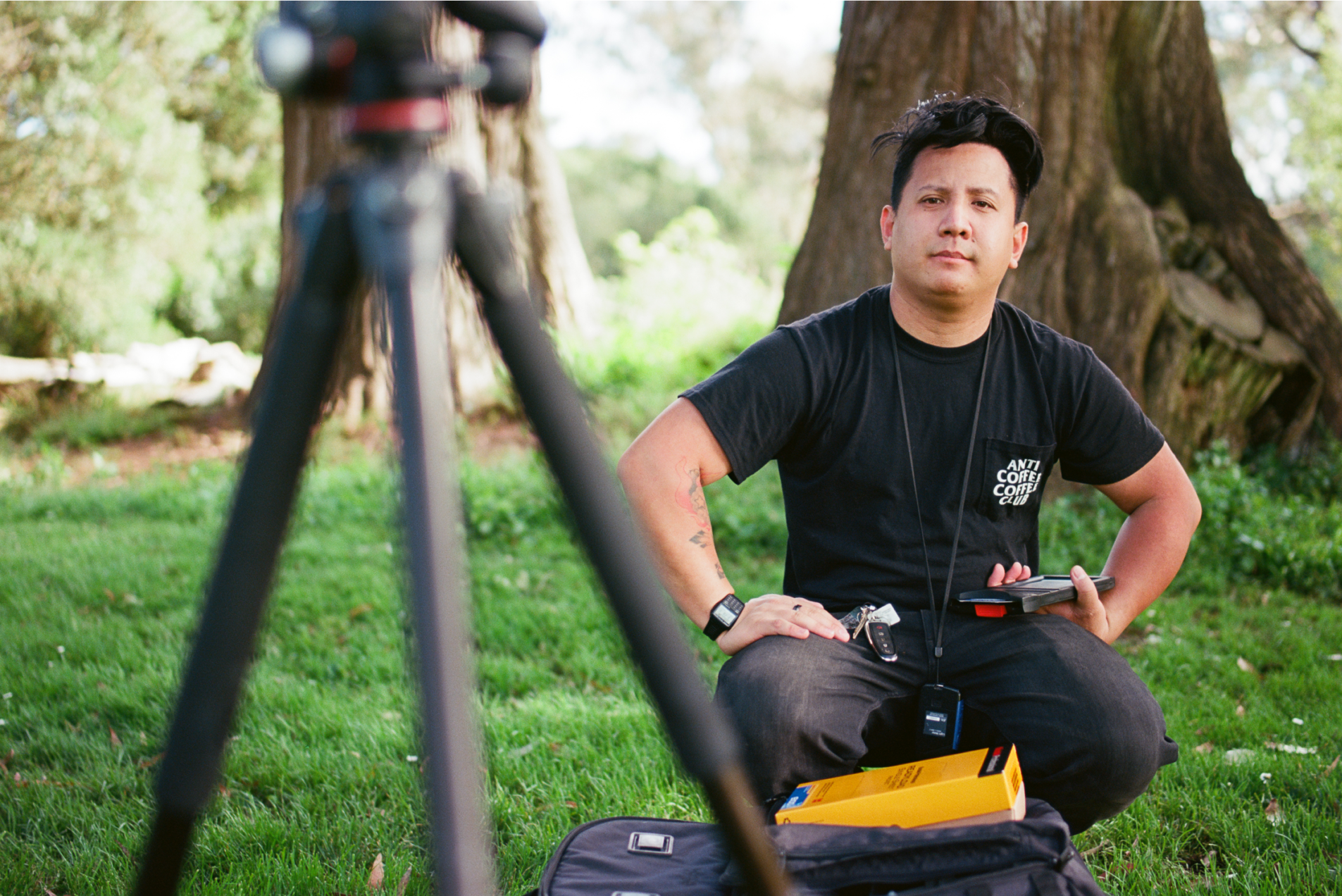 HOW DID YOU FIRST GET INTO FILM PHOTOGRAPHY? I got into photography around 2009. One day when I was playing paintball, I saw a photographer out there and wished someone would take photos of me and my friends. I took it upon myself to buy a cheap camera kit and started taking photos of me and my friends. It went from there. It stuck with me.
I had wanted to try film for a long time, but I just didn't know anyone who was shooting film at that time. I finally saw that film photography had a big following in the Bay Area and started reaching out to some people. I jumped in and bought a Minolta X-700 and started shooting film from there.
HOW DID YOU DISCOVER LARGE FORMAT AND WHY DO YOU USE IT? I hit the ground running [with film photography] after I picked up my first 35mm a few years ago. After trying out quite a few medium-format cameras, naturally I started looking into large format. I am lucky enough to live in the Bay Area, where we have a big film community. I found a few people willing to show me the ropes. I love using [large format] because there's something magical about seeing big positive [4-by-5 slide] film on a light table. It's definitely one of the main reasons why I love shooting large format.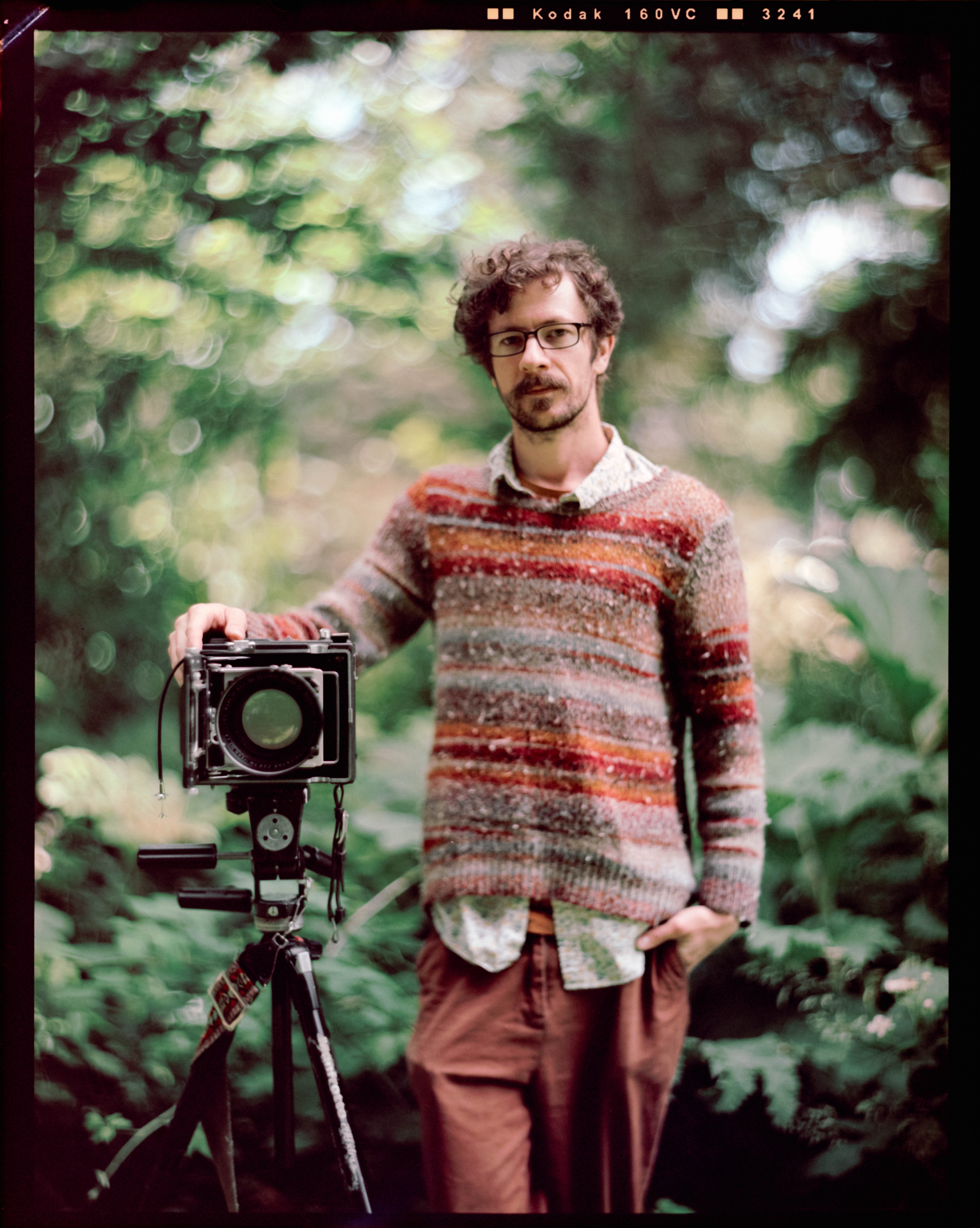 WHAT DRAWS YOU TO FILM? I think the nostalgic vibe you get from it plays a big part. Not only that, but also how each film stock represents a different look. Some are more on the cooler tones and really great on greens and nature photos, and some are on the warmer side and work well for portraiture. The whole process of shooting film is what makes me lean more toward grabbing a film camera than a digital camera. Being involved with the whole process from start to end—loading film, doing a wind, manual focusing, manual metering, the works. Not knowing what your shot looks like until you have the whole roll developed and scanned. After all of that, finally seeing the results makes it all worthwhile.
CAN YOU DESCRIBE YOUR STYLE OF PHOTOGRAPHY? I'm a one-trick pony. I like taking portraits and most of my portraits are just straight-on headshots, nothing fancy. But I'm still fairly new to portraits, so I'm trying to dive into different styles too. As far as background goes, something with trees gives that swirly bokeh look that takes advantage of the [Aero Ektar] lens that I have. That's what it's known for.
WHERE DO YOU LIKE TO PHOTOGRAPH IN SAN FRANCISCO? I shoot mainly color film stocks, so I'm drawn to vibrant scenes, from your low-rider meets in the Mission to wandering around San Francisco neighborhoods that have colorful houses and flowers. Every once in a while, I'll revisit tourist spots like the Golden Gate Bridge or even Haight Street and Chinatown. Those always look good on film.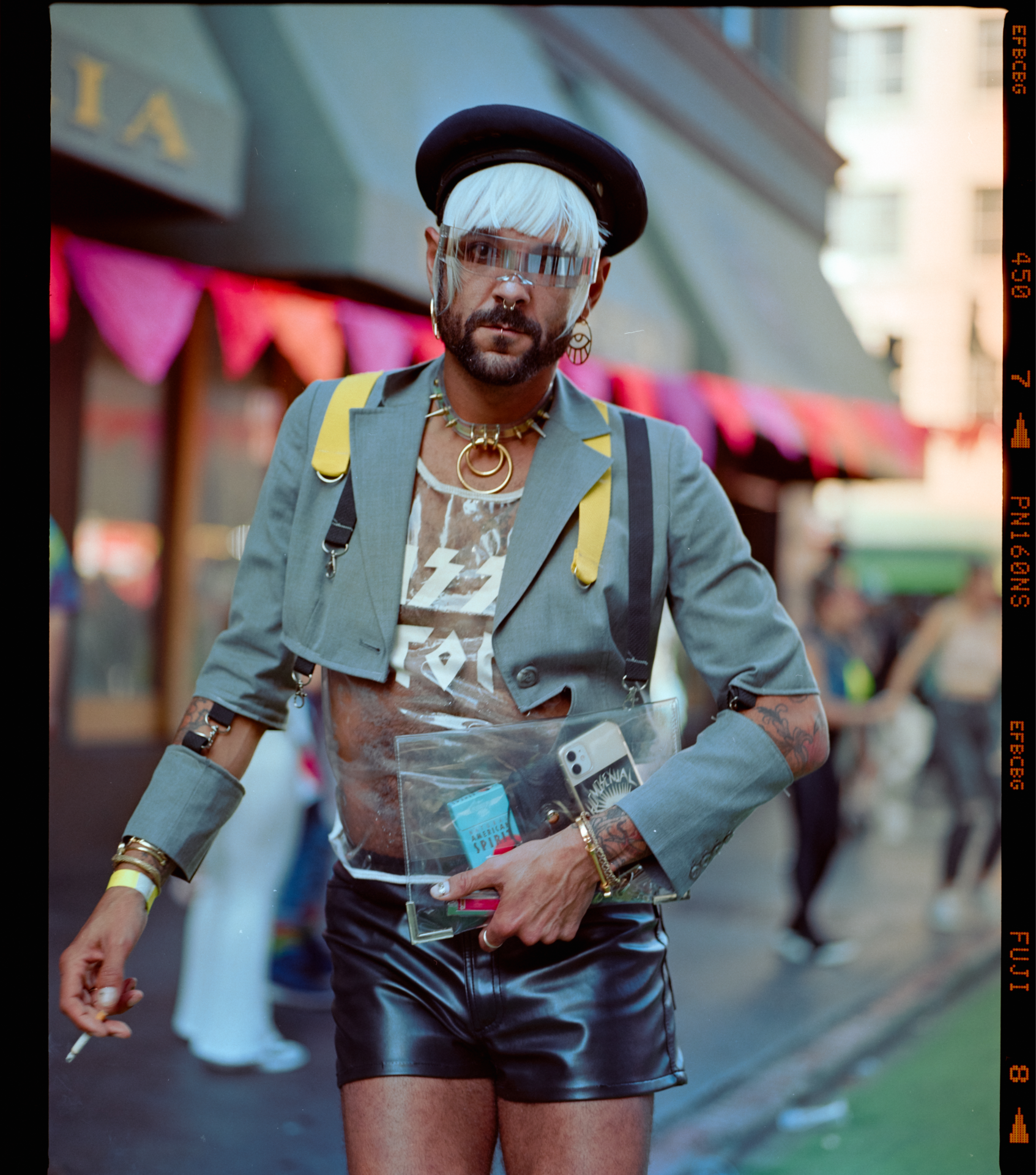 I'm trying to focus more on highlighting the talented photographers and artists that San Francisco and the Bay Area have to offer. I'm not necessarily limited to just photographing San Francisco people, but there's a lot of talent here that I feel just isn't recognized yet.
I do street portraits, so I'm always open to any location. If we're walking around and there's a nice house with some pink flowers, we'll use that as a background. Or, if we're somewhere around the Sunset, walking near the Great Highway, we'll go for a wide-open look there too.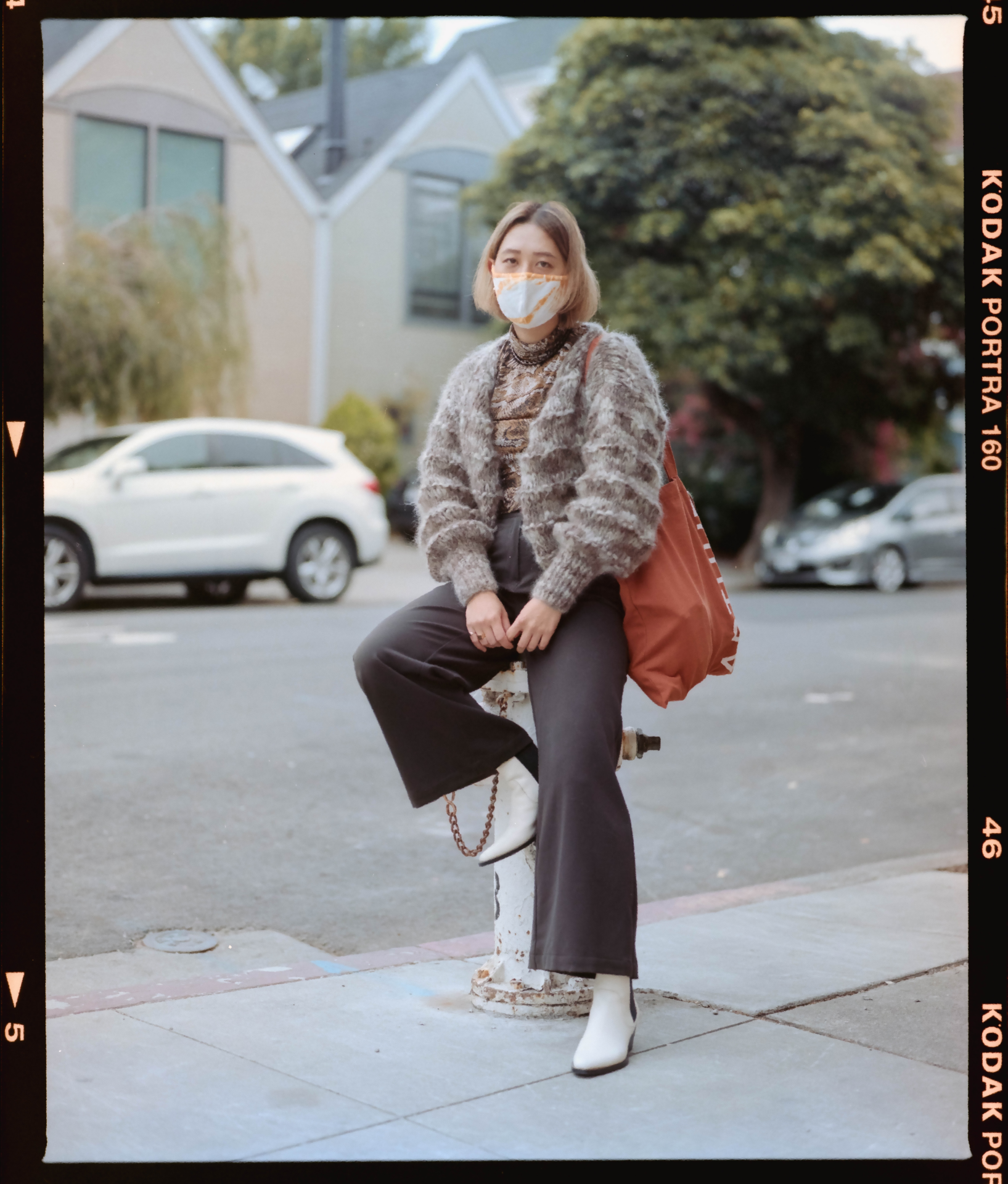 WHAT IS THE FILM COMMUNITY LIKE HERE? It feels like everyone knows everyone in this community. And I've made so many friends. I've been able to reach out to a lot of people, and not one has turned me down as far as wanting to shoot together or talk shop, you know?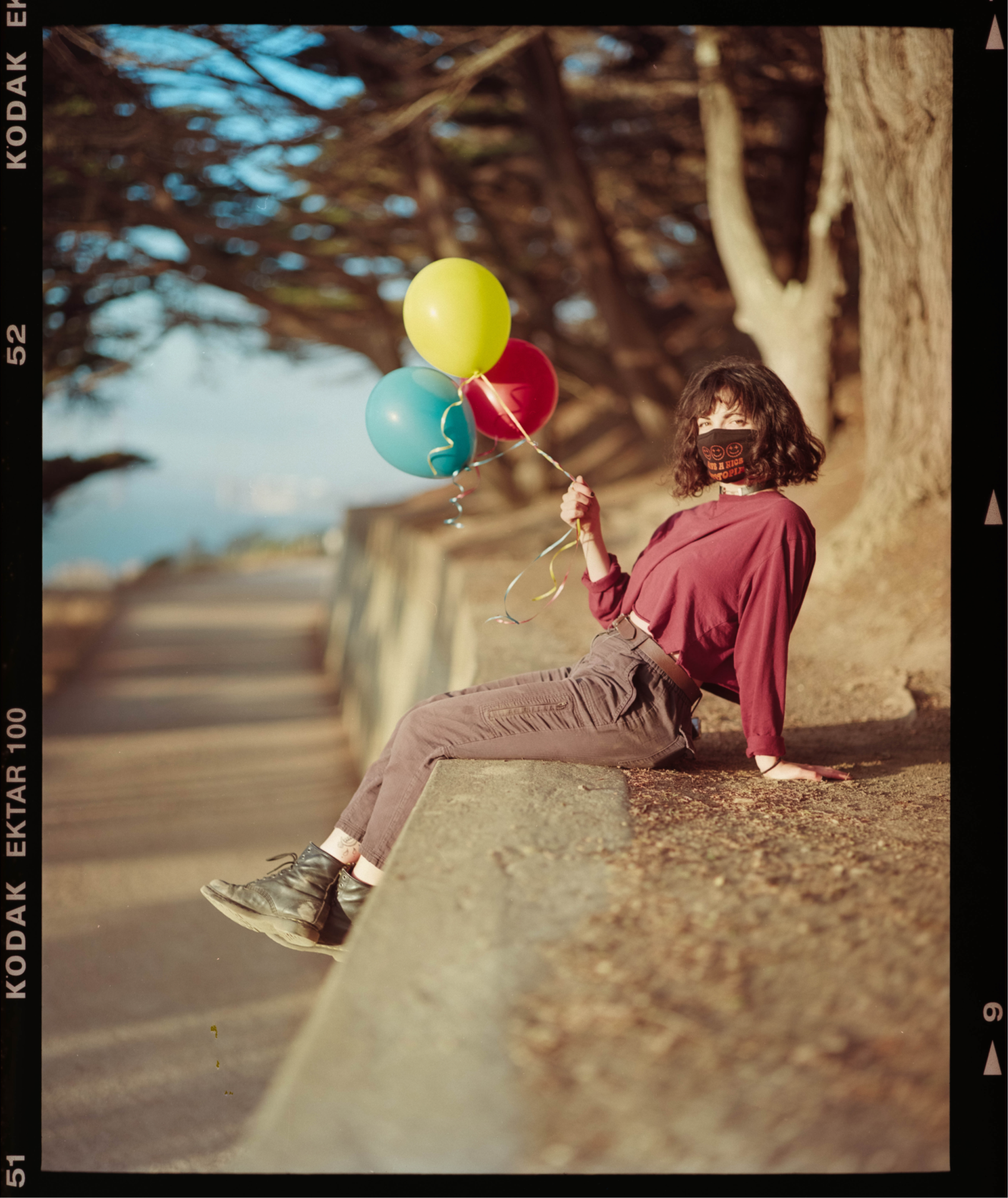 Honestly, the main reason I love shooting film is because I get to meet some really rad people. The community has been very welcoming, and film photographers are some of the most down-to-earth people you will meet—super friendly and willing to take time out of their day to talk shop with you and help you with any problems you might've encountered. It really is just all love with this community. ♦
Adam Pardee is a staff photographer for the Half Moon Bay Review and Pacifica Tribune. He knows almost everything about The Office, and you can find him with his wife and dog playing on the beach or driving up and down the coast looking for a great photo opportunity. He lives in North Beach.