Seeing environmental portraiture and photography as a form of artistic reverence.
Photography has been the thread sewing together the different chapters of my life.
I was that kid with a camera ever since I got my first Kodak when I was eight years old. It wasn't until college that I took my first photography class. I was a film and darkroom junkie, and time spent developing photographs was my first and deepest experience of a creative flow state. Even though I predominantly shoot mirrorless digital photography now, I started on film, with a particular interest in black-and-white photography.
As a college student and young adult I developed a love for travel, with my camera perpetually along for the journey. In spite of my passion for photography, I was never raised with the idea that a person could make a living as an artist, so I went in other directions with my studies. Yet I wove the thread of photography in whenever possible, focusing my graduate thesis in education on a course I created called Photography for Social Change. In my twenties, as a Peace Corps volunteer and then as a public high school teacher in Oakland, photography was an integral part of my creative expression.
When I became a mother in 2013, my career shifted along with my focal point as an artist. My daughter was my first muse. Inspired by the need to preserve each special and fleeting moment of her infancy and childhood, I launched my small business, Ashley Kaplan Photography, in 2016 as a lifestyle, family, and couples photographer. My signature style is environmental portraiture, where I'm able to combine the majestic beauty of a wide-angle nature shot with portraits of people, reminding viewers and subjects of our interconnection with the natural environment. I strive to make art that inspires a sense of responsibility to care for the planet we call home.
When I take photographs of San Francisco, it's as if I'm writing little love notes to my adopted home, where my daughter was born and where I became a professional photographer, but more importantly, to a place whose spectacular wild beauty never fails to inspire me.
I'm drawn to the ethereal and moody aesthetic the shape-shifting fog lends the city. It's sometimes dark and cold and damp. It's sometimes caught mid-evaporation: sun burning through its layers in steaming beams of light. Sometimes the fog is dense right up to the edge of a sunset and only a thin layer of light peeks through, clouds hued yellow and orange in a warm glow. The fogs of San Francisco offer me grounding in the present moment while hinting at a larger sense of mystery and wonder.
My collection of artwork is an ode to nature in the San Francisco Bay Area, each photograph offering a prayer of reverence to my greatest source of inspiration: Mother Earth.
. . .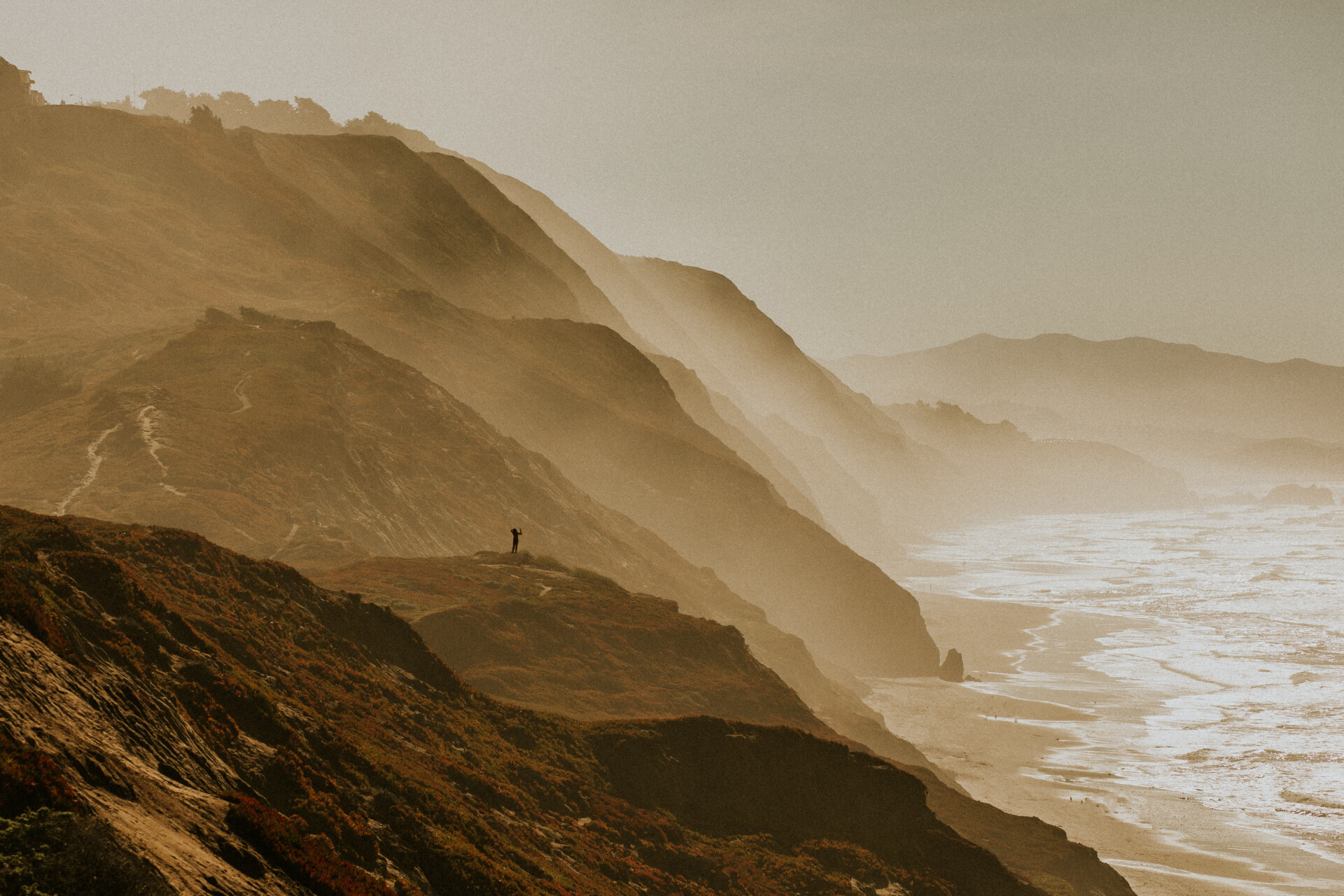 "Every time I start my descent down the hiking trail to Thornton State Beach, I am awed by the stunning beauty just past the southwestern edge of San Francisco. In this image, taken at midday, the sun has begun to burn through the dense fog, creating dreamy lighting conditions perfectly evocative of coastal California."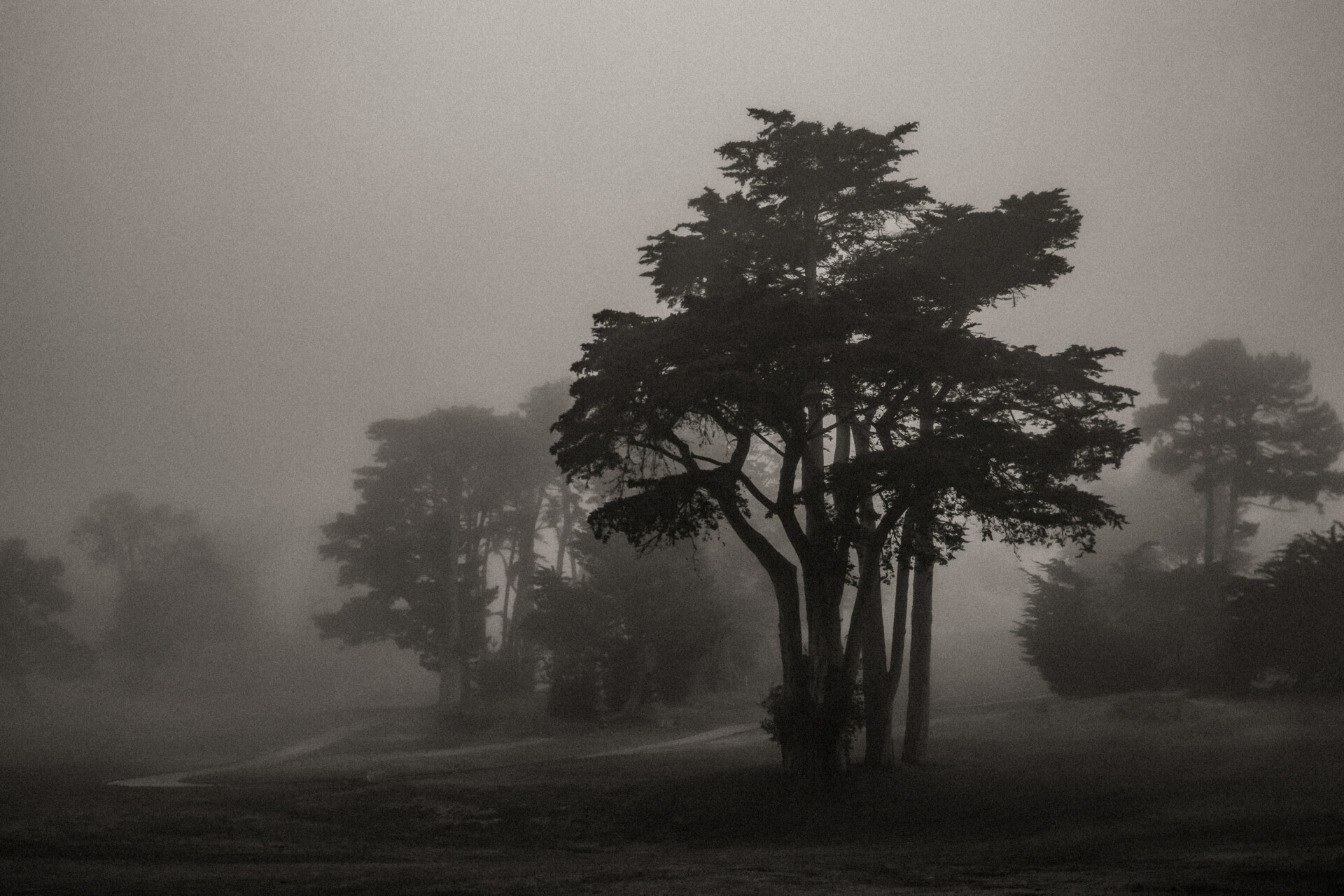 "I used to live in an apartment across from Lincoln Park in the Presidio, where each day I watched the fog roll in over the hills. This photograph was taken on a cold and damp evening, wind blasting through the city. Against the cypress trees, the fog creates an eerie sense of foreboding, like a scene from a Hitchcock film."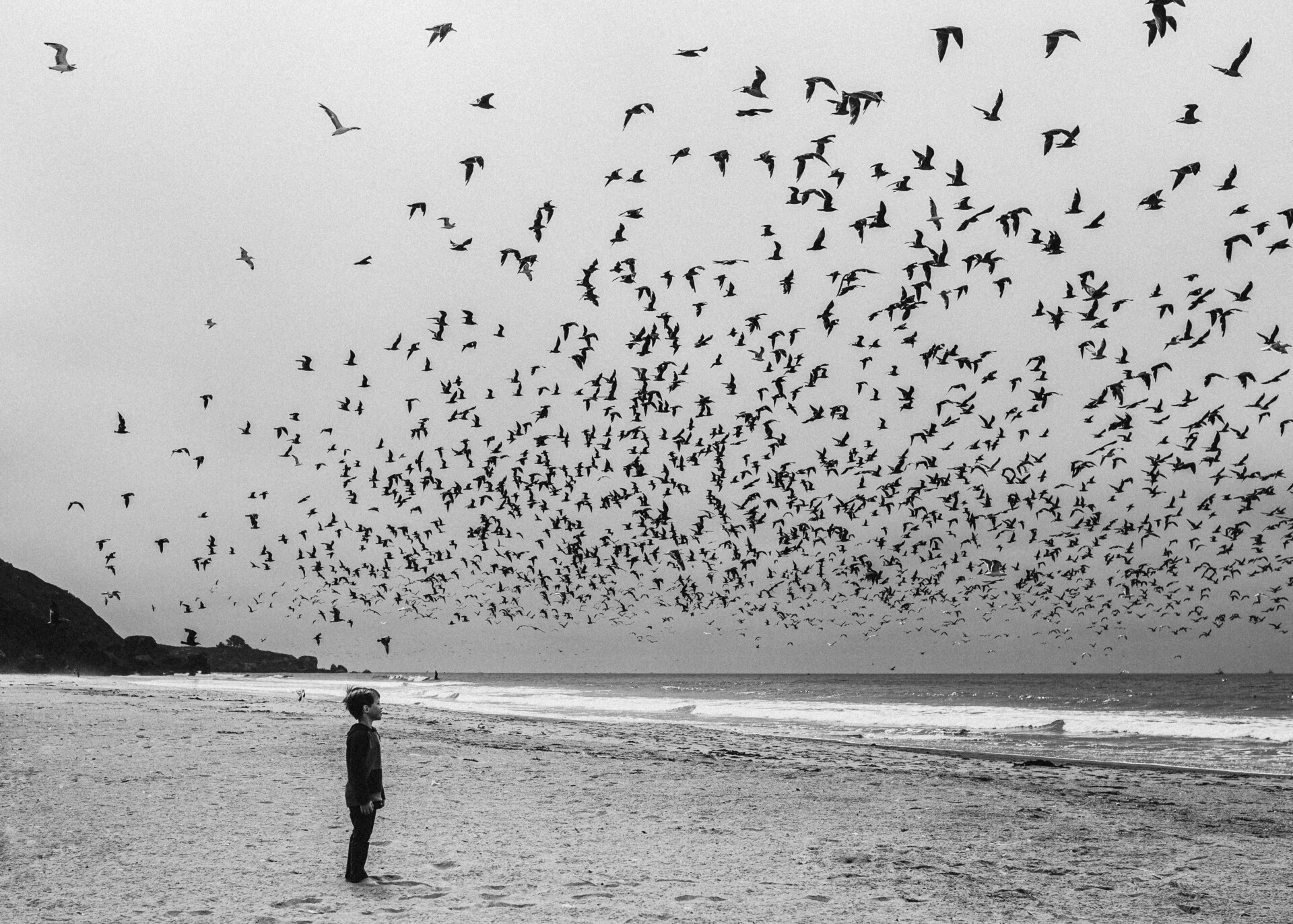 "Through environmental portraiture, I try to invoke questions about the interrelationship between people and the earth. I revere and pay tribute to the awe I experience in nature. On this foggy day at Stinson, my kiddo and some friends were running all over the beach. As they ran, spirits free, flocks of birds took flight. First I was photographing chaos, then I envisioned this image and asked the child in the photo to stop midway down the beach to observe the birds. It's a photo I simply love. If I could pick a superpower, I would want to be able to fly."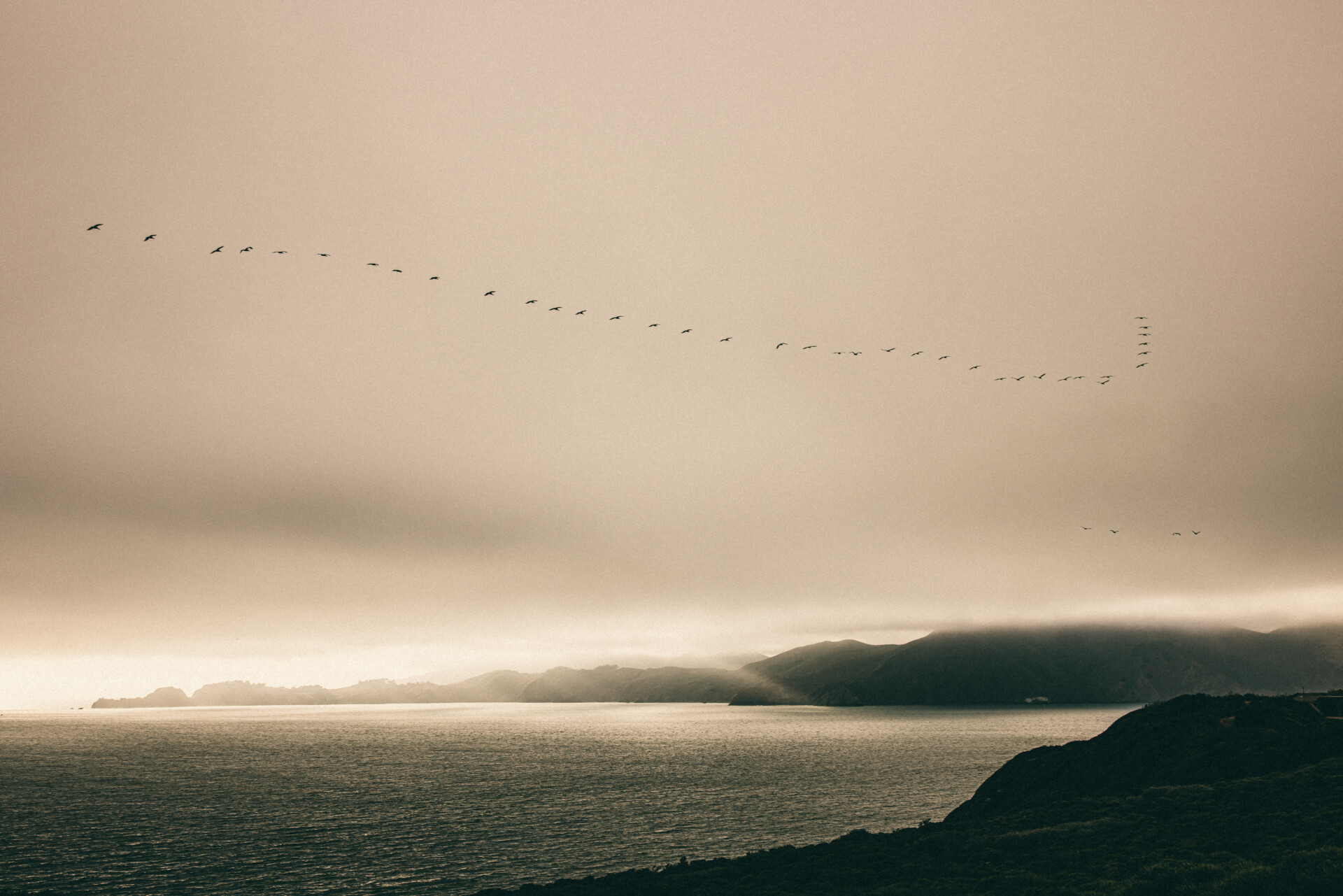 "Before this picture was taken, I had wrapped up my photo shoot just prior to sunset because it was so cold and foggy. On my way home, the bottom layer of the dense fog burned away, the sun barely dipping over the horizon. The glowing light in the distance was a breathtaking sight, and I pulled over on Lincoln Boulevard to photograph the scene. The pelicans, out in droves on that particular evening, form a flying V as they soar across the foreground."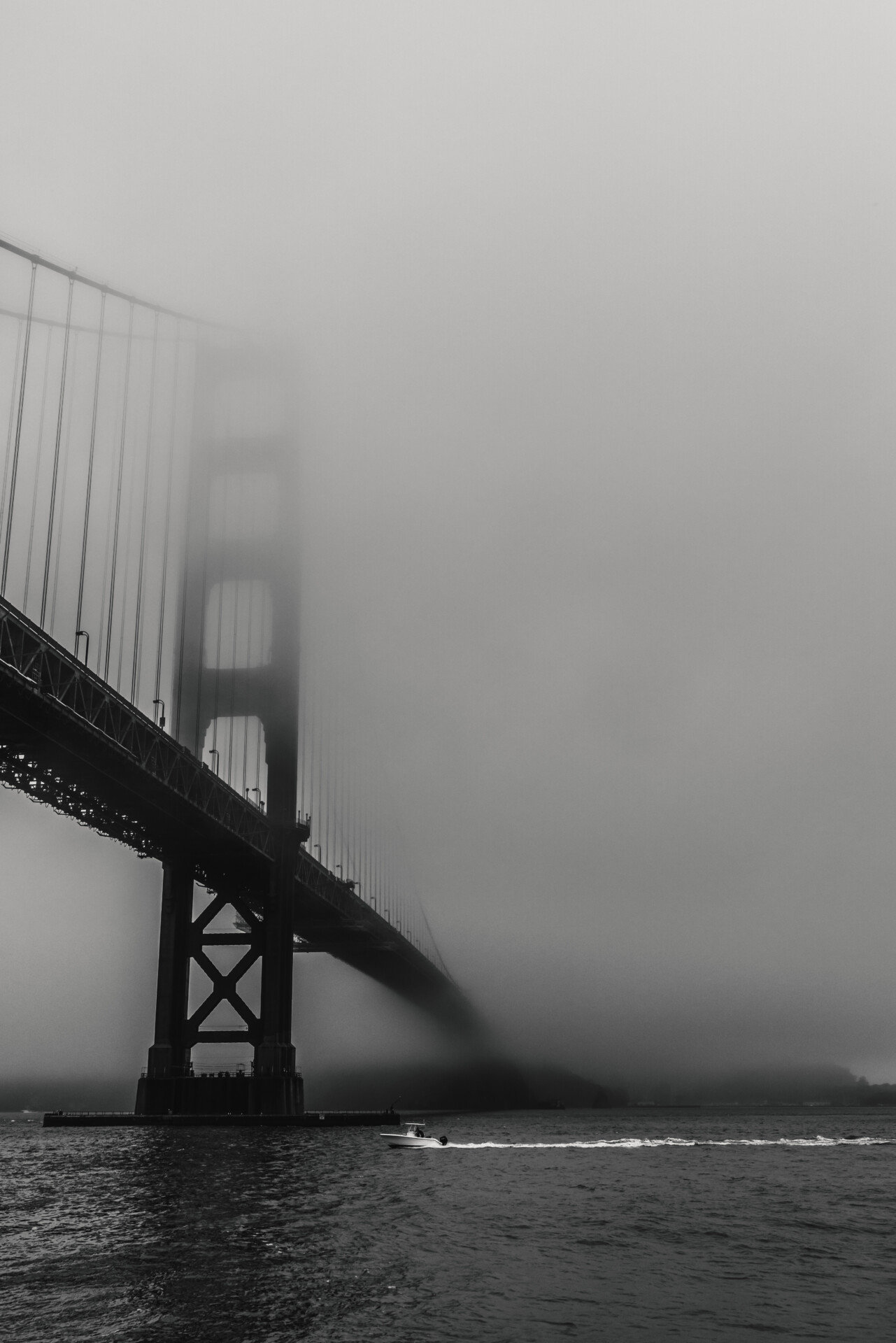 "On a dark and foggy day at Fort Point, I was waiting for clients to arrive and was drawn to this scene. I noticed the contrast of that seemingly tiny boat tracing a trail in the water with the looming tower, illuminating the scale and perspective of the famous landmark. The fog appears to be alive as it partially envelops the bridge."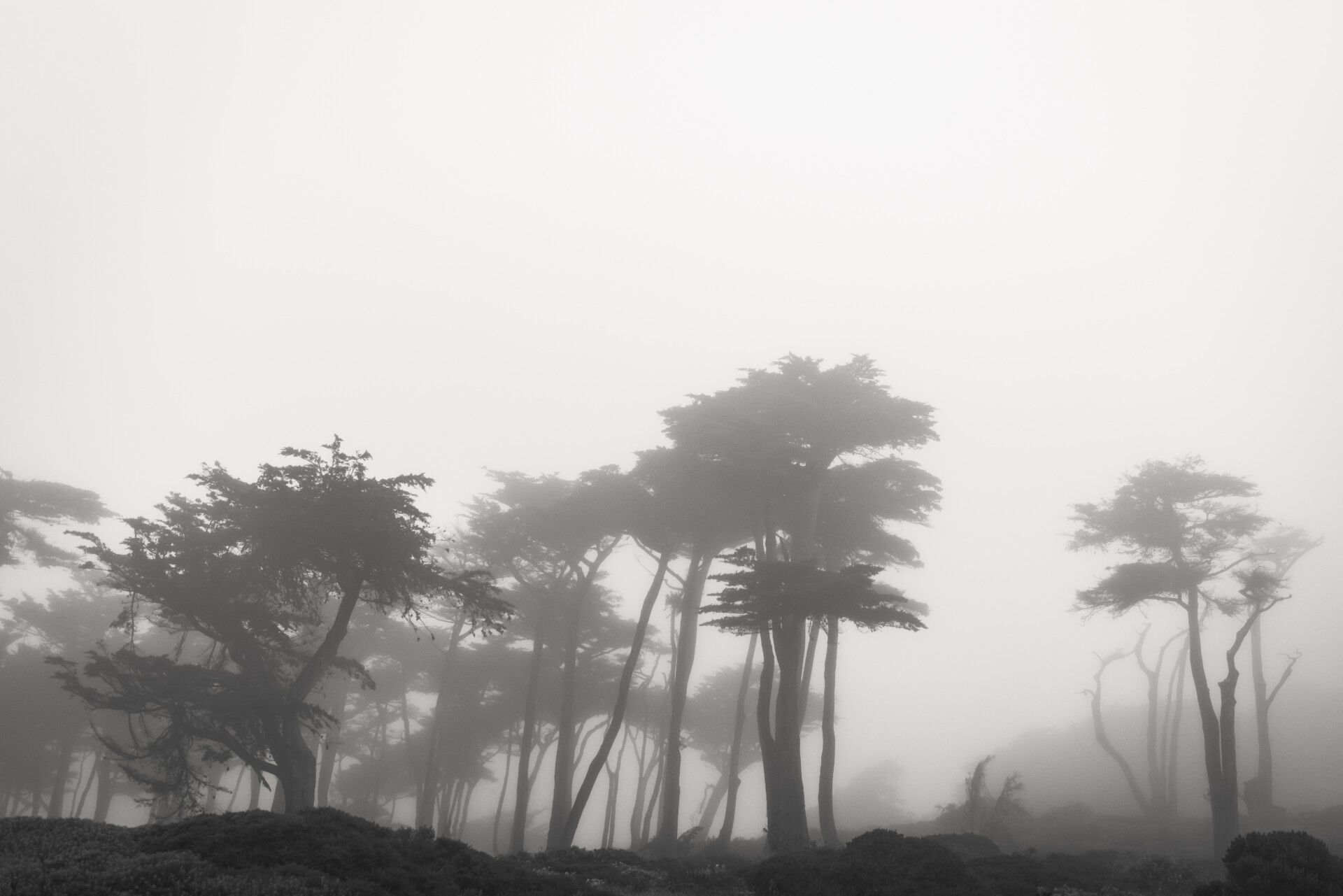 "Sometimes my clients are disappointed when they arrive at their sessions and find fog (especially those who have commuted from sunnier corners of the city). But I find something especially magical in these sessions. For me, the fog offers depth, atmosphere, and more visual interest than, say, this stand of trees would provide on a sunny afternoon."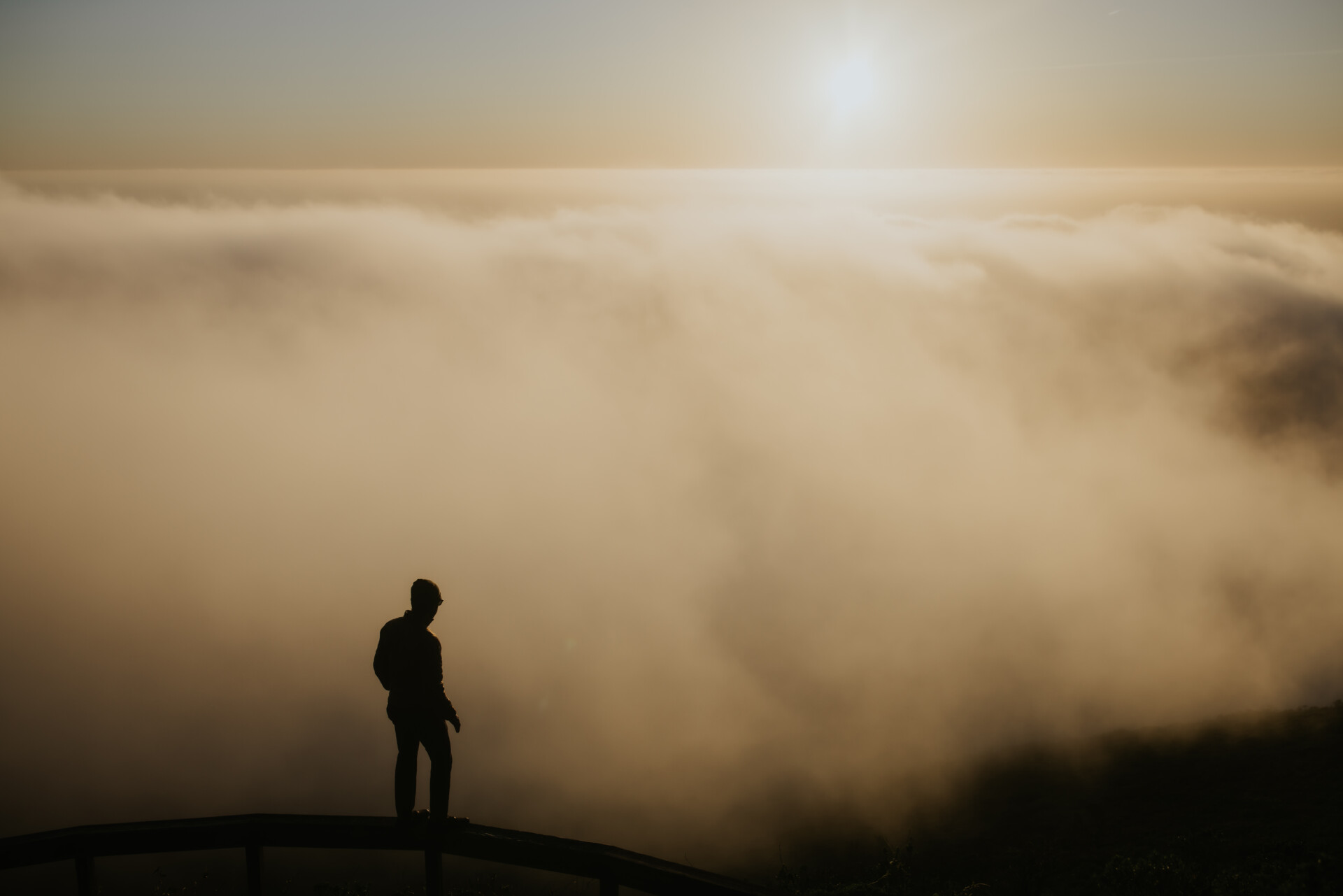 "Abundant access to green space and hiking trails is one of the things my partner and I love most about living in the Bay Area. This photo is from a date-night hike in the Marin Headlands, where we explored a newly opened trail. Just before sunset, the fog was moving quickly, and we were immersed at first. When we emerged above the fog line, golden-hour lighting tinted the clouds a warm yellow. The sun setting into the fog from above was sublime to witness." ♦
Ashley Kaplan is an award-winning lifestyle photographer based out of San Francisco. Professionally, she specializes in portraiture of families and couples against the natural background of the local environment. Her fine-art work highlights the awe-inspiring beauty of the Bay Area.