by Max Blue
The difficulty of making a living as an artist in San Francisco is no secret. In recent years, "the cost of living has driven a lot of artists and galleries out of the Bay Area," said Vanessa Woods, a full-time art teacher and working artist. But if financial challenge is a defining feature of the arts in San Francisco, so too is the resilience and solidarity the community exhibits. "I think efforts in creating alternative models, like Minnesota Street Project, have been lifelines for the community," Woods said.
Yet even subsidized spaces for galleries and artists, like those on offer at Minnesota Street Project in the Dogpatch, have suffered from what Jack Fischer, owner of Jack Fischer Gallery at Minnesota Street Project, calls "a definite lack of curiosity in what smaller galleries were showing."
These challenges were exacerbated when the pandemic hit last year and art spaces throughout the city temporarily shuttered. Many gallery directors scrambled to develop online platforms as a way to continue supporting their artists and keep their businesses afloat. Monique Deschaines, director and owner of Euqinom Gallery in the Mission, curated a handful of online photography exhibitions during the pandemic.
"Art looks fine online; it looks glorious in person," Deschaines said. While the visceral experience of viewing art in person was lost, some local galleries were well situated to create new opportunities for digital art shows and expand their audiences via online platforms. Telematic, a video and sound art gallery South of Market, was particularly well-positioned to pivot to online exhibitions.
"As a media arts gallery we were always going to have to develop a broadcast platform," said director Clark Buckner. And with everyone sheltering in place, "audiences were ready for it."
In the fall of 2020, Telematic presented an online exhibition of video work by over 50 artists from around the world titled The Archive to Come, co-curated by Buckner and New York artist Carla Gannis. The show was a response to both the crisis of the pandemic and the rise of the Black Lives Matter movement.
"The gallery and the art object provide a unique occasion to engage people in conversation about serious stuff in creative and revealing ways," Buckner said. The impacts of the pandemic and BLM movement aren't limited to any one locality, and the online model promotes an intersectional discourse. To supplement their virtual exhibitions, Telematic hosted a well-attended series of online events that brought together artists and viewers from around the world.
Other local institutions, like the Museum of Craft and Design in the Dogpatch, engaged the immediate community through direct actions. In June 2020, the museum sponsored a global online mask design competition, titled Let's Face It. For each online entry, the museum donated a functional face covering to the San Francisco Food Bank in Bayview. When Public Glass, a glass hot shop in Bayview, closed temporarily at the start of the pandemic, the museum invited them to partner on a project called Lemons to Lemon-aid.
"We asked them to make glass lemons," explained JoAnn Edwards, the museum's co-founder and executive director. "We pay for the cost to produce the lemons, putting their artisans back to work. Additionally, we give them 20% of the proceeds. We've sold over 300 lemons."
For many who have joined the broader community during the pandemic, "the hybrid model is here to stay," said Buckner. "If we have an event at the gallery, I'll broadcast it." At the same time, Telematic has been collaborating with other local galleries and sharing credit. Throughout 2020, Telematic screened work at Casemore Kirkeby, a gallery at Minnesota Street Project. For their upcoming exhibition in October 2021, Telematic is partnering with Minnesota Street Project again. The exhibition, titled Play / Pray, will feature two video pieces by local artist Leila Weefur,"Old Testament" and "New Testament," which examine the Black church.
The Craft Museum also plans to maintain both virtual and physical platforms. The museum is hosting another juried exhibition, Call and Response: Craft as a Tool for Activism, open to artists across the country. The exhibition, which offers prize money, exposure, and the opportunity for artists to sell their work, is on view through September 30. An in-person exhibition, Mode Brut, will run September through January. The show is a collaboration with Creativity Explored, a studio-based collective in San Francisco who partner with the developmentally disabled, and will feature four collections of new fashions made by designer teams alongside local disabled artists.
"Our vision is to make creativity accessible to everyone," said Edwards. "With everything we do, we try to speak to all cultures and walks of life. I think that's how you bring people together."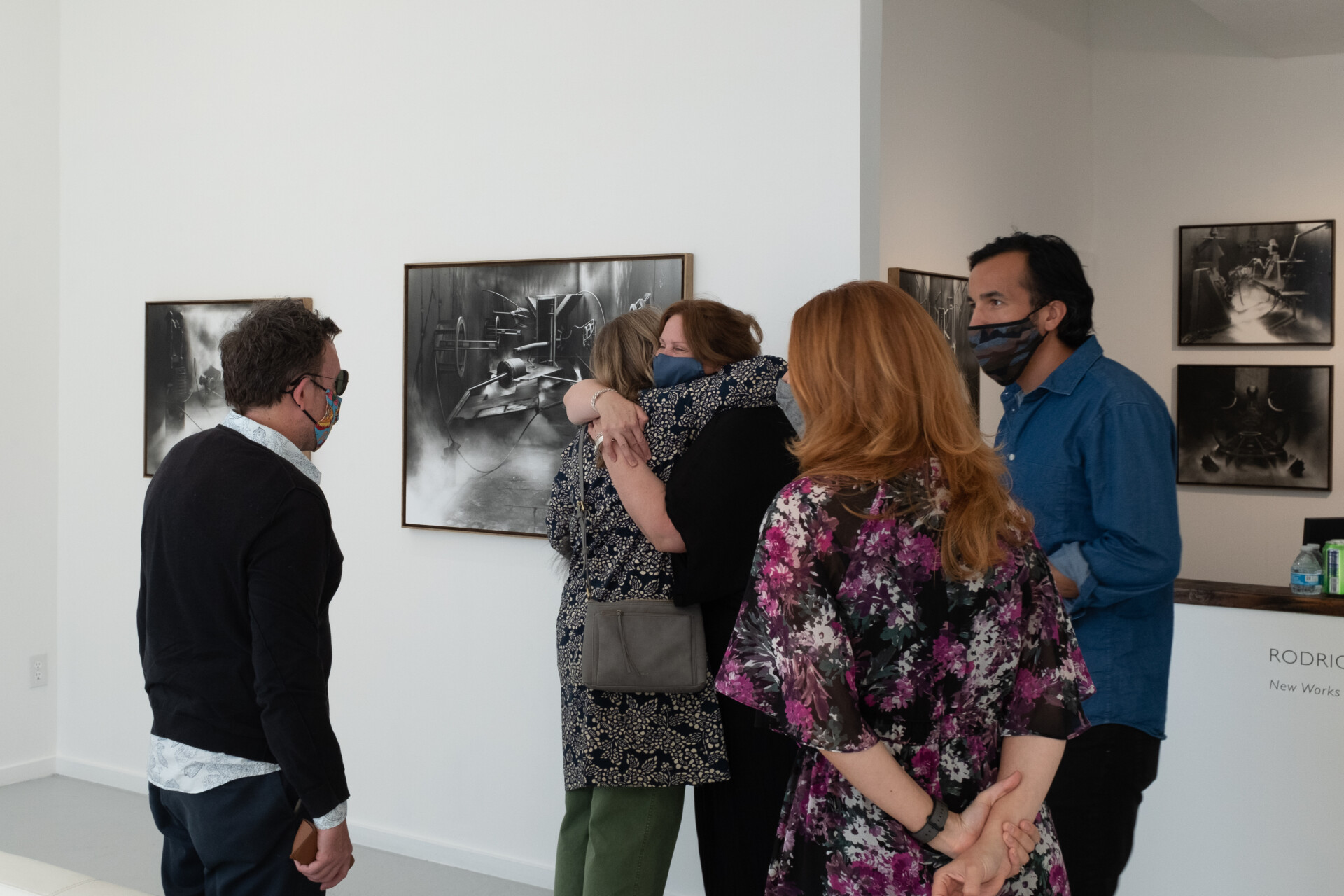 Since reopening in June, foot traffic at Euqinom has returned to pre-pandemic levels, but the gallery is maintaining its online presence. The gallery showed new works by Michael Lundgren online in August and Rodrigo Valenzuela's solo show, New Works for a Post-worker's World, is viewable in person through October 30. Deschaines sees the silver lining in the past year and a half, when "[people were] slowing down and really looking and realizing that art is something to see."
Adapting to the challenges of the pandemic strengthened the sense of community in the arts, simultaneously broadening the reach and cultivating the local scene. "I have a renewed desire to see art in person and to support my arts community as much as possible," said Woods. Online art may have gotten us through eighteen months of social distance, but the crowded gallery isn't something we'll take for granted any time soon. ♦
Max Blue holds a degree in art history and photography from the San Francisco Art Institute, and an MFA in creative writing from the University of San Francisco. His work has appeared in SF Weekly, Digital America, and Your Impossible Voice, among others. He lives in San Francisco.
Torehan Sharman is a photographer based out of the Inner Richmond. He primarily photographs public spaces and architecture. You can usually find him hanging out with his dog Frida at Mountain Lake Park or picking out something to read at Green Apple Books.