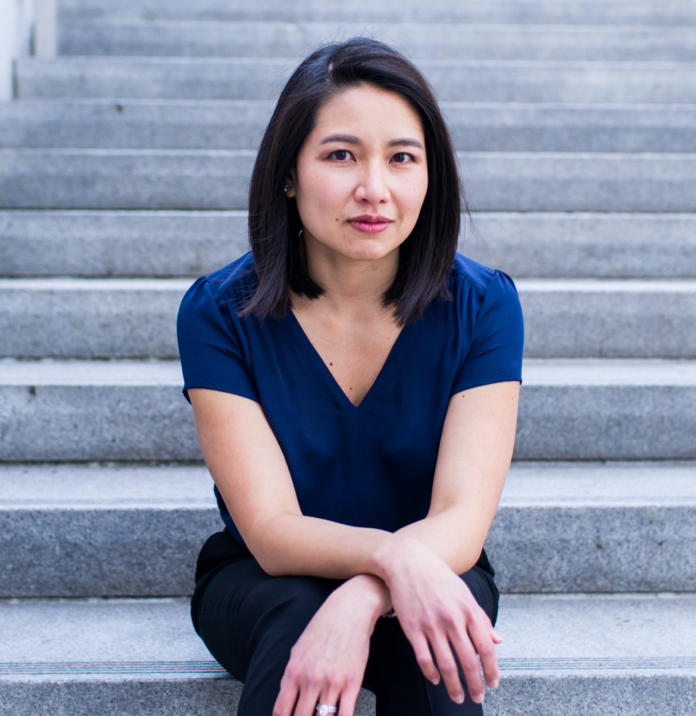 A conversation about destiny and discipline with author Kirstin Chen.
Blue Bottle on Fillmore is bustling with activity on this midsummer day. I'm here to meet Kirstin Chen, author of Soy Sauce for Beginners and Bury What We Cannot Take, for a late-afternoon cold brew. Our paths had crossed at a few pre-COVID readings around the city, where her stories set in far-off lands captivated my imagination, but this is our first one-on-one and I have to admit to being a bit of a fangirl. 
We grab our drinks and stroll up to Alta Plaza Park to a bench with a view of sailboats bobbing on the bay around Alcatraz and the sun glinting off the Golden Gate Bridge. Soon we're chatting like old friends.
Originally from Singapore, Chen first came to the Bay Area as a student of comparative literature and creative writing at Stanford, though her intention to become a writer of fiction did not emerge until much later. 
"My goal was always to major in something really impractical and read all the books I wanted to read and then graduate and get a sensible job," she said.
That sensible job was as a merchandise planner at Banana Republic, which turned out to be a lot less fun than it sounded. "I thought it would be my dream job, picking out clothes," she said, "but it was much more of an inventory management–type job. I stuck it out for three years."
With no real plan of what to do next, Chen decided to return to school and this time give creative writing a more serious look. Accepted into the MFA program at Emerson College in 2006, Chen said goodbye to our City by the Bay and headed east to Boston. She arrived at a campus of classmates already deep into writing stories and novels, while she still had no story ideas of her own. 
"That's encouraging," I said. "The perception so often is that writers pop out of the womb, their heads filled with stories, their paths destined."
"In Singapore, where I grew up in the eighties and nineties," Chen said, "creative writing was not a thing. Public schools were testing- and outcome-oriented, and not geared at all toward the humanities."
Under the tutelage of writer-professors like Pamela Painter, Margot Livesey, and Lise Haines, Chen wrote the short story that would grow into her debut novel, Soy Sauce for Beginners, about a family in Singapore fighting to save their artisanal soy sauce factory. After ten drafts and nineteen rejections, Soy Sauce for Beginners was published by New Harvest/Amazon Publishing and earned a coveted spot on Oprah's recommended list.
"If it hadn't been published, I probably wouldn't have written another book," Chen said. "I never felt called to be a writer. I'd gotten a 9-to-5 job before and I knew I could again." 
That would have been a real loss for readers and fans of her work. Luckily, that book was published, writing became Chen's focus, and those childhood school years developing discipline proved invaluable.
"I'm up at six o'clock and start my day with twenty minutes of meditation," she said. "Then it's an hour and forty-five minutes of Ashtanga yoga. After yoga, I eat breakfast, read the New York Times and the San Francisco Chronicle, mess around on social media, and then sit down to write. And I keep at it until I have one thousand words."
If she completes those thousand words in an hour, she's done for the day. If it takes six hours, then that's how long her day is. 
"I don't then try to write two thousand," Chen said. "And even if I end up throwing them all out the next day, keeping to that routine is very important to me."
A peek at Chen's Instagram page reveals her mastery of the physically demanding Ashtanga yoga, which she has been practicing for over fifteen years. 
As a breeze picks up off the sea and sailboats turn toward their docks, we agree to meet again. The next day we slide into an outdoor booth at The Snug, one of Chen's favorite Pac Heights restaurants. She orders the spring salad. I'm all about the popcorn chicken. 
While in Boston, Chen met and fell in love with a young medical student, Asmin Tulpule, from Connecticut—now Dr. Tulpule, a pediatric oncologist. They found their way back to San Francisco in 2011, when Chen received a Steinbeck Fellowship at San Jose State that required residence in the Bay Area. 
"We moved to the city and we've been here ever since," Chen said. The couple recently celebrated their tenth anniversary.
Shortly after their move, a fortuitous conversation at a small gathering would launch Chen into the writing of her next novel, Bury What We Cannot Take.
"A friend was telling me a story about his family living in Communist China in 1957 and their attempt to escape to Hong Kong," Chen said. "They managed to get government permission for a short trip under the guise of visiting an ill family member, but the caveat was they had to leave their daughter behind to ensure their return. That daughter was my friend's aunt."
The story took hold of Chen and refused to let go, until finally she asked her friend for permission to use it as the basis for a story of her own. He said yes. Chen's story is set on the tiny island of Gulangyu (Drum Wave Islet), so named because the breakers pound the rocks like drums. Drum Wave Islet sits across the channel from mainland China, and is, in fact, the ancestral home of Chen's own family. As part of her extensive research into that period of China's history, Chen visited the island and interviewed family members who'd lived in the region during the Mao regime in the 1950s. 
There are five main characters in the book: the grandmother, the father, the mother, and two children: a nine-year-old daughter and a twelve-year-old son. 
"Multiple points of view can be a logistical nightmare. How did you manage to pull it off?" I asked. 
"For the first couple of drafts, I definitely winged it," she said. "I'd never worked with rotating points of view before, so in the beginning I made myself rotate in a set pattern—character one, two, three, four, five—just to write through to the end of the story. After about three drafts, I made an outline by chapter/POV. Then I printed that out, cut it up into individual chapters, and moved things around."
"Ah, cut-and-paste. The old-fashioned way. No Scrivener for me either," I said. 
"At first I thought it would be the son who would carry the story, but the character of nine-year-old San San surprised me," Chen said.
Without giving too much away, I have to agree. San San turns out to be the heart and soul of the book and, if I may add, a real little badass.
When Chen began the book in 2011, President Obama was in office and Trump wasn't even a blip on the radar. By the time the book was published, in 2018, we were living in a very different world, and the themes explored as fiction—closed borders, a fascist regime, the plight of refugees, separation of families—were suddenly frightfully current. 
"I had thought of the book as historical fiction, very much rooted in the past. But the longer I worked on it, the more contemporary these themes felt," Chen said. "A refugee family forced to leave their home country and rebuild their lives in a country that is often hostile toward them, the way borders tear families apart, and the devastating consequences of separating parents and children. The refugee crisis at our own borders really highlighted the unspeakable horror of these events." 
In a desperate attempt to get permission from Mao's government to travel to Hong Kong, the family in Chen's book concocts a story about the father being gravely ill with only days to live. One of the most heartbreaking moments is the scene when the mother, Seok Koon, learns of the condition the government has put on their trip: she must leave behind one of her two children to assure the family's return.
A strange smile spread across Comrade Koh's face. "Which child will you take?"
The muscles in Seok Koon's body went slack inch by inch. "What do you mean?"
"Well, Mrs. Ong, you cannot take them both."
A howl rose in her throat; she managed to force it down. "Their father is dying."
Comrade Koh spread three permits on his desk. On the first he printed Seok Koon's name. On the second, he printed that of her mother-in-law, Bee Kim. When he got to the last one, he waited with his pen poised. "Well?" He was clearly enjoying himself.
"Comrade, I beg of you, don't make me do this."
He threw his pen on the desk and it clanged to the floor.
"Ong Wee Liam." She heard herself speak her son's full name and knew it could never have been otherwise. 
By the time I got to the book's end, I was envisioning a sequel. Chen, however, has already found a new subject of intrigue. Next up for the best-selling author is the literary crime novel Counterfeit, about the dark world of the counterfeit luxury handbag industry. 
Set in the duo locales of contemporary San Francisco and southern China, the book started as a joke, Chen said. "I'd done months of research on Bury What We Cannot Take, so I said the next book is going to be about something I know like the back of my hand: handbags!"
The joke, as it turned out, was on Chen. "As the idea for the book grew, the complexity of the counterfeit trade required me to actually go to southern China to visit a handbag factory," she said. "I met with vendors who sell counterfeits and consulted with copyright attorneys. It was a whole other type of research." 
Counterfeit will be published by William Morrow/Harper Collins in summer 2022. 
"Might we see one of your books adapted to film anytime soon?" I asked.
"I'd be elated if my books were adapted to film/TV so they could reach a wider audience, but I'm not certain I'd actually watch the show," she said. "I'm the kind of writer who can't bear to reread work after it's published. My debut novel came out in audiobook format and I've never listened to it. A recent book-to-TV adaptation I loved was Made for Love, based on the novel by Alissa Nutting. I suspect one of the reasons it was so stellar is because she did the adaptation herself."
Are you listening, Hollywood? ♦
Editor's note: As we go to press, the movie and television rights to Counterfeit have been acquired by Sony Pictures.
Jayne Martin is a native San Franciscan. She is the author of Tender Cuts, a microfiction collection fromVine Leaves Press, and The Daddy Chronicles—Memoir of a Fatherless Daughter, coming in spring 2022 from Whiskey Tit.