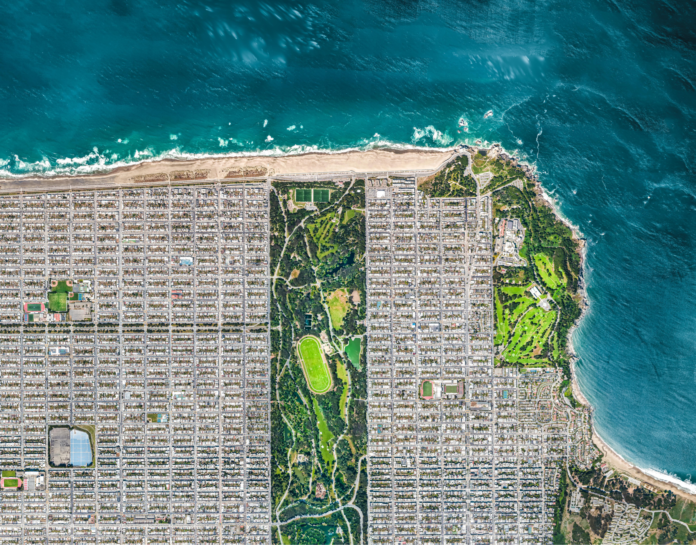 A beautiful opportunity to reimagine our cityscape.
Perhaps the ghosts of Playland had gotten to me in those final moments before sunset. 
Or maybe it was just the public-space possibilities of the Great Highway, expansive and clearly on display in every direction. Either way, as I walked along on an autumn evening with the sun sinking into the Pacific, I had a vivid scenario spring into my mind of the San Francisco County Fair being held there as a modern-day homage to Playland at the Beach. It was easy enough to envision: Laffing Sal greeting festivalgoers (and terrifying children) in all of her manic glory at the fair entrance, stunning coastal views from atop a neon-lit Ferris wheel, It's-It ice cream sandwiches being sold in their place of origin. It all struck me as quintessential Ocean Beach.
Of course, it wasn't long before my twilight daydream soon transitioned to scenes of heads exploding on Nextdoor and the inevitable debates over traffic, parking, and noise.
As locals know, the Great Highway—a four-lane coastal boulevard running for three and a half miles along San Francisco's Ocean Beach—was closed to car traffic from April 2020 to August 2021 in an effort to offer city residents new outdoor spaces during the pandemic. Many people fell in love with the concept, and now a contentious tug-of-war is currently playing out over whether the Great Highway will remain a car-centric thoroughfare or continue to reconfigure toward pedestrians. 
With all that in mind, I was probably getting very far ahead of myself on this county fair idea. But even dialing it back a bit, I couldn't help but see obvious potential for what could be done there at the western edge of the city: a weekly food truck showcase, a farmers market, a native plant botanical garden along the dunescape. Even just the simplest version of the highway as a reimagined pedestrian promenade had been enough to make me—like many other city residents—enamored with the idea of the highway evolving into a new and dynamic part of San Francisco. So as long as we're dreaming, then why think small?
The more I considered it, the more I began to suspect that my attention wasn't being captivated by the ghosts of Playland at all, but rather by a vision for this city that had come many years before, from someone who approached these matters of public space with ambition, creativity, and the go-big ethos of "Make no little plans, they have no magic to stir men's blood."
. . .
You might know of Daniel Burnham for a variety of historical reasons. As a trailblazing architect and city planner, he was highly influential in the design of both modern Chicago and Washington, DC. He helped to pioneer the age of the American skyscraper and was responsible for such iconic structures as New York City's Flatiron Building. A 2009 New Yorker article reflected on his legacy by stating that by the time of his death in 1912, "he was the most eminent city planner in the country, if not the world."
Even if these credentials have escaped your attention, you may have read about Burnham in Erik Larson's The Devil in the White City, which recounted his pivotal role as the director of the World's Columbian Exposition of 1893. The sheer magnificence of Burnham's White City enthralled the public while consolidating a series of ideas and practices that would become known as the City Beautiful movement: a Progressive-era ideology that sought to reverse the squalid conditions of most nineteenth-century cities by invoking the grand designs of Europe—the Beaux-Arts architecture of Paris and the neoclassical aesthetics of Rome—to elevate the community's environment and inspire its residents.
I had been reading up on the City Beautiful movement just as San Francisco's debate over the Great Highway was getting heated in late summer of 2021, and I was fascinated to learn that it was about far more than just architectural style. In his book chronicling the history of the movement, William H. Wilson characterized City Beautiful as involving "a cultural agenda, a middle-class environmentalism, and aesthetics expressed as beauty, order, system and harmony. The ideal found physical realization in urban design."
However, both Burnham and City Beautiful certainly had their share of critics, who often argued that high-minded, aesthetics-driven public-space projects often came at the expense of ground-level practicality within the community. In fact, City Beautiful advocates in Albany, New York, saw their proposals derided as "chasing rainbows." In time, historians and planners would even characterize this opposing viewpoint as "City Practical."
It was easy to see parallels to our current conflict over the future of the Great Highway, so I began to wonder if a look at the pros and cons of Burnham's approach could offer answers to this debate—or, if it would just leave me chasing daydreams of Ferris wheels. It seemed like a good question to ask, especially since it wouldn't be the first time San Francisco turned to Burnham for perspective on how we should lay out our city.
. . .
In 1904, an influential association of civic leaders invited Daniel Burnham to create a new urban design for San Francisco. As the story goes, he then spent a year living in a cottage near Twin Peaks, drafting an ambitious plan that was predicated on the values of the City Beautiful movement.
His final report placed heavy emphasis on expansive parks, optimized vistas, and vast city boulevards. He included ideas for some unusual civic structures and spaces as well, which are fascinating to consider a century later. For example, he envisioned an Athenaeum atop Twin Peaks—essentially, a grandiose Greek-like acropolis—that would serve as a uniquely situated venue for city events and festivals. 
However, consideration of his more elaborate ideas can easily overshadow some of the core concepts that Burnham was suggesting for our city, such as the importance he placed on his conception of the Panhandle. Burnham's plan called for the narrow strip of land to expand from its current location eastward through the city—over Divisadero and under Fillmore—all the way to Market Street. He imagined it as a creatively landscaped park that would serve as a pedestrian-only thoroughfare. 
Yet looking through Burnham's plan more than a century later, it's clear that his ambitions would have required a major overhaul of the San Francisco of that era: streets would have been rerouted, neighborhoods reconfigured, and—most notably—a lot of homes would have been torn down in the effort to reset the landscape.
Oddly enough, Burnham's report was delivered to City Hall just prior to the events of the 1906 earthquake and subsequent fire, which would soon level so much of San Francisco. Although that scenario presented the city with a semblance of a blank slate to implement Burnham's plan, politicians, residents, and real estate developers opted to quickly rebuild in accordance with the old city layout rather than pursue Burnham's more expensive and time-consuming design. Many scholars agree that the practical and efficient approach was better for the city at the time.
But elements of Burnham's urban-design philosophy still manifested in San Francisco over the years that followed, the most tangible example being the architectural sensibility and layout of Civic Center Plaza. The city also anchored heavily off of Burnham's philosophy when creating the Panama-Pacific International Exposition of 1915, which left us the Palace of Fine Arts. Later, as esteemed California historian Kevin Starr pointed out, elements of City Beautiful influenced the design of the Golden Gate Bridge. In this sense, Burnham's perspective has played a role in some of the most essential, beloved, and defining features of our city. Amid the polarized ideals of the practical and the beautiful, it's hard to imagine San Francisco being the city that it is without the beautiful side winning out from time to time.
. . .
If you have visited a friend or relative living in New York City at some point over the past decade, there's a good chance that they've taken you on a tour of the High Line, a former elevated railway that was completely reimagined in 2009 as a one-and-a-half-mile-long park and pedestrian-only walkway in a city where space is very precious. New Yorkers love the High Line, and if you've ever walked it on a summer evening, it's easy to understand why. In many ways, it embodies the design principles and civic purpose that Burnham had intended for an expanded Panhandle, while also giving a glimpse into the possibilities of the Great Highway.
And sure, a defunct railroad in the heart of Manhattan isn't the same as an active (and frequently fog-shrouded) highway on the fringes of San Francisco. But ever since I first walked the Great Highway after it was closed to cars during COVID, I thought it held the same potential for our residents that the High Line has delivered for New Yorkers. 
When I mentioned this comparison recently to Luke Spray, associate director for the SF Parks Alliance, he quickly pointed out that the High Line came together specifically because it was empowered to happen by city officials. "Bloomberg's New York had a long-range vision from the top that gave the leaders of the High Line the political cover they needed to make big changes," Spray said. "In San Francisco, especially right now, we really don't have long-term vision." 
Spray reinforced this point a couple of days after I talked with him when he published an essay in SFGATE that articulated a pedestrian-oriented vision for San Francisco, in which automobiles no longer get top priority on all of our city's streets. Making the case for this as a pandemic-induced paradigm shift, Spray wrote, "COVID has led to San Francisco's biggest streetscape changes in decades, as Slow Streets, Shared Spaces, and new pedestrian promenades along JFK Drive and the Great Highway have all revealed what tomorrow's streets might look like."
Spray invoked San Francisco's past freeway battles as an all-too-relevant historical parallel to our city's current debate over the Great Highway. The legacy of the protracted struggle that played out here for decades with the Central and Embarcadero freeways—over the cohesion and livability of the city's neighborhoods versus the convenience of expansive roadways—embodied that same civic tension between the beautiful and the practical that was present during Burnham's era. 
. . .
"Looking back today, not many people think we should still have the Embarcadero Freeway up," said Gabriel Metcalf, former executive director of SPUR, a nonprofit think tank focusing on regional development in the Bay Area. 
I met up with Metcalf on Zoom after tracking him down in Australia, and told him what has been transpiring with the Great Highway. Unsurprisingly, we were soon discussing those same takeaways of SF's Freeway Revolt that Spray had written about a few weeks earlier.
Since leaving SPUR, Metcalf has relocated to Sydney, where he works at a political advocacy organization. But an essay that he wrote here in 2006 about Burnham's SF plan was one of the most insightful that I came across. And since I can't ask Burnham about these issues, I wanted to at least speak with someone who seemed to understand the nuance of Burnham's vision for the evolution of our city spaces.
In an article titled "The Imagined City," Metcalf points out the dangers implicit in sweeping redesigns of an existing cityscape. In this sense, he agreed with many other historians that it was better for San Francisco that Burnham's elaborate plan was never implemented. Yet he also acknowledges that Burnham never expected his plan to be implemented at once and points to a key caveat that was included in his proposal: "It is not to be supposed that all the work indicated can or ought to be carried out at once, or even in the near future. A plan beautiful and comprehensive enough for San Francisco can only be executed by degrees."
This last point is especially compelling—"executed by degrees." Here, Burnham was suggesting that the city would at times have opportunities to evolve different facets in the visionary and idealistic way that he had proposed. Metcalf summed it up this way: "Real cities grow in layers, incrementally. Burnham calls us to be willing to think freshly and bravely about what our generation's contributions to the evolving city will be."
The grassroots vision for the Great Highway as a reconfigured pedestrian walkway is a case study in this concept of degrees and layers.
"I think what's interesting about the Great Highway debate is that it's a much less disruptive change than what the Burnham Plan [envisioned]," Metcalf said. "You can remove a roadway like this and life goes on." 
That last sentiment is, of course, likely to infuriate those who would suffer longer commute times and fewer parking spots as a result of the change. But the larger point is that the pedestrian-oriented reconfiguration of the Great Highway demonstrates Burnham's approach of thinking creatively about public spaces, trying new ideas (even temporarily), and pushing to constantly evolve the cityscape in new and dynamic ways. 
Additionally, the climate that these debates now take place in has literally changed. As Spray wrote, "We are no longer threatened by a sky blocked with concrete thoroughfares, but rather a sky increasingly filled with smoke, smog, and weather that intensifies with each passing season." So amid that long-running tension of the practical and the beautiful, it's important for us to grasp that the environmental considerations for how we design our urban spaces are the practical considerations now. 
Even so, the debate over the Great Highway will likely grow more contentious and drag out much like the city's freeway battles did. But the very Burnham-like idea for it to be reimagined is beautiful, practical, and likely to make far more sense to future generations, for whom climate-consciousness will not be a choice.
"If San Francisco embraces the idea of turning the Great Highway into a permanent major open space," Metcalf said, "future generations will view that as an obvious improvement for the city."
And as for my own far-fetched idea of re-creating Playland at the Beach for a week or two every summer? Well, I'm keenly aware it's not practical. But it certainly would be beautiful. ♦
Charles Russo is a local journalist and senior editor of photography and design at SFGATE. He is the author of Striking Distance: Bruce Lee and the Dawn of Martial Arts in America, which explores Lee's time in the Bay Area during the 1960s. 
Kevin Hou is an SF–based photographer who grew up in the Bay Area. He loves taking his camera around and capturing everything from expansive aerial landscapes to intimate product shots. When he's not freelancing or building software at his day job, he can be found gravel biking around the Bay, woodworking, and looking for hidden SF photo spots.